In this guide, we show you how to use adbLink to sideload Android APKs onto the Oculus Quest or Oculus Go. We have pictures for every step of the way and our guide is updated for summer 2020.
With adbLink you can quickly load games, applications, and modifications onto the Oculus Quest. This guide is valid for all Android-based VR headsets, which are the Oculus Quest and Oculus Go. You can also use adbLink with an Android phone or Android TV box.
Comment down at the bottom if we've missed anything!
What is adbLink?
AdbLink is an application that allows you to sideload APKs onto Android devices. It can be used to install games and apps onto the Oculus Quest and Oculus Go VR headsets.
Traditionally, sideloading meant that you had to manually copy files into a folder onto a connected device and maybe perform some manual configuration work. AdbLink takes care of a lot of these steps behind the scenes.
AdbLink is available for Windows, Mac, and Linux.
adbLink Features
AdbLink comes with a ton of great features, including:
the ability to sideload apps onto your Android device
ADB/Fastboot enabled command-line
Busybox for root and non-root
Built-in WIFI/USB remote
Manage devices via USB or IP address
Root-aware File Manager for Android devices
adbLink vs Sidequest VR

The two most popular ways to sideload games onto the Oculus Quest are via adbLink and Sidequest VR. If you have the APK file, both applications do the trick just fine.
Sidequest VR comes with additional features for Oculus Quest users. Namely:
Sidequest comes with a built it app store so that you can install games and apps with one click.
Sidequest is optimized for the Oculus Quest VR headset
You can sideload APKs over your wifi connection with Sidequest.
However, adbLink will install any APK on your device. Sidequest has some built in security measures to prevent pirated applications from being loaded onto the Quest. Sidequest has built a respectable and popular database of games and they've disassociated themselves with piracy.
Next, we'll show you how to install and use adbLink to install APKs onto your VR headset. We focus on the Oculus Quest, but you can also follow these same instructions for the Oculus Go as well.
Our tutorial covers 3 parts:
Putting your Oculus VR Headset into Developer Mode
Installing the adbLink app onto your computer
Basics of using adbLink to sideload onto the Oculus Quest or Go
There's a fair number of steps below but don't worry! We've made things really easy to follow and you'll be setup and ready to go in minutes.
How to Use adbLink to Sideload Onto the Oculus Quest
After following these steps, you'll be able to sideload onto the Oculus Quest new games, apps, and custom content. You'll set your Oculus Quest (or Go) up in developer mode, install and configure the adbLink app, and connect your headset to SideQuest.
Total Time: 10 minutes
Visit the Oculus Dashboard Page

Click here to go to the Oculus Dashboard page where you have to register as a "developer" for free before we begin. If you aren't logged in yet, you'll see the error message "You must be logged in to view this page". Click on the black Log In button.
Log In to Oculus Dashboard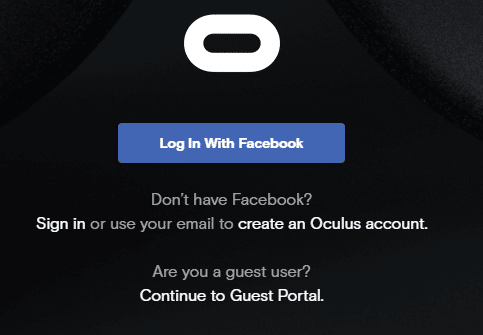 Log in to your Oculus account (the same one that's logged in to the Oculus app on your phone and your VR headset. If you need to create an account, you can do that here by selecting "create an Oculus account".
Create an Organization

After you are logged in, you'll see the home Oculus dashboard screen. Click on Create New Organization. Create a name (it can be anything) and then check the "I Understand" box and click on Submit. Lastly, agree to the terms of the agreement to finish.
Launch Oculus App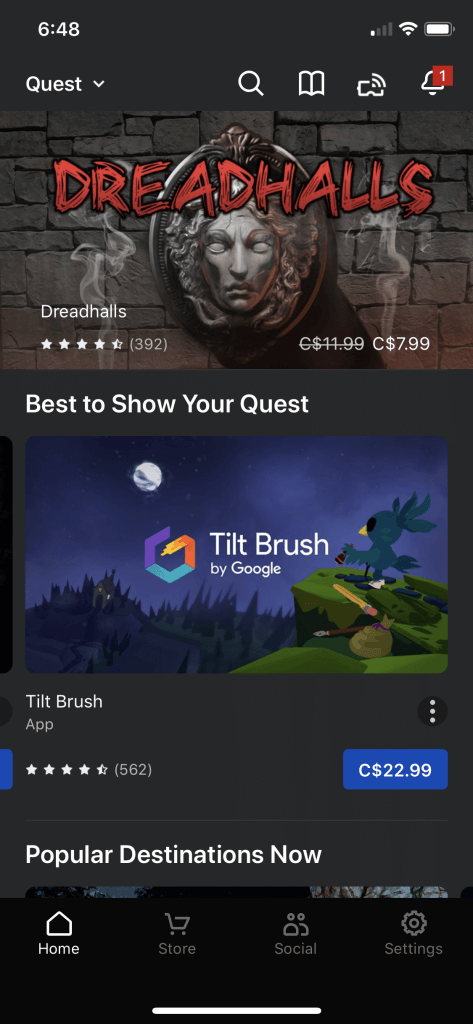 Next, launch the Oculus app on your phone that you have synced to your headset. Click on Settings in the bottom right hand corner.
Go Into More Settings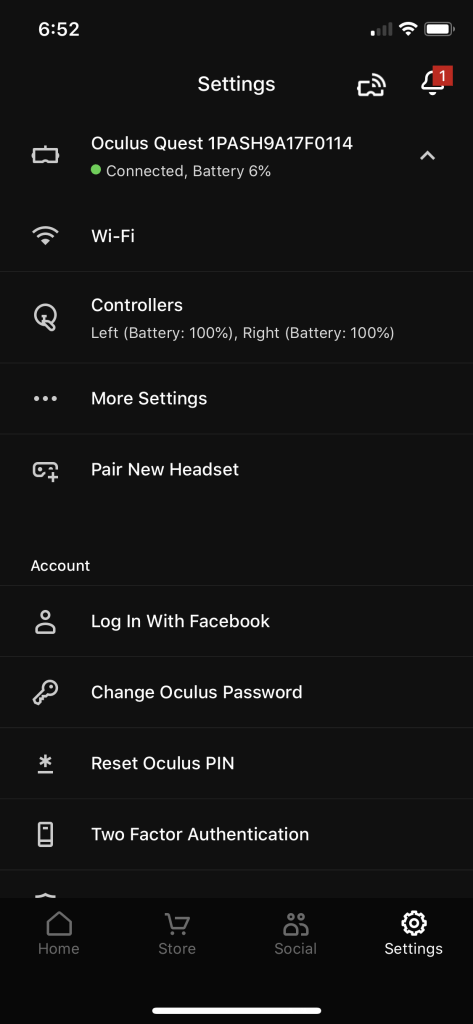 Select your headset, which will open a menu beneath it. Click on More Settings and then on Developer Mode.
Enable Developer Settings and Reboot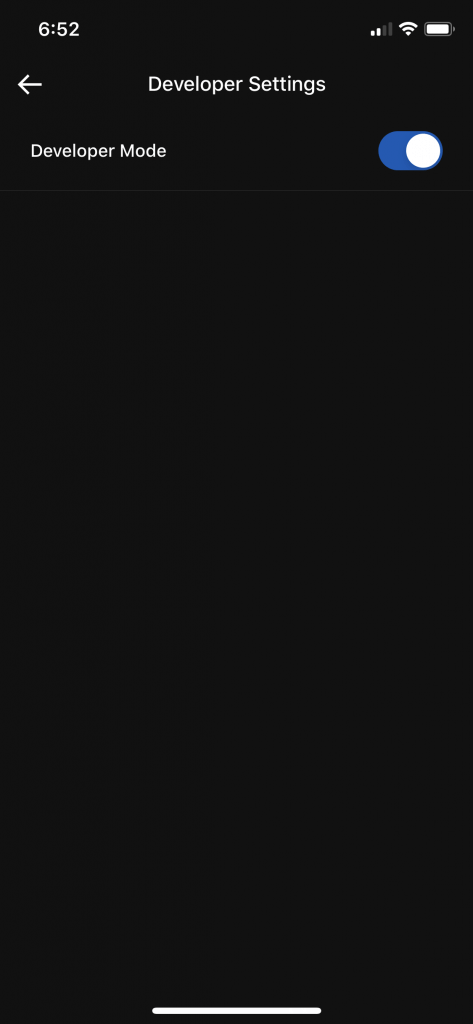 Make sure that Developer Mode is toggled ON. Next, reboot your Oculus headset by holding down the power button on the side and selecting Restart. When your headset reboots, it will start in Developer mode (you can come back to this screen to verify).
Download and Install adbLink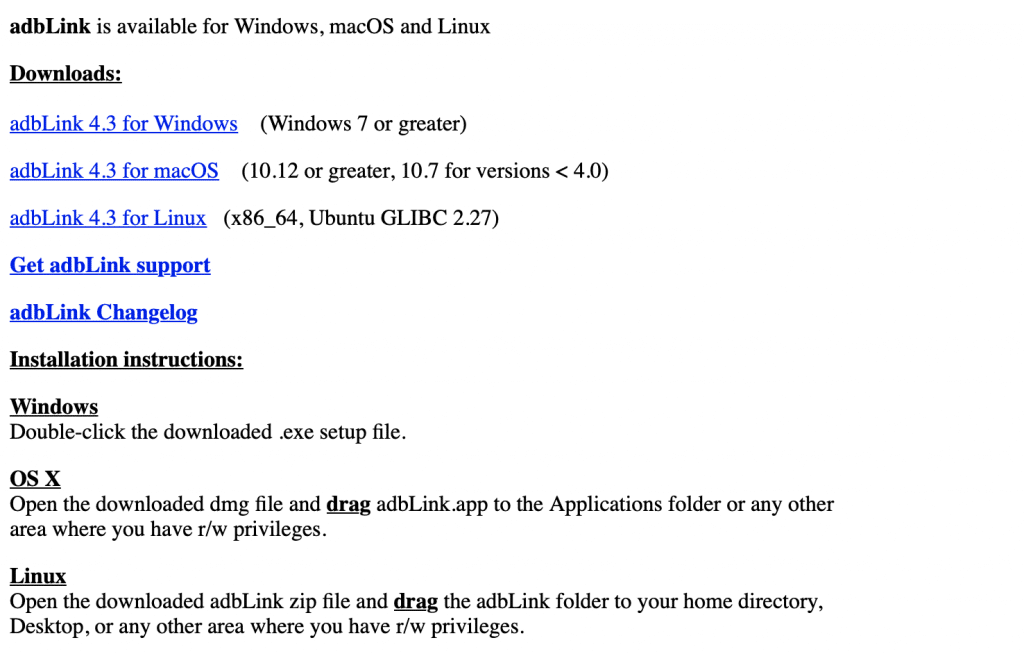 Visit the adbLink Download page and download the install file for your operating system. When it's done, double click on it and follow the prompts to install adbLink on your computer the same as any other program.
Connect Your Oculus Quest or Go to Your Computer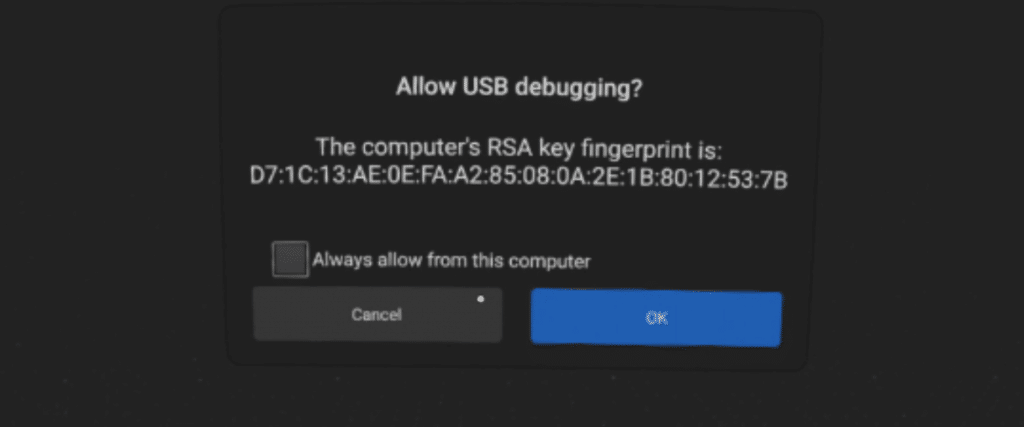 Turn on your VR headset and connect it to your computer via the USB-C charging cable. Put on your headset to see a message that says "Allow USB Debugging?" Select "Always allow from this computer" and then OK.
If you don't see the above message when you put on your headset, you may have to temporarily disable the unlock pattern. This can be found in the Oculus app under Settings > Quest > More Settings > Unlock Pattern.
Launch adbLink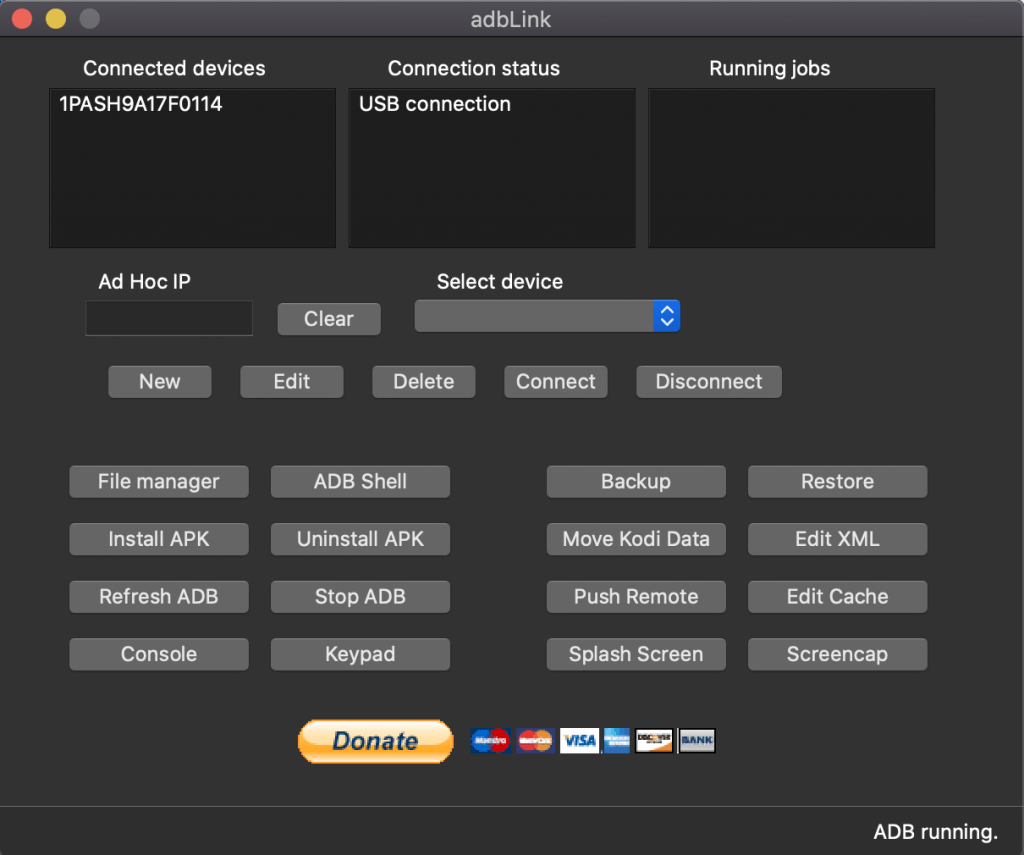 Open up adbLink while your headset is connected to your PC. If everything looks good, adbLink will automatically connect to your headset when you launch it.
Install APKs with adbLink
To use adbLink, click the Install APK button to sideload games onto your Android device. AdbLink will automatically know where to install things when you give it an APK file.
And that's how you use adbLink to sideload games onto a device such as the Oculus Quest or Oculus Go.
What is your preferred way to sideload?
Are you having trouble trying to use adbLink? Comment below to get in touch with us and we will help you out!