Augmented Reality (AR), as a technology has created a buzz among retailers as well as consumers. AR home apps are booming. You can do home design, room planning, and interior design with augmented reality on your phone.
Being able to place furniture in your personal space to see how it looks before purchasing is an awesome feature. It leads to more sales and less retturns.
This article has a bunch of augmented reality apps for home design. They are tailor-made for home renovation or redecorating tasks. These apps can help your clients re-decorate their home with AR objects of new furniture and decor.
Let's get started.
Best Augmented Reality Home Design Apps
#1. Houzz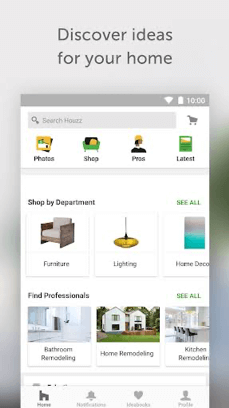 Many interior designers start their projects with Houzz. Houzz is an online marketplace and peer community for home renovation projects. Houzz is the biggest home design website on the internet.
With Houzz's "View in My Room 3D", you can enjoy AR technology in the same Houzz app you've always used. You can browse from a catalog of half a million images to place furniture and decor items in their home. You can even place multiple items at once.
Best of all, the images don't stick out as awkward computer graphics alongside the rest of your actual furniture. The Houzz app's AR home technology takes into account the ambient lighting in your room and reflects the texture of the furniture for photorealistic detail.
Houzz's augmented reality integration Is the largest out of any app available.
Pros
3D product catalog for 500,000+ products
Integrated wish list and in-app purchasing experience
Texture and ambient lighting
Ability to place multiple items
Cons
Not all products have 3D models
App can be a lot to navigate, as it includes the entire Houzz functionality within a single app
#2. Wayfair Room Planner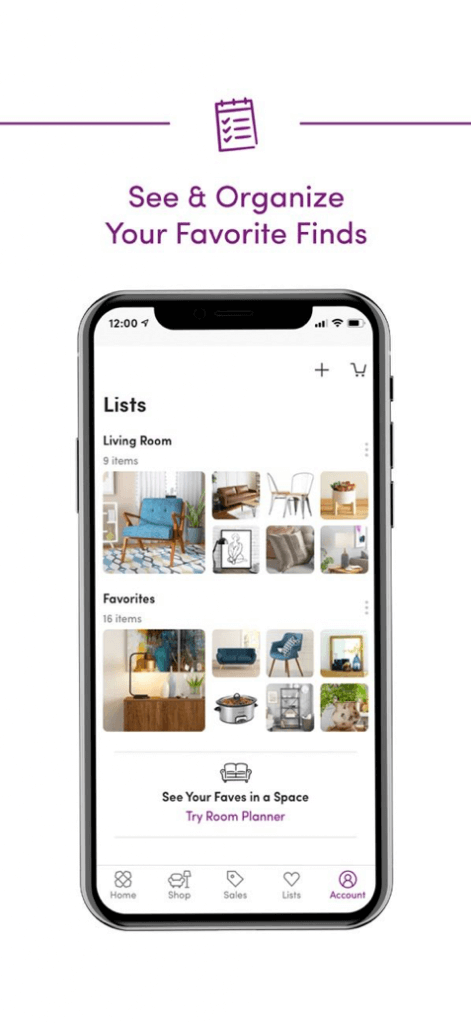 Wayfair Room Planner takes interior designers beyond simply visualizing furniture in a room. You can create an entire virtual floor plan of your home. Then, with their included material and cost estimator, you can figure out your budget to build it. Then, you can order with one click from their partner brands.
The app's new features include View in Room 3D, which lets you take a photo of your room and then see various products added virtually in place.
Wayfair Room Planner is a little like IKEA's Place app for positioning furniture, but Wayfair's version is photo-based so it works even when you are away from home. The company says it uses breakthrough technology to analyze the 3D space of a room from a 2D image to allow the virtual placing of items.
Another nice feature is "Search with Photo", which lets you search for products from Wayfair from an image in your library. This works similar to Google's Lens image search. Wayfair is one of the most popular online furniture stores on the internet and its AR home features improve their service even more.
Pros
Detailed 2D floor plans
Cost and materials estimator
Image export to Photos
Virtual tours to impress clients
Cons
Have to purchase subscription to unlock different features
#3. Ikea Place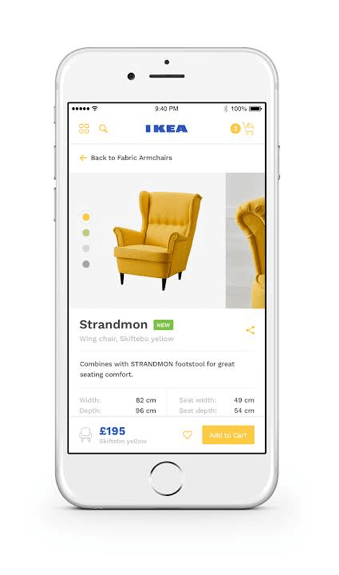 The IKEA Place app boasts some of the best AR home design functionality out there. This makes sense given that IKEA has provided some sort of AR-enabled product catalog ever since 2013. In the IKEA Place app, you can view over 2,200 IKEA furniture items in your house.
Furniture appears photorealistic, taking into account ambient lighting and texture. The app promises exact measurement down to the millimeter, so you can be sure that what you're buying will actually fit in your home. You can also purchase online through the app or share your ideas to social media for feedback from friends.
If you like to shop at IKEA, then the Place app is a must have when planning interior home design.
Pros
Social media sharing
Intuitive user experience
Integrated in-app purchasing experience
Searchable inventory
Cons
#4. KavTek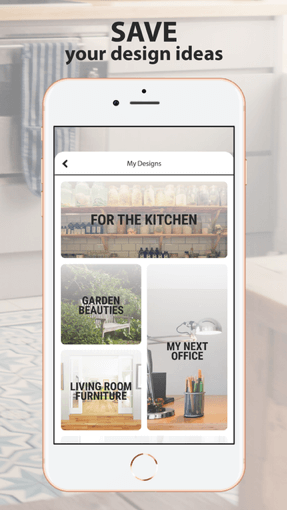 KavTek has partnered with several brands, so homeowners and designers are limited at all in their furniture selection. This AR interior design app includes a 3D product catalog of over 5,000 products. The 3D viewer displays furniture and decor items photo-realistically, accounting for ambient lighting in the room.
You can drag and rotate the products around in their house and create collections of their favorite items. Using the KavTek app is intuitive, with an option to favorite an item, place it in your room, or click to purchase it directly from the retailer.
Pros
3D product catalog of 5,000+ products from 150 brands
Photorealistic product viewer
Integrated in-app purchasing
Cons
No ability to place multiple items
#5. DecorMatters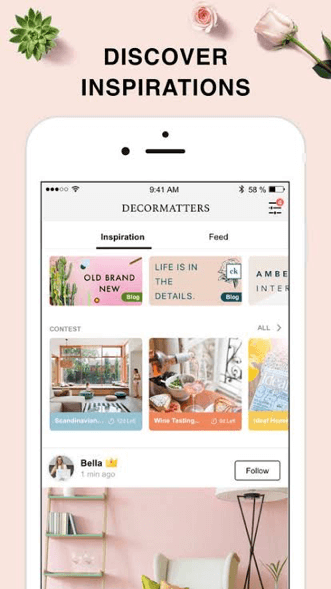 The DecorMatters AR app is unique in that you can design your project against a background in your own home, or by using a template. The templates help people plan ahead for homes they're moving into, while allowing interior designers to prepare off-site designs for clients.
DecorMatters has partnered with popular furniture retailers like Crate & Barrel, Target, Z Gallerie, and West Elm, so you aren't limited to shopping from one brand. After you're done placing your furniture, you can purchase them easily in-store or online through the app.
If you want feedback or expert help, you can reach out to anyone in the DecorMatters community, which includes professional design consultants. You can also share your designs with social media, and join design contests to win prizes.
Pros
3D product catalog with millions of products
Social media sharing
AR ruler for measuring confirmation
Intuitive user experience
Integrated in-app purchasing experience
Cons
Not available on all devices
#6. Homestyler Interior Design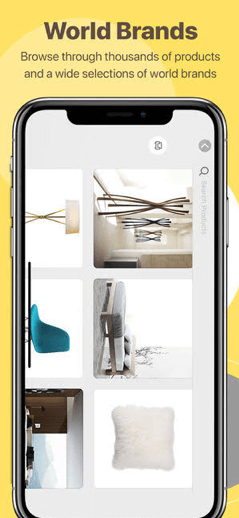 Homestyler has both a web-based virtual designer and a mobile app, which are quite simple tools. The mobile version gives you the ability to photo capture a room and arrange 3D models of real furniture products, lights, rugs, paintings and more.
The high-quality catalog of 3D objects has a collection of real brand name furniture items to visualize a room as close to reality as possible. Separately, their web-based designer offers virtual floor plan creation.
You can fill in furniture and decor to view as a detailed 3D visualization converted from a 2D floor plan. This lets Real Estate Agents design rooms based on mere drawings with no photos or renders. Moreover, the result is so impressive that Realtors can easily use it for listings and property presentations.
Pros
Hundreds of great ratings
Intuitive user experience
Ability to paint wall, ceiling, or entire room
Color sample matching
Cons
Will need to match color at store when ready to buy
#7. Hutch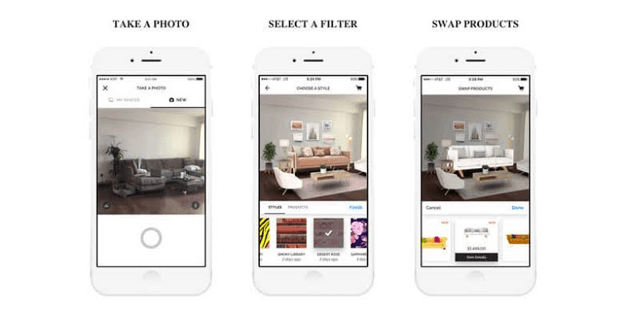 Hutch bills itself as an "AR toybox for your home," and they're not kidding. You can place multiple items and save a room once it's completed.
The new AR home app focuses on visualization — you take a picture of your space and Hutch will send back a virtual design essentially showing you how your space will look if you purchase the recommended items. They will replace your furniture, light fixtures, coffee-table, books, trinkets, and more.
Hutch also has a cool before-and-after feature, which lets you drag a slider between your submitted picture and the new virtual design.
You can buy all of the recommended items directly in the app, which is how Hutch generates revenue. These items are either drop-shipped directly from a manufacturer or white-labeled. So in most cases, you won't know the brand of furniture until it arrives. Or sometimes, you won't know it at all.
Pros
Fully customizable, resizable furniture and decor items
Vision board-type app with demo products
Ability to place multiple items and save rooms
Intuitive user experience
Cons
In-app shopping experience is not so great.
#8. roOomy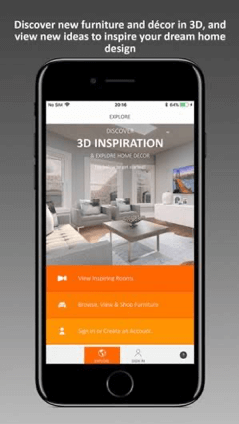 RoOomy is an iPad app which lets you turn 2D images of a room into a 3D space. You can also decorate these 3D rooms with over 500 pieces of virtual 3D furniture from popular brands like Design Within Reach and All Modern.
Built by Loft-NedSense, the app is mainly designed as a virtual staging solution for the real estate industry.The roOomy Reality app lets customers mix-real time, live views of interiors with their own creative ideas. Complete and show off virtual furnishings and home accessories.
Thanks to the app's browsable catalog of 100,000 3D products, roOomy hopes to provide information to any and all design aesthetics. And because you can switch easily between AR and VR views, you'll see the best of all worlds.
Pros
3D product catalog with millions of products
Social media sharing
Intuitive user experience
Cons
Not available on all devices
#9. Kustom AR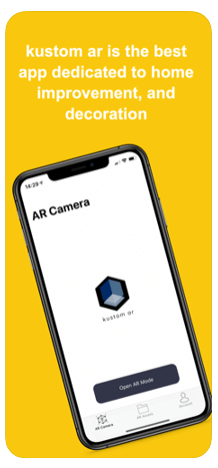 Kustom AR is a brand new AR home design app. You can design and visualize changes and updates to your phone in both 2D and 3D augmented reality. This augmented reality app is dedicated for people interested in home improvement, decoration, renovation, and furnishing. It's aimed at Architects, Interior Designers, Real Estate, Property Agents, and general users.
Inside of Kustom AR, you can place furniture and virtual objects in your room. The app provides additional information with each product such as size, shading, product material, and texture. The app uses Apple's ARKit 3.5, the newest software kit for augmented reality. You can upload furniture assets into Kustom AR from anywhere.
You can export files in USDZ standardized format for 3D modelling. Kustom AR also includes a marketplace for you to buy and sell furniture nearby.
Pros
Built with interior designers and commercial agents in mind
Ability to import and display your own assets
Uses newest AR technology
Cons
Not as polished as some of the other options
No Android app
Which of these augmented reality apps for home design apps is your favorite? Let us know if you've done any AR home design in the comment box below.