A 360 degree camera can be used to create immersive photos and video for virtual reality, Youtube, and Facebook. In this guide, we'll tell you the best 360 degree cameras for personal and business used.
These cameras are used in a number of ways:
virtual tours
retail store walkthroughs 
showcasing landmarks 
tourist attractions
NEW: Check out the brand new Insta360 One X2 below!
Studies show that companies who have 360 degree content available for potential customers have a higher engagement and buy rate. After you our done, check out how easy it is to load and watch 360 videos on your VR headset.
Let's check out the list!
8 Best 360 Degree Cameras for Virtual Reality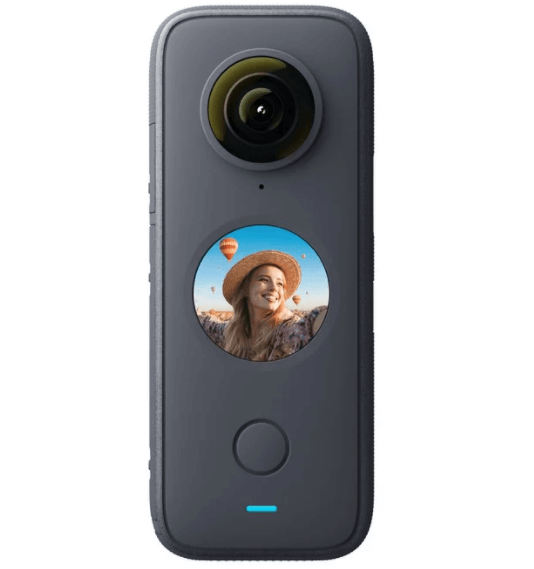 The Insta360 One X2 is a brand new release for october 2020 into the 360 degree camera market. It is the follow-up to the popular One X camera with a number of really nice improvements.
For starters, the new camera has a front-facing preview screen that shows you what the camera sees and allows for simple touch gestures. You can shoot videos in multiple modes into 360 degrees, panoramic, and steady cam. FlowState stabilization is designed to keep the Insta360 ONE X2 steady, with new stabilization and horizon leveling algorithms for smooth video even without a gimbal.
The ONE X2 captures 5.7K 360-degree video, there's a larger 1630mAh battery, four microphones for better voice capture, and IPX8 waterproofing, so it can be used for capturing underwater content.
Click here to buy the Insta360 One X2.
Pros
5.7K 360 degree video support
IPX8 waterproofing
Included selfie stick that is edited out intelligently by the One X2
Cons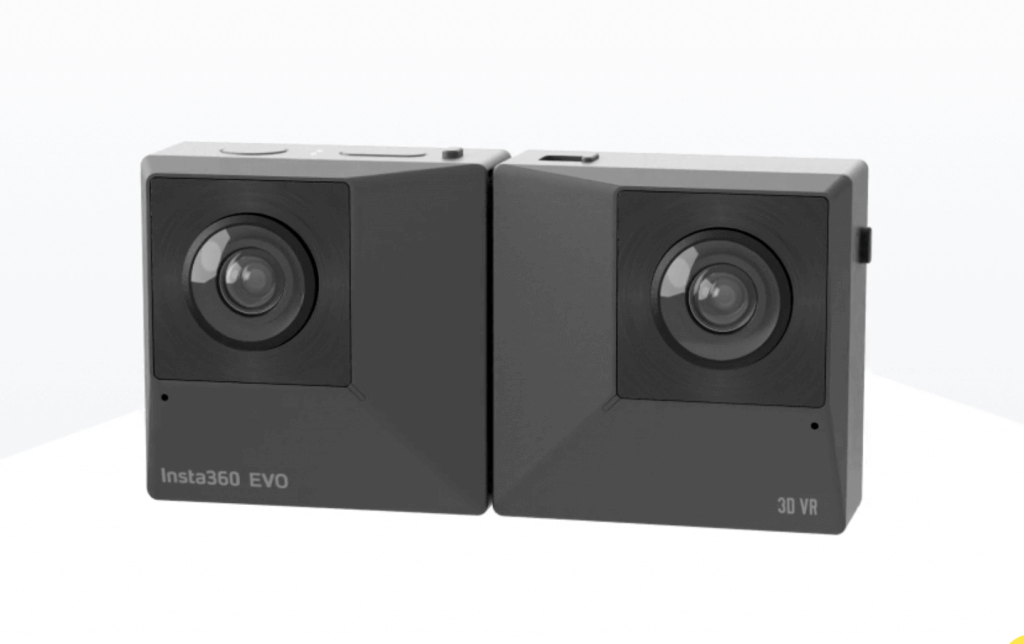 When it comes to 360 degree cameras for VR, Insta360 has been a pioneer in the category. Insta360 always comes with new hardware designs and innovative software too. The Insta360 EVO is a top 360 degree camera for VR in the company's product line.
The Insta360 EVO has a smooth rectangular shape that makes it easy to slide in and out of your pocket. While it has a tripod mount, it's just as simple to hold in your hand, too. The controls on the EVO are simple: One button to record and one button to cycle through menus.
The EVO features an updated image-stabilization feature that will make even the bumpiest videos look smooth. It can capture 5.7k video (5760 × 2880) at 30 fps and 4K video at up to 50 fps. Its FlowState image stabilization algorithm helps smooth shots. A TimeShift feature lets you slow down or speed up specific segments of your videos. The EVO can connect to Android or iOS devices via Wi-Fi or USB and lets you livestream videos, too.
We recommend the Insta360 Evo for anyone interested in shooting VR footage in 180 or 360-degrees. The hardware is solid and reliable, the results are good, and the software is great.
Click here to check out and buy the Insta360 Evo.
Pros
Excellent image-stabilization
Excellent Mobile software
Pocketable design
Fun and useful software features
Cons
Only an hour of battery
Not weather-resistant
Mode lock is not the best
The Insta360 ONE R is another great 360 degree camera for VR. It plugs into your VR headset and lets you capture everything in 4K quality.
When plugged into your headset, the Insta360 One R uses the headset's screen as your viewfinder. It lets you adjust camera settings or livestream to Facebook and YouTube.
The Insta360 One R can also be used without your headset in whatever way you want. It has an awesome slow motion "bullet-time" feature that lets you make Matrix-style movies, too. The camera also features Insta360's Flowstate stabilization, which keeps your video from looking bumpy and jumpy. As well, Insta360's app has a number of clever editing tools to take full advantage of your 360 videos.
Click here to check out and buy the Insta360 One R.
Pros
Modular design
Has a fun "bullet-time" video feature
Long list of extra features
Competitive price
Cons
Occasional bugs
Small screen
The GoPro Max is a total reboot for GoPro's virtual reality action line. The Max has a more compact camera body that's easier to take with you everywhere. Plus, GoProo has boosted its internals for more immersive, higher resolution footage. The Max also has improved slow motion capabilities, and video smoothing tech.
Unlike most 360 degree cameras, the GoPro Max has a small display on its back. This lets you view what its cameras are looking at. The large display does make it easy to navigate and change the Max's settings without having to use your headset. The GoPro Max also has a HyperSmooth stabilization feature, so your bumpy video will look nice and smooth. Image quality from the camera, up to a max resolution of 5.6K/30 fps, lives up to GoPro's typical high standards.
Plus, GoPro's app is loaded with features, including the ability to livestream video from.However, the GoPro Max's design lacks a tripod mount. This means that you have to use it with one of GoPro's accessories.
Pros
Excellent video quality
Motion-smoothing
Intuitive menus
Cons
The Vuze XR is an interesting 360 degree camera. Not only does the Vuze XR take 360-degree photos and video in VR, but its two cameras can pop out. This means that you can take 180-degree stereoscopic images and video too.
If you've ever used a VR headset, these types of images add a real depth. We liked the simplicity of the Vuze XR's mechanism — a press of a button causes the two cameras to open. As well, the camera has a sturdy build and feels durable. We also liked the lollipop-like design of the camera. Its built-in handle makes it a cinch to use and carry around.
In general, the Vuze XR also delivers quality images and movies. One complain is that it has trouble in low-light conditions. Also, its desktop app lacks behind GoPro and Insta360 for features.
Pros
Easy to use
Takes both 180- and 360 photos
Well-designed
Cons
Struggles in low light
Limited features in desktop app
The GoPro Fusion is fairly compact. The two lenses are said to be the equivalent of six normal GoPro cameras. They are offset on either side of the main chassis. The device is being positioned as a VR/consumer hybrid. It is capable of capturing spherical video cropped to whatever portion a user wants. It also has full VR functionality.
Each segment of the spherical video captured can be "punched out" into its own 1080p clip, ensuring users don't miss a thing. The GoPro Fusion is seen as something of a one-stop shop for sports camera needs. It is capable of VR and also ensures that nothing is missed. The device also comes with special software for editing. Average consumer can use the footage without being familiar with 360-degree video.
Being a 360 degree camera, the Fusion is equipped with two 180-degree lenses that capture everything around it. The Fusion also shoots 5.2k video, which is great quality. Its sensors and optics should make this one of the best action cameras on the market.
Pros
Great image quality
OverCapture delivers compelling traditional footage
Easy to use
Cons
Transferring footage through the app is slow and fiddly
Relatively expensive
Do you want to capture 360-degree photos and videos with your VR headset? Consider purchasing the Ricoh Theta V camera. The original Theta camera was first launched in 2013 as the world's first 360° single shot camera. The line has been improved over the years to keep up with industry standards.
The Ricoh Theta V has a compact, lightweight body. It's small enough to be portable and take anywhere, anytime. It's packed full of performance-enhancing features too.
The Ricoh Theta V 360 degree camera has a 4-channel microphone that supports 360 Degree spatial audio. Audio is not just recorded in the horizontal direction, but vertical as well. Sound and video are both reproduced at it was in the environment.
The Theta also has some nice accessories that you can buy to supercharge the device. You can buy an underwater cover for the Theta V and capture videos in a pool or ocean. There is also an external 3D microphone for even better sound quality.
Pros
Great Form factor
Takes great photos and videos
360-degree video join lines are masked
Cons
Non-removable battery
Expensive
While the rest of the 360 degree cameras above are for consumer use, the Insta360 Pro 2 is designed for professional use. It is perfect for businesses looking to create videos for VR headsets or head-mounted devices (HMDs).
The Insta360 Pro 2 is about the size and shape of a large cantaloupe with 6 equidistant lenses around its equator. It has a small LCD screen in between two lenses and a battery and microSD card slot between two others. There are four microphones between four sets of lenses for ambisonic spatial audio. It packs a hefty set of features and controls into a fairly compact and aluminum alloy package.
Additionally, there are notches carved out on opposite ends of the camera. The top-notch is for ventilation and antennas (GPS and Wifi). The notches on the bottom are for more ventilation and various ports:
LAN
USB
DC-in
Microphone
A reset button
Click here to check out and buy the Insta360 Pro 2 now.
Pros
8K, 360-degree video capture in 2D or 3D.
In-camera stitching at up to 4K quality.
100fps capture at 4K.
Live streaming support.
Digital stabilization.
Can use an external mic.
Cons
Expensive
Short battery life
How to Set Up 360 Videos for Virtual Reality
One way that you can use 360 degree videos and pictures in a professional setting is VR Sync. VR Sync allows you to push, sync, and watch videos in virtual reality across one or many devices at a time.
There are a number of useful applications when you might want to do this:
At a trade show, you can push 360 degree videos to one or more headsets and playback on demand.
In a training session, you can sync video playback across multiple VR headsets at the same time.
A retail store can sync and manage videos that help customers see products, showcase new ideas, and present anything in VR.
You can upload your content through the VR Sync dashboard and push it wirelessly to a VR headset. The software is easy to use, and it's affordable.
Check out VR Sync here for more information.
Check out our step by step guide for watching 360 videos on your VR headset.
Which 360 degree camera is your favorite?
Share your thoughts with us via the comment box below.