Horizon Worlds is Meta's ultimate metaverse experience, an expansive world filled with experiences to try and new friends to meet. In this guide, I go over some of the best Horizon Worlds games I've experienced in the app so far.
Growing every day, there are now thousands of experiences in Horizon Worlds, including:
First person shooters
Single player and multiplayer adventues
Hang out spots
Remakes of arcade classics
If you have a favorite Horizon Worlds game you think other people should know about, comment down at the bottom of this guide and let us know.
RELATED: Check out the best Meta Quest games ever.
What is Horizon Worlds?

Horizon Worlds is a social network for virtual reality. It is sandbox creation tool for social interaction where users can engage with the virtual environment. Meta has promised that it is going to be a unique and expansive multiplayer VR game.
In Horizon, you can create your own digital avatars and hop between virtual locales through portals called Telepods. Telepods are magic-like portals that transport you to different lobbies to play games and view entertainment.
You can also watch movies, consume other media with friends and play multiplayer games together. Some media viewing aspects are taken from Oculus Venues.
Horizon Worlds also features human guides known as Horizon Locals. These human guides give users assistance and protect their safety in the VR world so trolls can't run rampant.
Next, we summarize the best Horizon Worlds games to check out.
Best Horizon Worlds Games
American Idol VR
Arena Clash
Club Vivid
UA Comedy Club
Club Fuego
Mars Miner
Questy's
Crash Site
Intro to Creation
Wake the Robot
Kowloon: Nine Dragons
The Darkest Depths
Kablam
Zap Zap
Action Island Sandbox
Pixel Plummet
Maze Gobbler
#1. American Idol VR
American Idol VR is a singing competition where you can test your vocal skills in front of a live audience. If you're a songwriter or a single, you will be immersed in this game. You will perform your favorite song, while the three judges in the game will give their feedback and award marks.
The audience will also give their feedback using in-game gestures in real-time. To enjoy the best playing experience, we suggest you log on to play the American Idol VR on Saturday night, when things are the busiest.
Dive into Horizon Worlds and search for the American Idol VR, and give it a shot singing or critiquing others.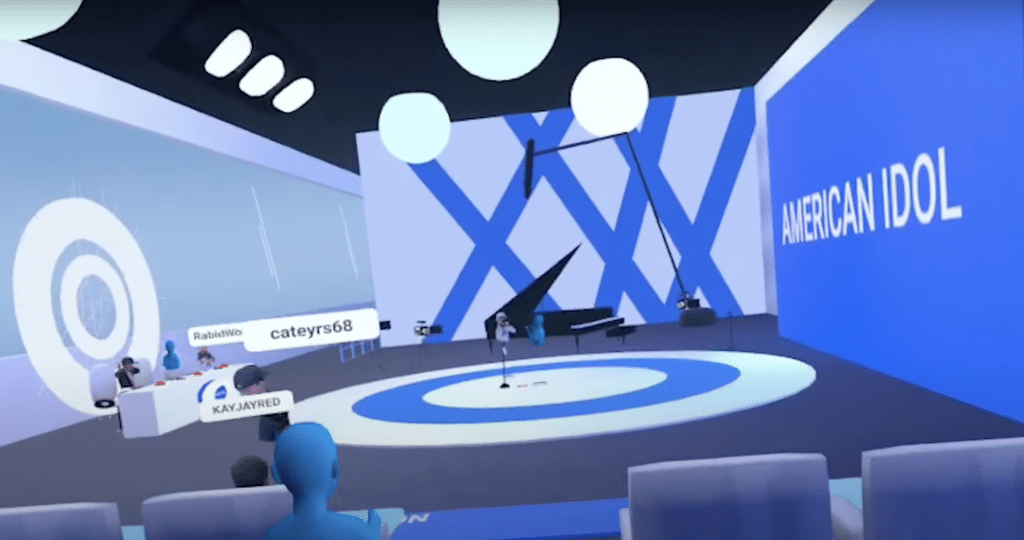 #2. Arena Clash
Arena Clash is a fast-paced arena shooting game. In this multiplayer team shooter, you will slug it out with your opponents in an arena packed with lots of weapons, including shotguns and grenade launchers. As you explore Arena Clash, you will improve your shooting and depth climbing skills.
The game features a surprising amount of depth. You can resurrect a fallen team member so that you can join forces to combat your enemies. In the game, victory means joining forces with your team members, so it's not a crime to ask for help.
When you are done playing Arena Clash and your put your Oculus Quest in its case, you'll feel accomplished for the day.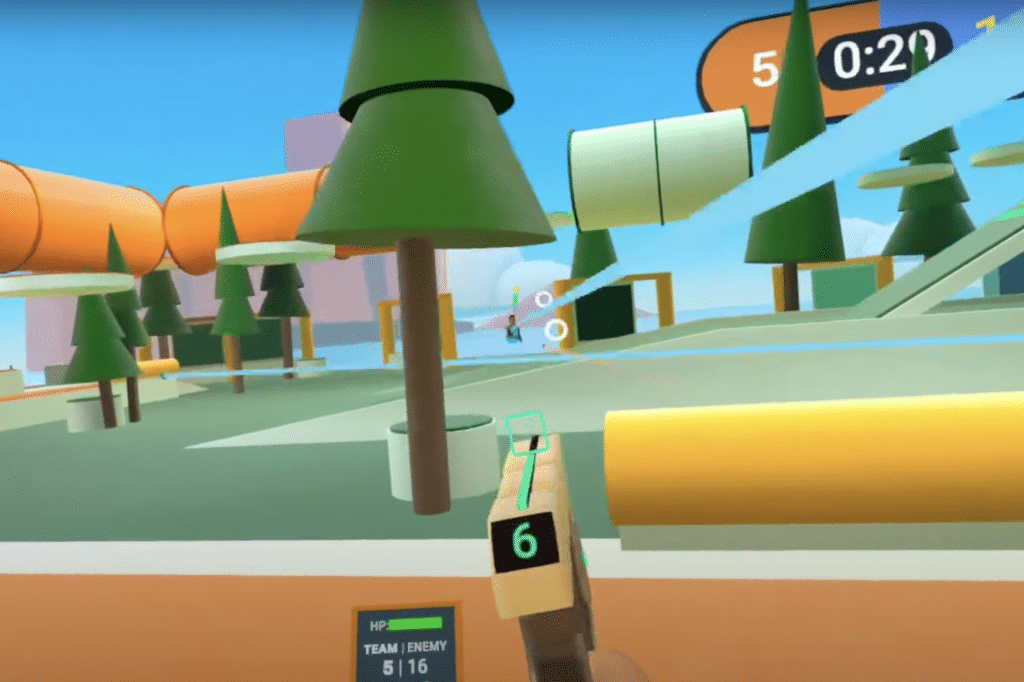 #3. Club Vivid
If you're looking for a cool spot to hang out with your friends in Horizon Worlds, Club Vivid is the perfect place to be. It's an awesome VR nightclub for fun lovers. Here, you can do many things, including DJing behind the turntables, smoking some virtual hookah, or dancing to the beat of hip-hop soundtracks.
The DJ booth has a highly intuitive soundboard where you can easily activate custom sounds and stage effects. To start playing, search for "Club Vivid" in Horizon Worlds and have fun with your friends.
#4. UA Comedy Club
UA is a virtual reality comedy club for stand-up comedy enthusiasts. You can either play as a comedian or a member of the audience. The game is also partly a social lounge where you can sign up for a spot to perform in front of a live audience.
Regardless of your experience level, you can hop behind the mic anytime you like. The audience at UA Comedy Club fills up fast, so you will need to move quickly. The best time to catch the best performing acts is on a Saturday night.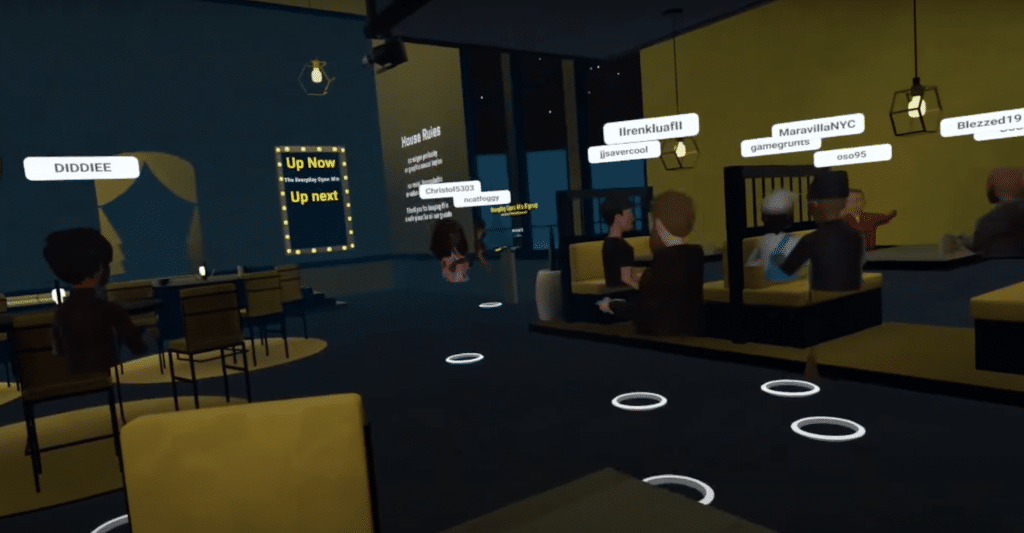 #5. Club Fuego
Club Fuego is a Latin VR club. It offers exciting and intriguing experiences that are different than Club Vivid. It comes with exotic drinks, Latin-inspired soundtrack, and colorful visuals. As it is a multiplayer game, there are plenty of things to do in Club Fuego.
You can chill out on the upper floor, take turns in the DJ booth, and hit the dance floor with your cocktail. In fact, there are some interactive beer pong tables. Club Fuego also has an energetic community.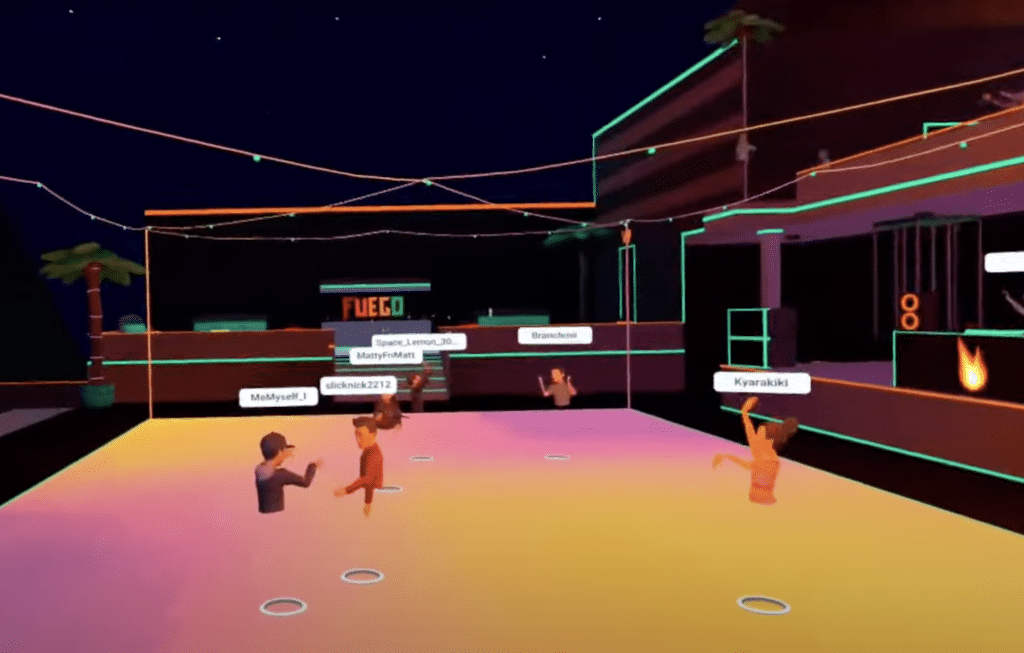 #6. Mars Miner
Mars Miner is a multiplayer exploration game where you and other players can mine gems on the red planet. There are a wide range of mining tools available for your use, including explosives and special equipment. Upgrade your mining tools to stay on top of your game.
Use the explosives to explore areas where you suspect treasures are hidden on the surface of the earth. Join forces with your team members to build a rocket together.
#7. Questy's
Questy's is a place to be on a Friday night. It's an arcade restaurant where you get to do a whole lot of things. You can buy virtual food such as pretzels from the food vendor in the place.
Questy's has a multiplayer game with a live band arena where you can organize a live band with your friends to test your musical skills. There are different percussion instruments to also test out. There's also a table tennis court where you can play and have fun with your friends.
Questy's was featured in the Meta Super Bowl commercial in 2022, so it is a very popular spot to check out for new users.
#8. Crash Site
Crash site is a multiplayer puzzle game. Pay attention to every detail of the game for clues. It's a relaxing place for you to hangout and play with things you see around the world. As part of the puzzle, the creators added a robot to the game.
#9. Intro To Creation
Intro to Creation is a great place to visit for those looking to improve their creativity. Every Wednesday around 8:30 EST, you will find a number of experienced creators that can answer all the questions bothering you.
There are lots of tools, including shaping and grouping tools. There are some great visual representations of all the tools available to use. Take a seat and create your masterpiece for the world to see.
#10. Wake The Robot
Wake The Robot is a puzzle mystery game, so keep your eyes. There are lots of clues all over the place. Your ability to solve a puzzle makes you a winner.
Wake the Robot is a multiplayer game, so it works well with a group of people. We don't want to spoil too much, but this is a fun game worth exploring.
#11. Kowloon: Nine Dragons
Immense yourself in this beautiful virtual city. Kowloon: Nine Dragons has different structures, streets, and landmarks. As you explore the game, see if you can find your way to the top of one of the skyscrapers. Kowloon is one of the largest games I found in Horizon Worlds and a lot of fun.
Also, make sure you checkout the Flamingo Lounge, a great rooftop bar with great views.
#12. The Darkest Depths
The Darkest Depths is a game where you can dive deep into the dungeon with a team of 4. To survive at the dungeon, you must battle ox, spiders, and other enemies. There are plenty of in-game resources that you can take advantage of to support your survival strategies.
#13. Kablam
Families will have a blast with Kablam, a game that takes gameplay over the top. It's a single-player game where you have to work to prevent bombs from hitting the floor.
There's a leaderboard which displays top-performing players. To make it to the leaderboard, you need to practice. A lot.
#14. Zap Zap
Zap Zap is a great place to meet new friends. It's a laser tag game where you can form a formidable team to play with other 4 players. The best part of Zap Zap is that you will never run out of weapons! There are lots of them in the game. Use the weapons to combat your opponents and emerge a winner.
#15. Action Island Sandbox
Action Island Sandbox is a generic pick-a-gun-and-shoot game. It features both a solo and team structure, allowing you to defeat your opponents when you hit them first with ammo. The gameplay is to capture the flag in the hands of both teams. You will be the winner if you are able to capture the flag first. Search for Action Island Sandbox in Horizon Worlds and start playing.
#16. Pixel Plummet
If you're looking for a good place to spend quality time with your friends, Pixel Plummet has got you covered. Pixel Plummet is an arcade-style multiplayer game with a vapor wave theme. As you explore virtual experiences, just make sure you don't fall, as the last person standing would be declared the winner. 
#17. Maze Gobbler
Maze Gobbler is a virtual reality twist on the classic Pacman game. You can Pac Man and you must virtually navigate through a maze and avoid enemy ghost characters. There are food pieces scattered around that can make you safe and allow you to gobble up the ghosts for a short period of time.
Maze Gobbler is a fun casual Horizon Worlds game to seach for and try out.
How to Play Games in Horizon Worlds
When you launch the Horizon Worlds game, you are placed in the "Plaza". From here, you can explore and join random worlds scattered all over the place.
To join a specific game, such as one in my list of best Horizon Worlds games above, use your wrist. You will be able to open a hamburger menu on the virtual watch on your wrist and search for specific games and experiences.
And those are the best Horizon Worlds games in my opinion. If you found something else cool to share, comment down below.