Do you want to disconnect Facebook from your Meta Quest VR headset forever? Meta now has dedicated accounts that don't require any connection to Facebook in order to work. Below, I'll show you how to disconnect Facebook from Meta on the Quest 2 with step by step pictures for every step.
When you are done, your VR games and account information will be commpletely separate from your Meta account on your headset.
If you have any other questions about the process, comment down below and let me know.
Why Would You Want to Disconnect Facebook from Meta?
So, why would you even want another account anyways? Well, let's say you happen to get banned from Facebook.
That's right.
And the reason don't even have to be malicious either. Facebook has a reputation for being very sticky with accounts for legal reasons. So if you are guilty by association, you could find your Facebook profile banned forever.
If this happens, then you will be unable to login to your Quest VR headset as well. And this means that all of your VR game purchases will also be locked out and banned.
If you keep your Facebook account and your Meta account separate, then you don't have to worry about what happens on social media anymore.
How to Disconnect Facebook from Meta
In order to free yourself from Facebook on your Quest headset forever, you need to setup a dedicated Meta account.
Use the steps below to create a Meta account for your Quest headset and free yourself from Facebook forever.
First, visit https://meta.com/websetup and login with your existing Facebook or Oculus account that is synced up with your VR headset. Most people will have a Facebook account unless you purposefully didn't create one when Meta enforced that option back in 2020.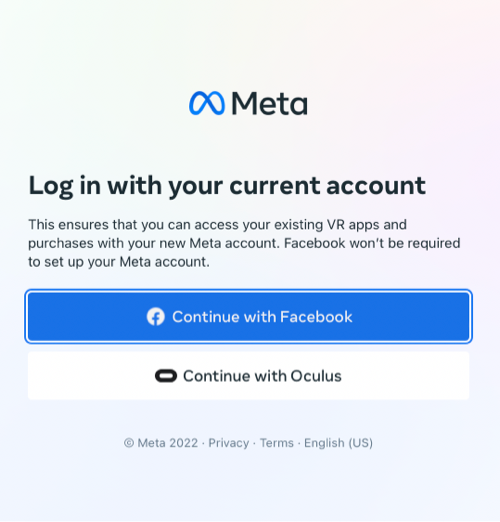 Enter in your Facebook or Meta username and password and login.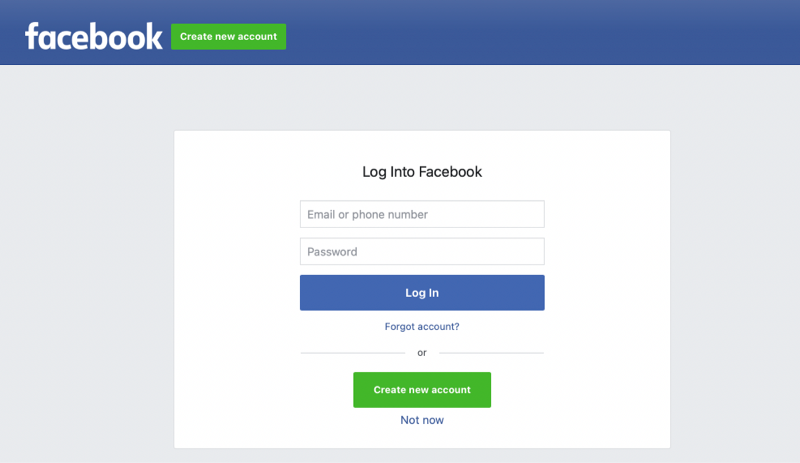 Continue and allow Meta to access your Facebook account information.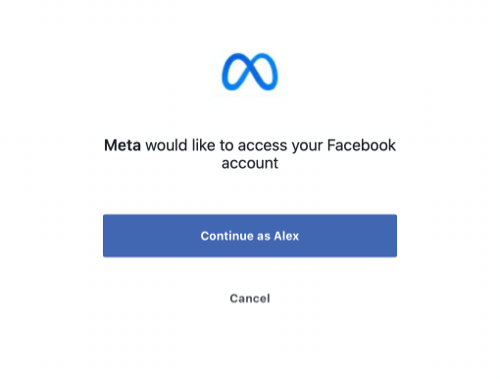 Next, Meta will convert all of your existing account information from Facebook and migrate it over to the new Meta account. Click on Next to proceed.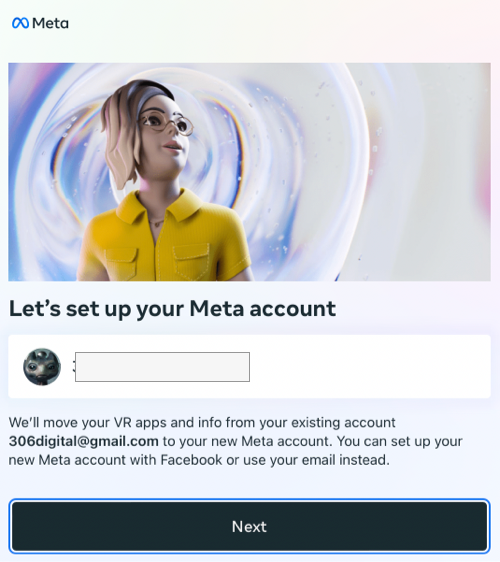 Next, you can choose whether you want to set up your Meta account with Facebook or without Facebook. If you choose with, then your Meta account will work alongside Facebook. You will still see your Facebook friends on your Meta Quest 2 and get access to all existing social features.
Since this guide is about disconnecting Meta from Facebook on the Quest 2, you will want to continue without Facebook. You will lose access to a few social features, but you'll be able to keep virtual reality separate from social media.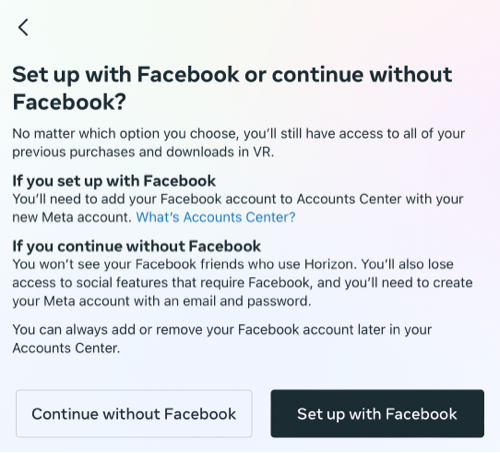 Click on Next and begin the process to create a password for your new Meta account.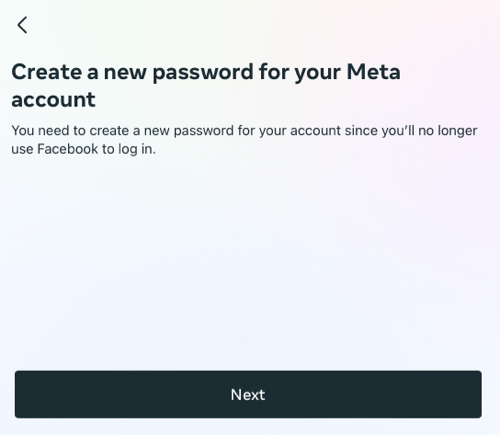 You will receive a confirmation code in your email. Enter that to continue.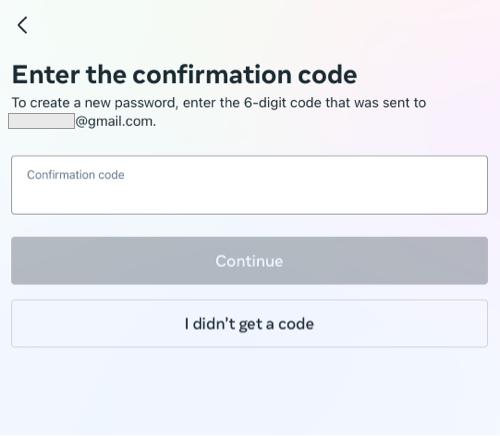 Enter in the password you want for your new Meta account and click on Next.
Finish setting up your account by confirming that the information on the screen is correct and then clicking on Finish account setup.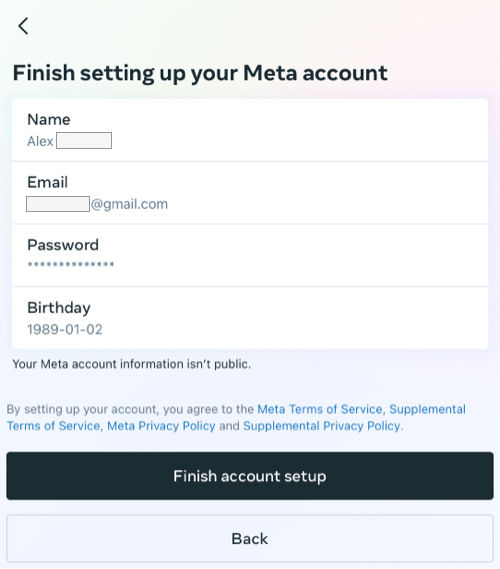 Next, you have to enter in the desired username for your Horizon profile. This is the name that will show up in the Horizon Worlds VR game.
Next, Meta will let you know that Oculus friends are changing in name to "Horizon followers". They work the same, except they follow the Meta accounts now rather than being synced with Facebook or any old Oculus accounts. Click on Next.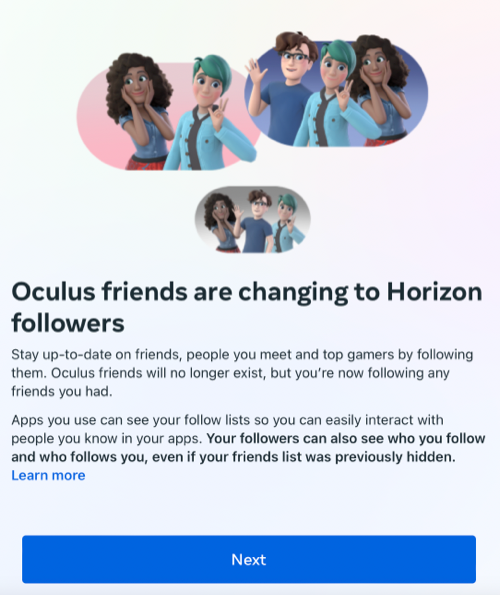 Finally, choose what you want your privacy settings to be and click click on Review.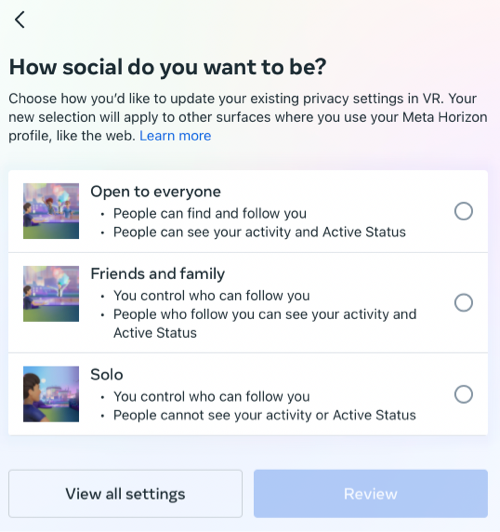 Review that your settings are correct and then click on Accept and continue.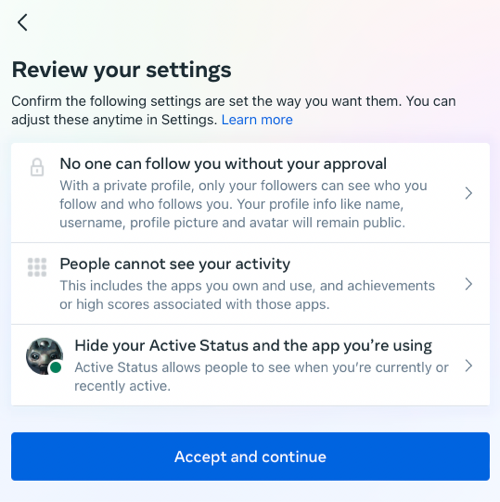 You are done! Click on Finish to complete your setup.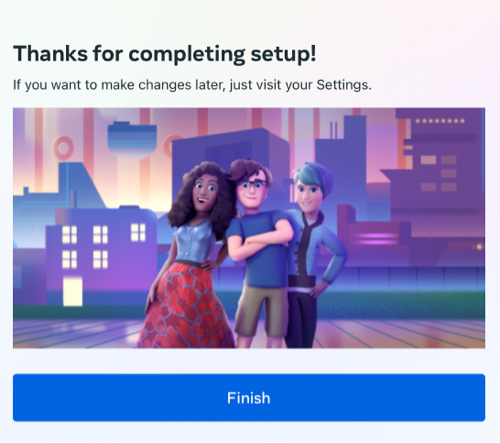 You have successfully disconnected Facebook from Meta on your Quest 2.
Video Tutorial
Having trouble with the steps above? Check out this video tutorial for more help:
What are the Disadvantages of Using a Meta Account Instead of Facebook?
You should be aware that there are a few drawbacks in not using Facebook on your Quest headset.
They are:
You won't be able to access and interact with your Facebook friends in Meta's metaverse. This includes inviting friends to games and viewing their profile.
You won't be able to use the Facebook Messenger features on your Quest headset to chat with your Facebook friends.
Meta won't be able to give you personalized recommendations and ads based on your Facebook social media profile.
Overall, these drawbacks are minor overall. If you don't play VR games with Facebook friends, then you probably won't notice anything at all.
Conclusion
As you can see, Meta has made the process to disconnect Facebook from your Meta Quest headset pretty painless overall. Use the steps above to complete everything and disconnect social media from virtual reality.
If you have any trouble, comment down below and let us know what you need!