When Meta announced their new headset 4 days before WWDC, it was obvious that they were inviting Apple Vision Pro vs Meta Quest 3 comparisons. Meta's modest price increase to $500 is nothing compared to Apple's $3,499 price tag.
So, is the better headset that obvious?
Probably.
This guide will compare the Apple Vision Pro vs Meta Quest 3 in full detail so that you can understand the exact differences between each headset.
Meta Quest 3 Overview
The Meta Quest 3 is the flagship Android-based virtual reality headset offered by Meta. It makes several small improvements over the Quest 2, including:
An upgraded Qualcomm Snapdragon XR2 Plus processor on a chip

Redesigned touch controllers that remove the tracking halo

Improved display resolution over the Meta Quest 2
In addition, the Quest 3 borrows several key features from the more expensive Meta Quest Pro:
Pancake optic lenses that remove 40% of the size and weight

Full-color passthrough that lets you view your room and environment clearly

Better machine learning and spatial understanding that reads your room
The Quest 3 is backwards compatible in all of its games and apps, which means that you can play over 500 official titles and thousands more on SideQuest.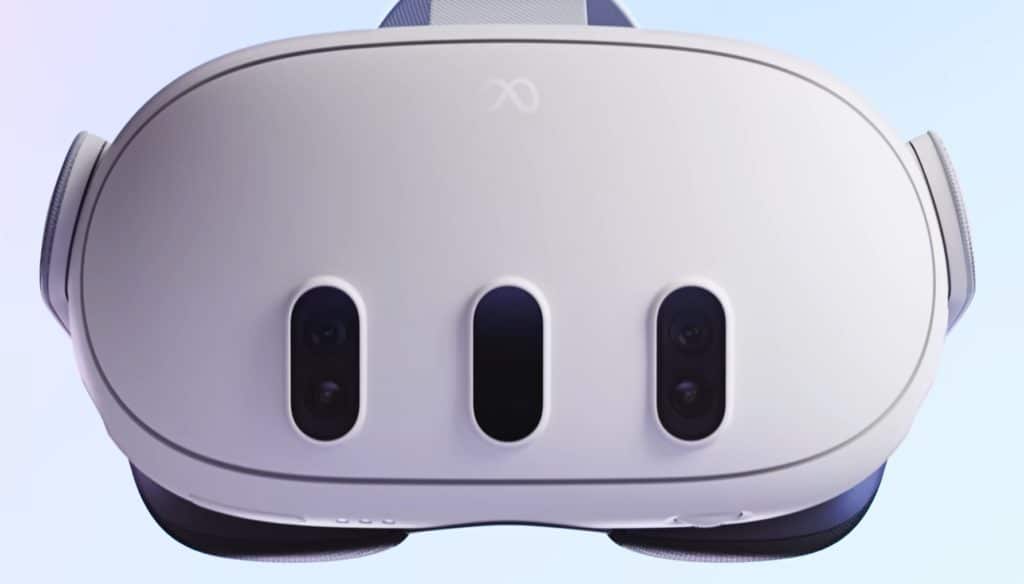 Apple Vision Pro Overview
Apple Vision Pro is Apple's first mixed reality headset. It looks like a more advanced VR headset, like the Meta Quest Pro or Quest 3, but it contains more augmented reality features.
The hardware is decidedly made for productivity. Most of Apple's unveiling focused on apps and media that could be simplified with the device. It supports all iPad apps by default and has some integration features with Unity.
To power the device, Apple is using two high quality processing chips. These processors power 12 cameras and numerous sensors on the device, plus the highest-quality display of all time.
Apple's attention to detail is obvious throughout the entire headset. Every feature, sensor, and connection is designed with a good thought. Apple is not focusing on gaming for the Vision Pro. Instead, they believe that productivity is the key to making consumers want to wear the headset daily.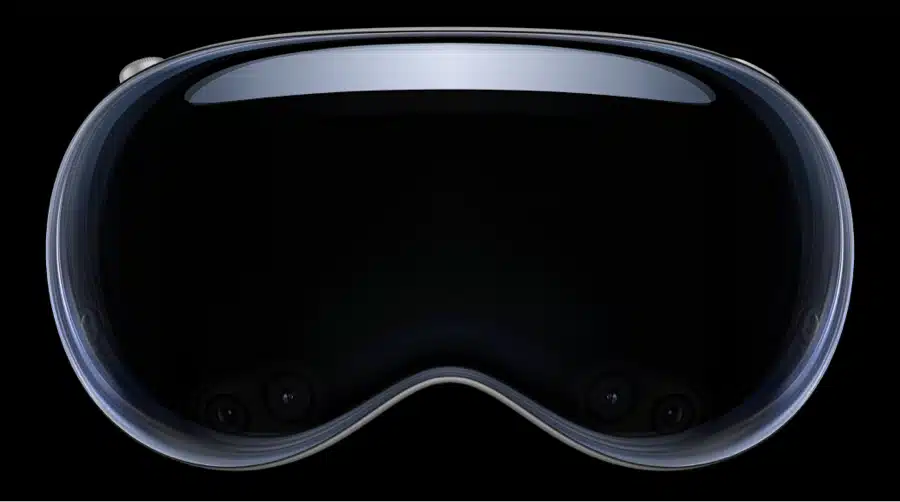 Next, we review the Meta Quest 3 vs Apple Vision Pro against each other in many different categories!
Apple Vision Pro vs Meta Quest 3 Display
The Apple Vision Pro exhibits a remarkable feat of display technology. It houses two micro OLED displays with 4K resolution per eye, the equivalent of packing 23 million pixels across two panels.
The Vision Pro's high pixel density translates to more pixels than a 4K TV per eye, ensuring an ultra-sharp and vividly colorful view of your virtual surroundings. Such a high resolution is particularly advantageous in augmented reality scenarios because it enables lifelike textures and detail.
With a refresh rate of 90Hz and a peak brightness exceeding 5,000 nits, Apple guarantees fluid motion and high contrast levels. When you wear the Vision Pro, ever detail in the display is designed to making your surroundings look lifelike with immersive quality.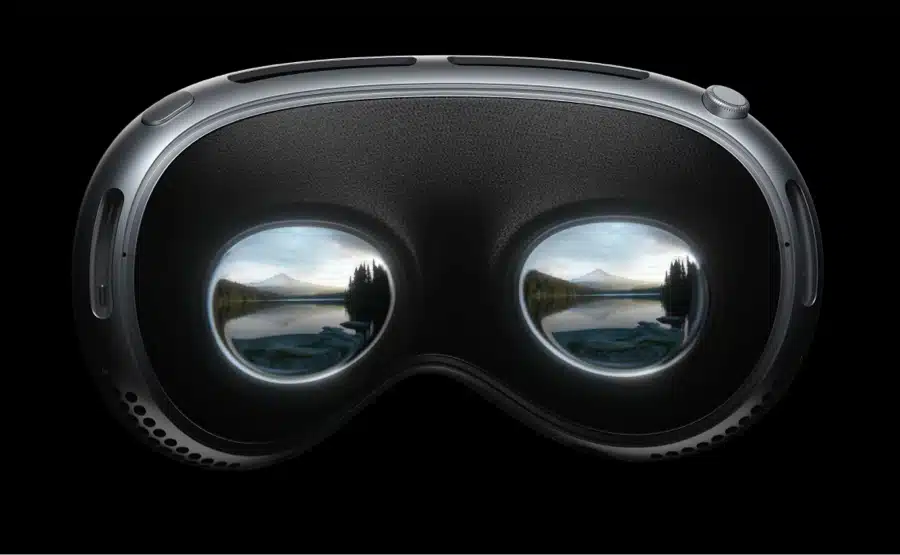 The Meta's Quest 3 steps up the game with a display resolution that offers 4,128 by 2,208 pixels or 2,064 by 2,208 pixels per eye. Although this falls slightly short of the Vision Pro's 4K resolution, it is an improvement from the Quest 2. Meta promises higher-quality visuals in VR games and experiences.
One significant edge the Quest 3 has over its Apple counterpart is its refresh rate. Expected to start at 120Hz out of the box, the refresh rate could be pushed to 144Hz with updates or in certain VR games. A higher refresh rate translates to smoother visuals and decreased motion blur, which is essential for fast-paced VR games and for reducing motion sickness.
Powering these improved visuals is twice the graphics performance of the Quest 2. While not as high as Apple's device, Quest 2 users will be happy with the more detailed environments, realistic lighting and shadows, and more immersive VR and AR experiences.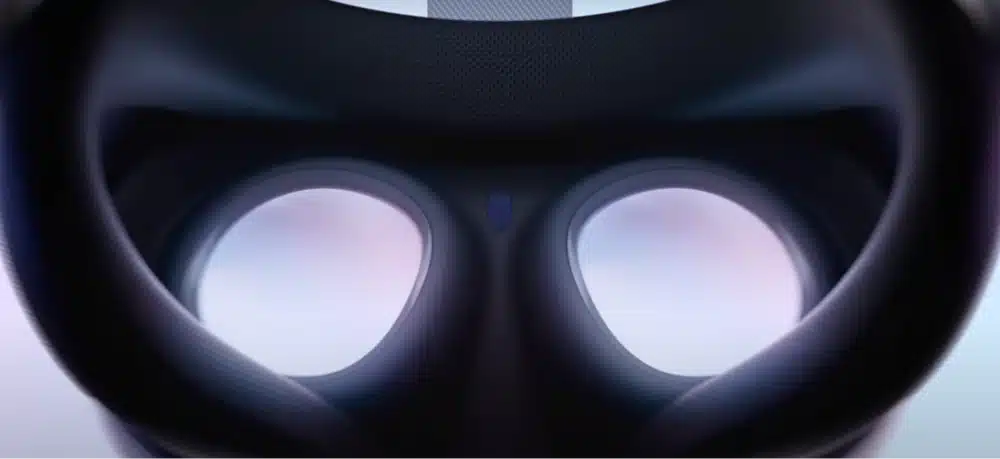 Winner: Apple Vision Pro
Apple Vision Pro vs Meta Quest 3 Sensors
The Apple Vision Pro integrates an advanced sensor array that comprises 12 cameras, 5 sensors, and 6 microphones. This sensor system provides high-resolution video to the displays and enables precise head and hand tracking, real-time 3D mapping, and more.
The high level of precision these sensors offer allows for intuitive and natural interactions in AR, helping blur the line between the digital and physical worlds.
A standout feature of the Vision Pro is its high-performance eye-tracking system. It employs high-speed cameras and a ring of LEDs to project invisible light patterns onto the eyes, enabling responsive, intuitive input.
This sophisticated eye-tracking enables foveated rendering, a technique that sharpens the area you're looking at while reducing the detail of peripheral visuals.
These sensors help make Apple's spatial environment experiences feel as real as possible.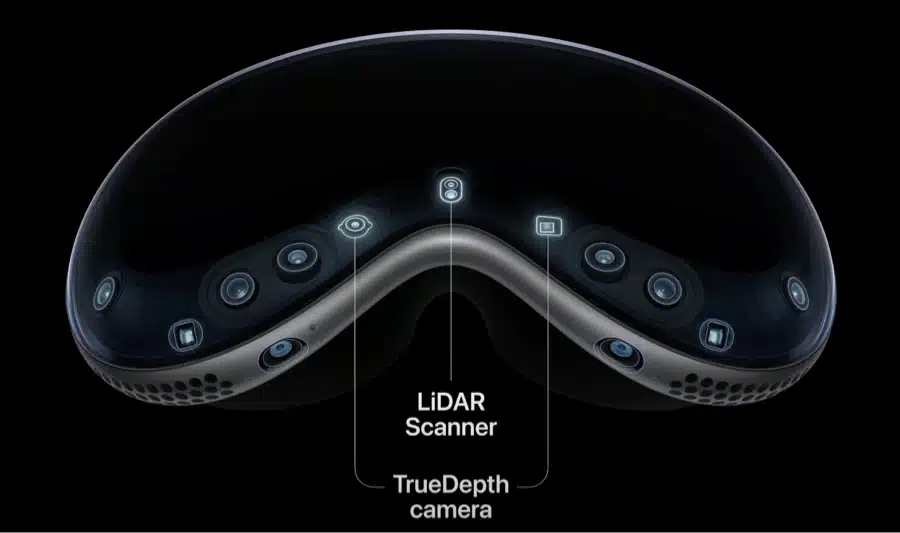 One of the distinguishing features of the Meta Quest 3 is its high-fidelity color passthrough. Unlike most VR headsets that offer monochrome views of the real world, the Quest 3 allows you to see the real world in full color through the headset.
This feature is particularly useful in AR scenarios, allowing for a blend of digital and physical realities.
Leveraging machine learning and spatial understanding, the Quest 3 will feature Meta's most advanced mixed reality experience yet. This integration will bring more mixed reality experiences, such as Beat Saber mixed reality.
Again, the Meta Quest 3 sensors can't compare to Apple's headset. However, most casual users and VR gamers care more about fun and less about realistic immersion at every level.
One nice thing is that both Meta and Apple feature a depth sensor in their headset.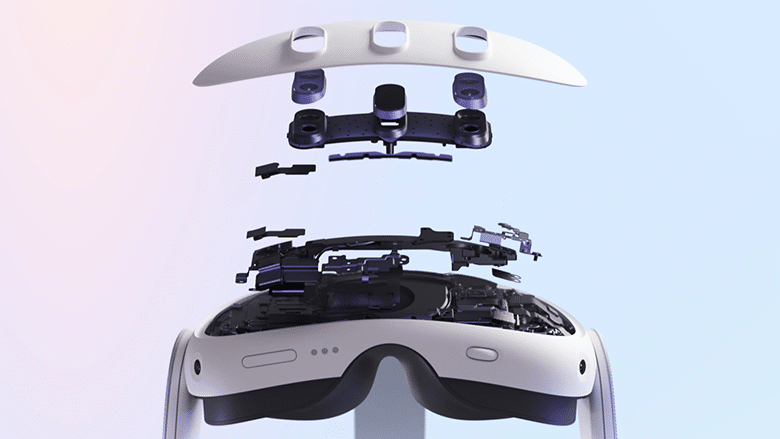 Winner: Apple Vision Pro
Apple Vision Pro vs Meta Quest 3 Design
The Apple Vision Pro has many design highlights worth talking about.
The outer shell of the Vision Pro embodies Apple's hallmark minimalistic design. Comprising a single piece of polished, laminated glass, the headset projects an air of sophistication and modernity.
Its polished exterior and sleek form make it an attractive accessory in any setting, whether a gaming room or a professional workspace.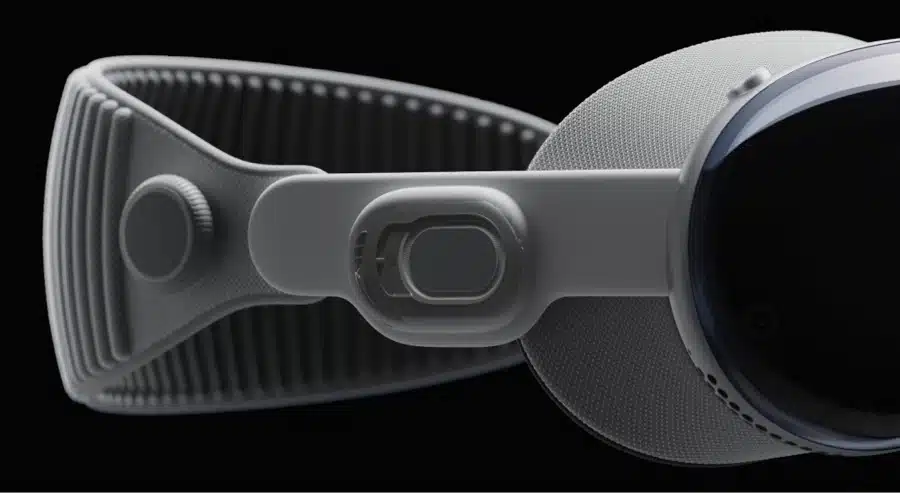 The Meta Quest 3, on the other hand, boasts a 40% slimmer design than its predecessor. This is slightly thicker than the Vision Pro, but not noticeable to most fans.
The streamlined design of the Quest 3 not only enhances the aesthetics of the headset but also reduces its overall footprint, making it more comfortable for extended use and easier to pack and carry.
Meta's design is a solid improvement over the Quest 2. Apple's design is next level in every aspect.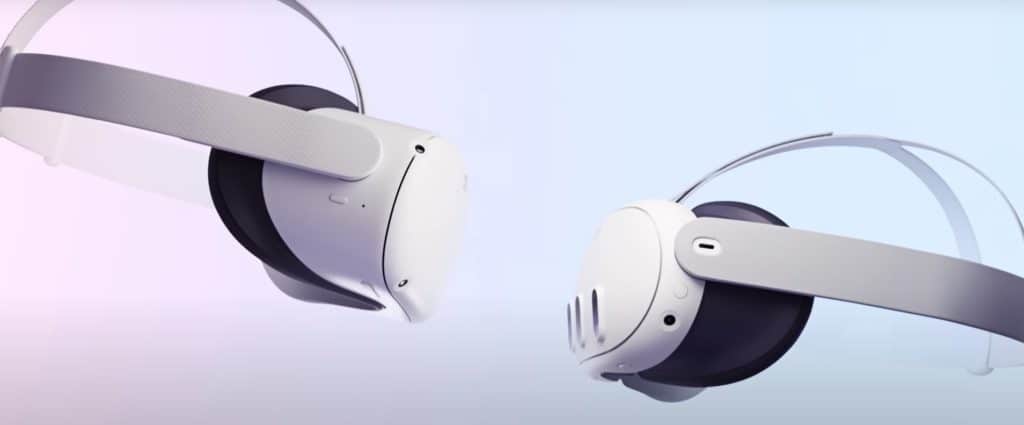 Winner: Apple Vision Pro
Vision Pro vs Quest 3 Head Strap
Both headsets significantly focus on comfort, sporting improved head strap designs. The Apple Vision Pro's head strap is a 3D knitted band focusing on cushion, breathability, and stretchiness.
The device connects to your facial interface with a magnet attachment and can be easily micro-adjusted for the perfect fit. Apple will sell custom light screens and custom back straps so that you can customize the look and feel of the headset.
The Meta Quest 3 has an improved flexible material for the head strap and introduces a motorized system for setting the correct inter-pupillary distance (IPD) with a press of a button. This feature can greatly enhance comfort and visual clarity during VR and AR experiences.
Many complaints about the base head strap being uncomfortable on the Quest 2 are gone. This is due to the pancake lenses taking weight off the device and because of a redesigned double-strap system.
Winner: Apple Vision Pro
Apple Vision Pro vs Meta Quest 3 Controllers
Meta Quest 3's controllers have been redesigned to be more ergonomic and include a new TruTouch haptics system. This system is expected to provide more realistic touch feedback to the user based on the interaction.
You can still ditch the controllers in favor of hand tracking. The experience is continuously improving as more games add support for it.
In contrast, the Apple Vision Pro is designed to operate without any physical controllers. it relies solely on your eyes, hand gestures, and voice commands to control everything.
Apple has created several semi-intuitive gestures you can use to click, scroll, and navigate around the operating system. Eye tracking is used to change the focus in your display.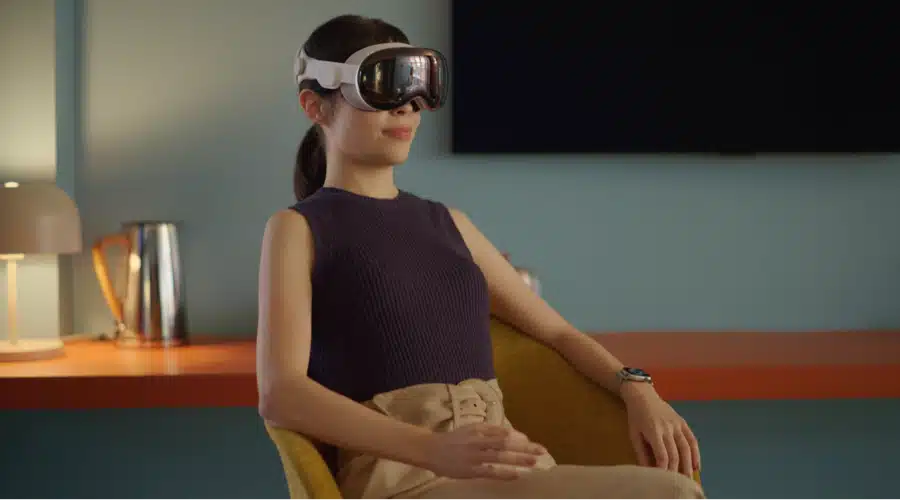 Winner: Meta Quest 3
Vision Pro vs Meta Quest 3 Battery and Battery Life
Both headsets feature the same wireless battery life, of up to three hours. However, the design of the battery is different in each device.
The Meta Quest 3 has an integrated battery into the front of the headset. It adds more weight to your face, but keeps everything in a single package.
Apple has decided to make the Vision Pro battery detachable. It sits in your packet and then attaches to your headset with a magnetic turn-and-click system.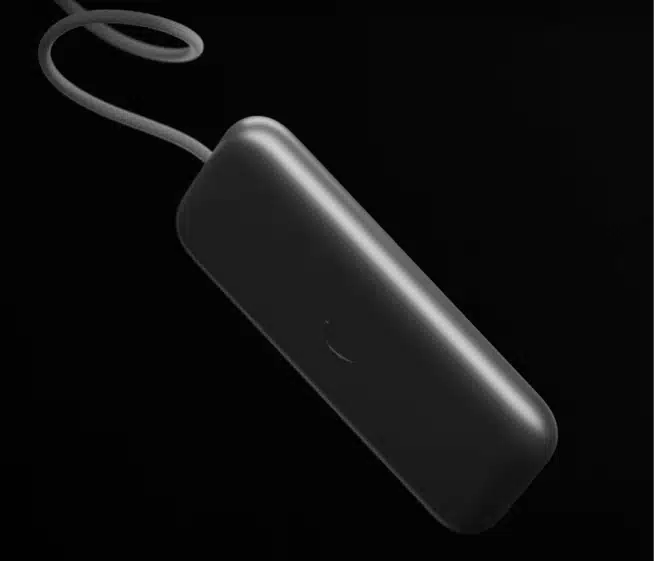 Which option is better depends on how long you like to play. For shorter sessions, you won't notice or mind the integrated battery. If you plan on working all day long, the Vision Pro's external battery wins.
Winner: It Depends
Apple Vision Pro vs Meta Quest 3 Games
Officially, over 100+ Apple Arcade games are supported by the Apple Vision Pro at launch time. All iPad apps can support the headset with the right developer setup.
Apple is introducing RealityKit alongside its other development platforms. This allows developers to create unique mixed-reality experiences, apps, and games. It remains to be seen how many developers will jump on board and develop for the device.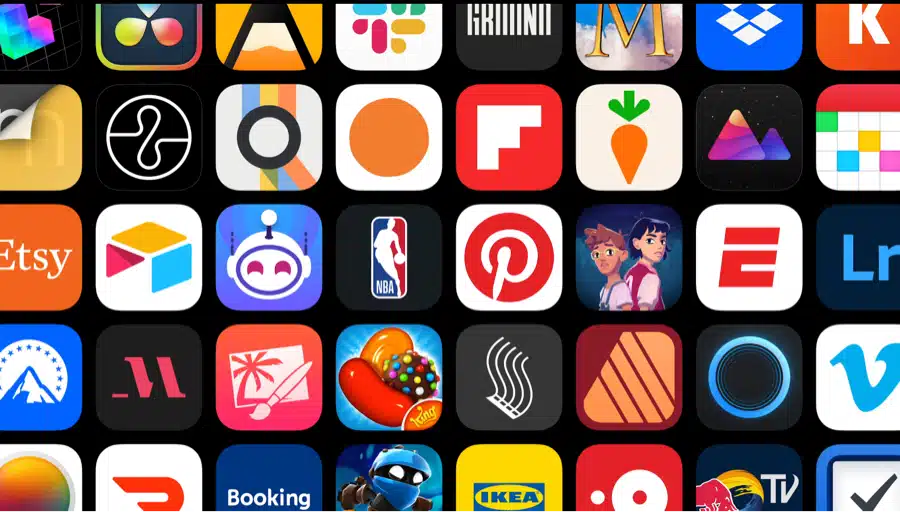 Apple specifically showed off few virtual reality games, so we aren't sure what the ratio of games to productivity apps we will see.
The Meta Quest 3 features backwards compatibility with all of Meta's game ecosystem:
the official store

SideQuest
In total, over 1000 Meta Quest games have been released so far, with more coming out each week.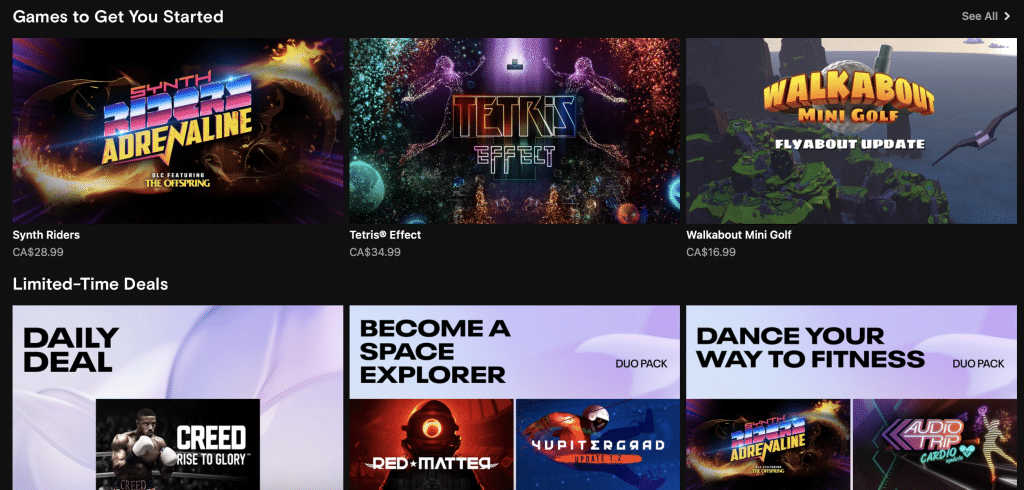 Winner: Meta Quest 3
Price
The Meta Quest 3 starts at $499 for the 128 GB version and $599 for the 256 GB one. This is a $100 increase from the Quest 2's initial price.
The Apple Vision Pro starts at $3,499 for its base version, presumed to be 128 GB as well.
Winner: Meta Quest 3
Final Verdict
Undoubtedly, Apple's Vision Pro is a gorgeous headset. Apple has spared no expense to create a high-quality design, top-of-the-line display, advanced augmented reality features, and more. The computer power, external cameras, and spatial audio support, all stand out.
However, the Apple Vision Pro falls short in 3 key areas which carry the Quest 3 to victory:
price

a developed ecosystem of games and app

price (again)
Are you drawn toward the Vision Pro's ultra-high resolution and sophisticated design, or are you excited by the Quest 3's smart improvements to its existing Quest virtual reality headset lineup?