In this guide, we have every single detail about Facebook Horizon, the innovative social experience built by Facebook and Oculus. Horizon is a social VR experiment to entertain players about the world.
We'll take a look at:
What is Horizon?
How can you sign up today?
What can you do in the game?
With virtual reality gaining more popularity, social apps are reinventing the wheels to create apps that keep people entertained at home.
If you are a virtual reality enthusiast looking for a guide on what to expect from Facebook Horizon, you are in the right place.
Without further ado, let's get started.
So, What is Facebook Horizon?

Facebook Horizon is a social network for virtual reality. It is sandbox creation tool for social interaction where users can engage with the virtual environment. Facebook has promised that it is going to be a unique and expansive multiplayer VR game.
In Horizon, you can create your own digital avatars and hop between virtual locales through portals called Telepods. Telepods are magic-like portals that transport you to different lobbies to play games and view entertainment.
You can also watch movies, consume other media with friends and play multiplayer games together. Some media viewing aspects are taken from Oculus Venues.
Horizon is the next generation of two failed projects: Facebook Spaces and Oculus Rooms. If you were a part of either of those, you have an idea about some concepts planned for Horizon. If you've watched the movie Ready Player One, you can also picture what Facebook might have in store.
Horizon also will include human guides known as Horizon Locals. These human guides give users assistance and protect their safety in the VR world so trolls can't run rampant.
How Does Facebook Horizon Work?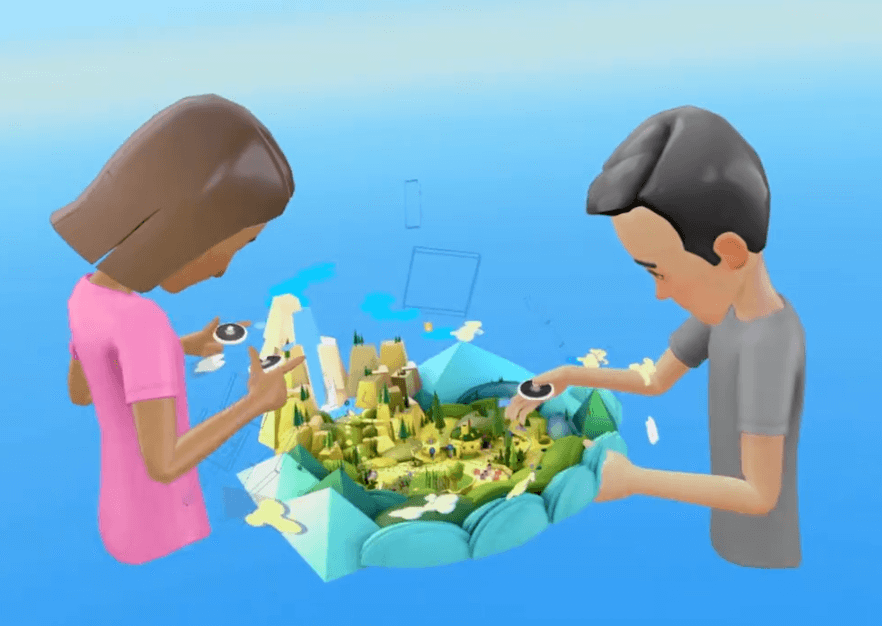 At first glance, Horizon seems like a competitor to PlayStation VR's Dreams, Roblox. and Second Life. It's a hub for games and content, mixed in with Facebook's social network concept.
When you log in to Horizon, you start centralized around a town square. Before people step in, people can choose how they look and what they wear from an expansive and inclusive set of avatar tools.
Users will be able to use the Horizon World Builder to create gaming arenas, vacation chills pots, and activities to fill them without coding.
Horizon Locals will wander the VR landscapes to answer questions or aid users if they're having technical or safety issues. They seem poised to be part customer support, part in-world police.
What Is The Facebook Horizon Release Date?

During the Oculus Connect 6 last year, Mark Zuckerberg announced that Facebook Horizon would be available in 2020. He didn't mention a specific date for the launch and news went dark for some time after the event.
In Late August 2020, Facebook announced that Horizon was moving into a closed beta state for some Oculus headset owners. Since then, an increase in news and gameplay and previews have been posted online.
One rumor is that Horizon will be released during Oculus Connect 7, scheduled for September 16th, 2020. If not out of beta on this day, we'll be listening for release date in the near future.
How To Join The Facebook Horizon Waiting List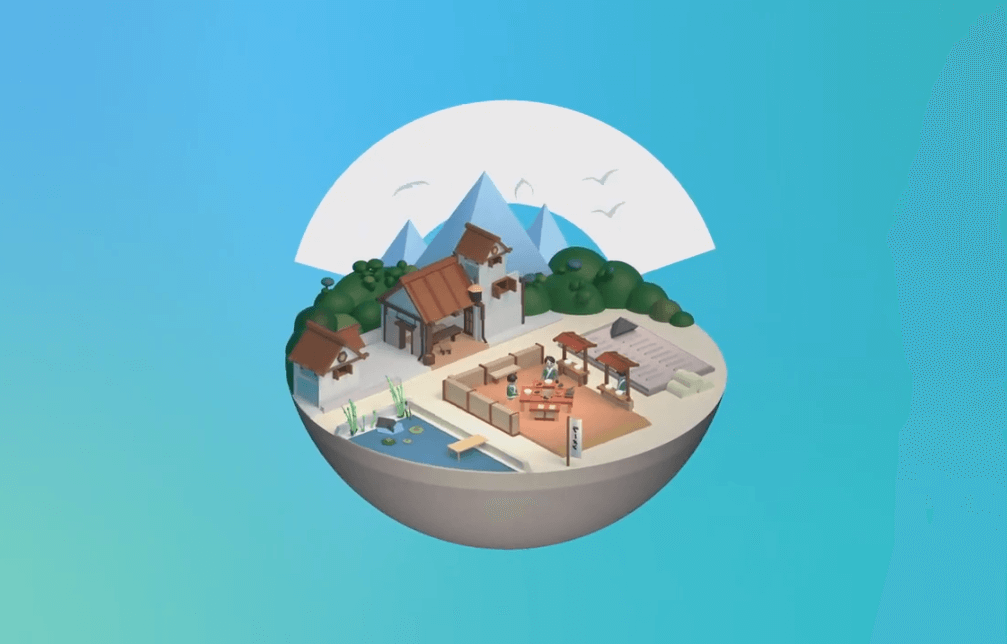 The process of joining the waiting list and testing Horizon out is simple and straightforward. To join the waiting list:
Visit the Horizon beta registration page here
Login with your Facebook account or create an Oculus account if you don't have one
Enter a username. Note that your username will be visible to other Oculus users!
Set up a 4-digit Pin and password.
Enter an email to help you recover your password if you can't remember it
Proceed to complete the registration process.
You are now on the waiting list for Facebook Horizon and will be contacted to join other beta users. The closed beta is only available to industry insiders and people with special access.
General Facebook users and Oculus owners will be contacted soon.
What Devices is Horizon On?
The invite-only beta is available on the Oculus Quest and the Rift S Platform in the US and Canada to start.
When it is fully released, Oculus headset owners from around the world are invited to hang out, play, and explore the world.
Best Games On Facebook Horizon
Facebook promises that Horizon is an open sandbox. You can create completely customizable games from scratch and have players from around the world play them. A number of unnamed games have been previewed in videos and reviews of the platform so far.
Wing Strikers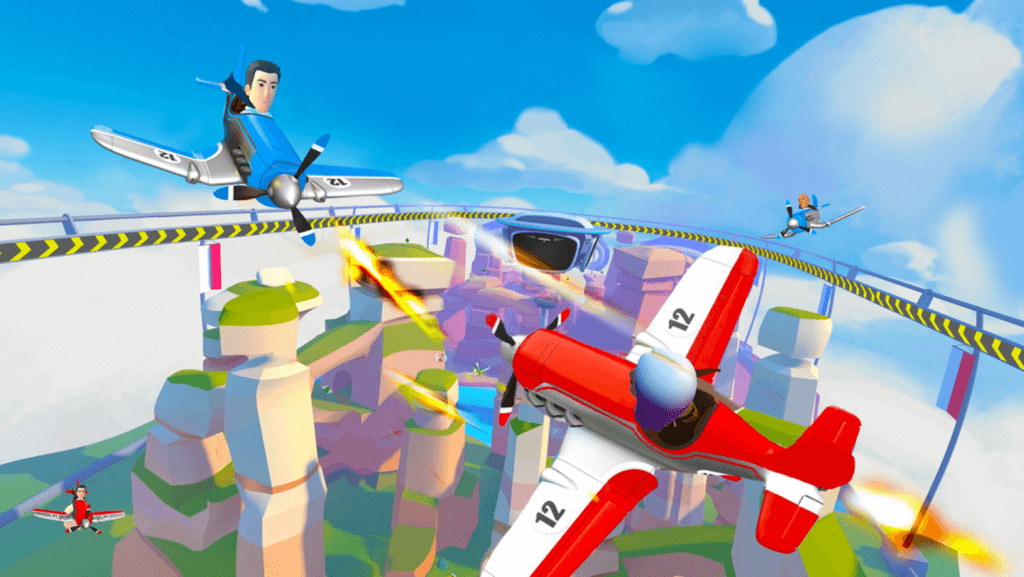 Wing Strikers is a multiplayer game where you have to work together with others to fly planes and explore worlds together. The game has been repeated in many Facebook press releases about the platform.
You have to control an airplane with your hands, making it dive and rise through a massive arena. Grab missiles and other power-ups as you play traditional team games like death match or capture the flag.
Unnamed Echo VR Clone
Scott Stein from CNET talked about an Echo VR-style game where you control a massive robot in a hangar space – Pacific Rim style. You use your Oculus touch controllers to zap yourself forward in bursts, grabbing on to other robots to attack them with punches.
Minus some Quidditch-style scoring, the game sounds a lot like Echo VR.
Balloon Bash
Balloon Bash is a shooting VR game where you have to pick up and use water balloons to your advantage. Run around different maps shooting targets and earn points. The player with the highest total points is the winner of each round.
Interdimensional
Interdimensional is an escape room VR game inside of Horizon. You have to work with a partner to solve puzzles made from symbols, hieroglyphics, and other objects.
The challenge is that only the player outside of the room has the gravity controls. This means that players need to use teamwork to achieve goals and earn points.
Facebook Horizon Tips
Here are a few tips that help you to get started in Horizon:
Go exploring! As you can see in the videos below, the platform is expansive and ever-expanding. Facebook is working hard to keep users engaged and using Horizon.
As the game goes into open beta and more facts are known, we will update this section with more and more tips!
Gameplay Videos
Check out some videos on Horizon below, which preview some of the upcoming features included in the platform!
What do you think about this new social experience? If you are lucky enough to get into the beta, we want to hear from you! What are your favorite Facebook Horizon games? 
Let us know by commenting below.