Fall Guys is one of the best multiplayer games released in a long time, but because of its anti-cheat system and its inclusion on the Epic Games store, a few extra steps are required to play it on the Steam Deck.
In this guide below, I'll walk you through exactly how to play Fall Guys on the Steam Deck, but installing it correctly and getting around its anti-cheat system!
In short, the process below helps you get Fall Guys on the Epic game store, launch it through the Heroic Launcher on the Steam Deck, and then adds some bypass commands to run Epic Online Services to adhere to the anti-cheat settings.
What is Fall Guys?
Fall Guys is a wildly popular multiplayer party game that took the gaming world by storm. Developed by Mediatonic and published by Epic Games, it offers a unique and entertaining experience for players of all ages.
In Fall Guys, players control adorable jellybean-like characters known as "Fall Guys" as they compete against each other in a series of zany obstacle courses and mini-games.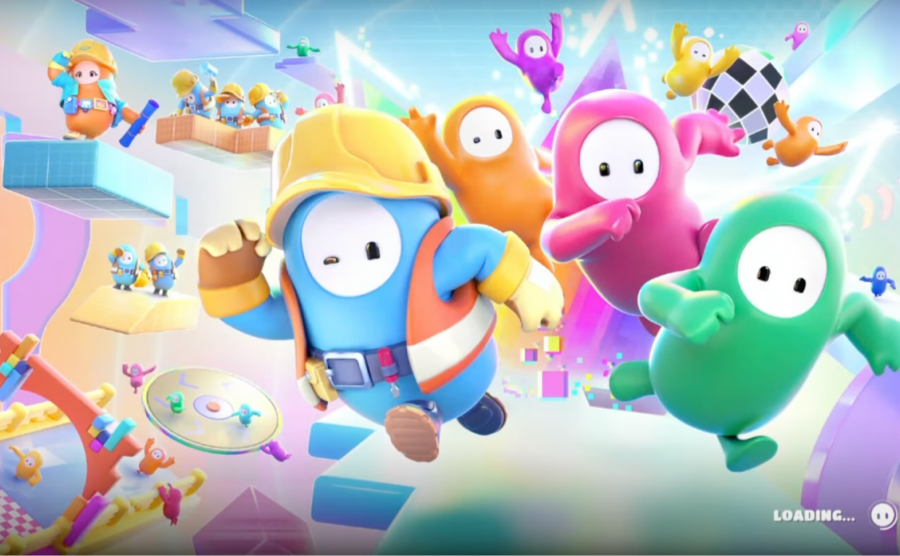 Objective
The objective of Fall Guys is to navigate through various challenging levels, overcoming obstacles, avoiding pitfalls, and outlasting opponents to be the last Fall Guy standing. Each level presents different hurdles and tasks, ranging from things like:
navigating treacherous platforms

dodging swinging obstacles

participating in team-based challenges and races
The game combines platforming, battle royale, and party games, creating a chaotic and fun-filled experience where skill, strategy, and a bit of luck are essential.
With its vibrant visuals, catchy music, and hilarious physics-based gameplay, Fall Guys offers a delightful and accessible gaming experience that has captivated players worldwide.
Is Fall Guys Available on Steam?
No, Fall Guys is not available on Steam. The Steam version of Fall Guys was removed in 2022, so you can no longer install the game directly into your Steam Library. The game is an Epic exclusive through the Epic Store, an alternative to Steam.
So Then, How Do You Play Fall Guys on the Steam Deck?
Fall Guys is available through the Heroic Launcher, which you can install on your Steam Deck. Heroic Launcher provides access to your Epic games library.
After You Install It, Can You Play Fall Guys on the Steam Deck by Default?
Unfortunately, Fall Guys does not have native support for the Steam Deck due to its anti-cheat software. However, workarounds are available to bypass the anti-cheat system and enjoy Fall Guys on your Steam Deck.
Unlike other outdated guides, our steps below help you bypass anti-cheat right within the Heroic Launcher.
Anti-Cheat Software
Fall Guys utilizes Easy Anti-Cheat (EAC), an anti-cheat solution to prevent cheating in multiplayer games. While EAC effectively maintains fair gameplay, it is incompatible with the Linux-based Steam Deck operating system. This compatibility issue prevents Fall Guys from default running on the Steam Deck.
However, don't fear!
Below, I'll show you exactly how to install Fall Guys on the Steam Deck through the Heroic Bash Launcher, and then how to bypass its anti-cheat software so that you can play the complete game. Once you follow these steps, the game works great.
How to Install Fall Guys on the Steam Deck (and Bypass Anti-Cheat)
Switch to Desktop
Hold down the power button and click on "Switch to Desktop."
Install Proton Experimental on Steam
If Proton Experimental is not already installed on your system:
Click on the Steam icon library.

Go to the search field.

Enter Proton Experimental in the space provided.

Install Proton Experimental onto your device.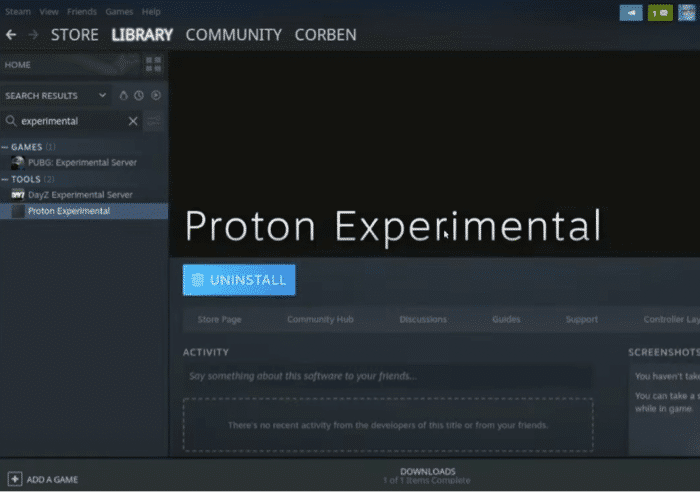 Install Heroic Games Launcher via Discover
Still in desktop mode, open the Discover software center. Enter "Heroic Games Launcher" in the search field, and install it on your Steam Deck.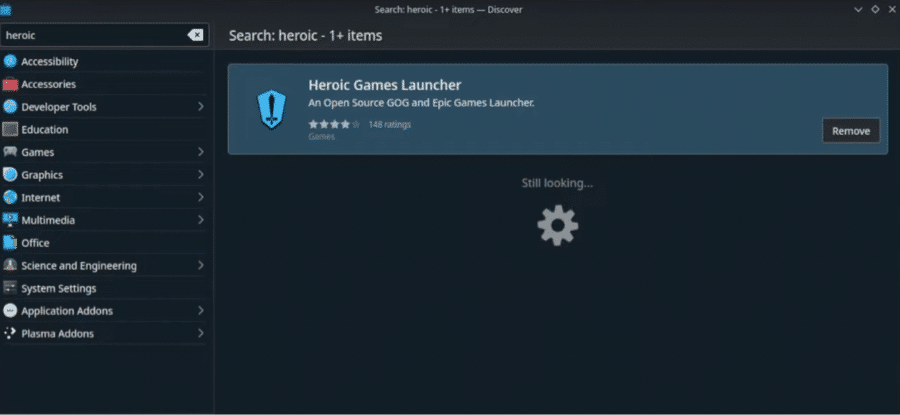 Start Heroic
Launch the Heroic Games Launcher on your Steam Deck. If you are not logged in, go to "managed account" and log in to your Epic games account.
Install Fall Guys
Search for "Fall Guys" on the Epic Games store. Scroll down and select "Proton Experimental," as the version and then hit "Install."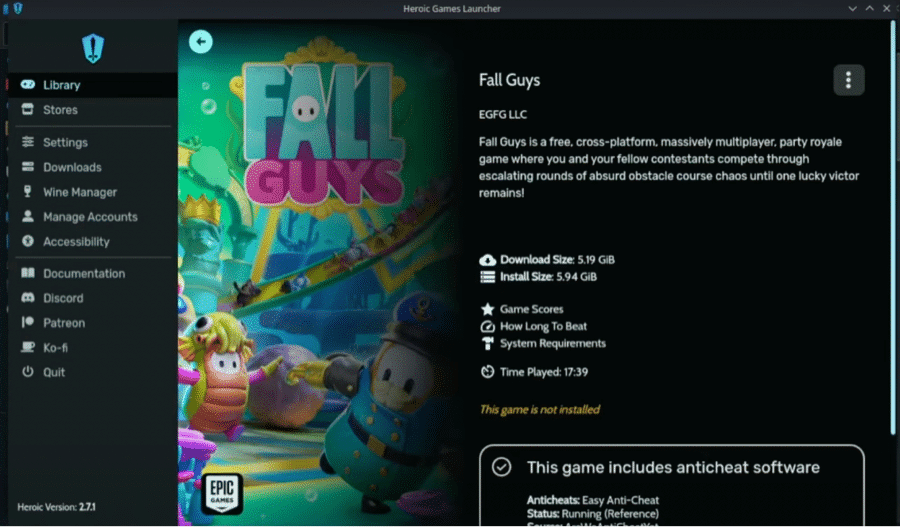 Enable Easy Anti-Cheat (EAC) and select RunFallGuys.exe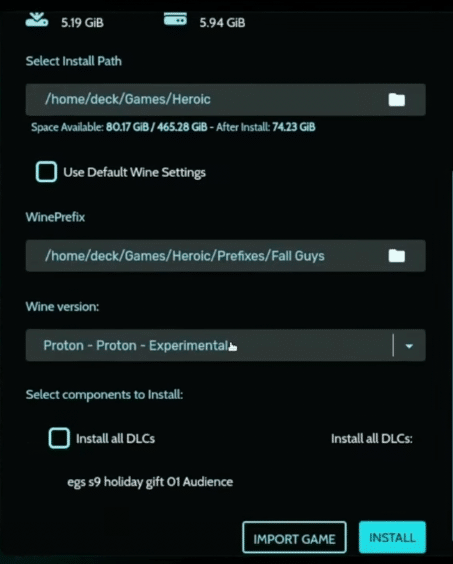 Once Fall Guys is installed, click the Settings icon. Ensure Proton Experimental is selected and enable the EasyAntiCheat Runtime option.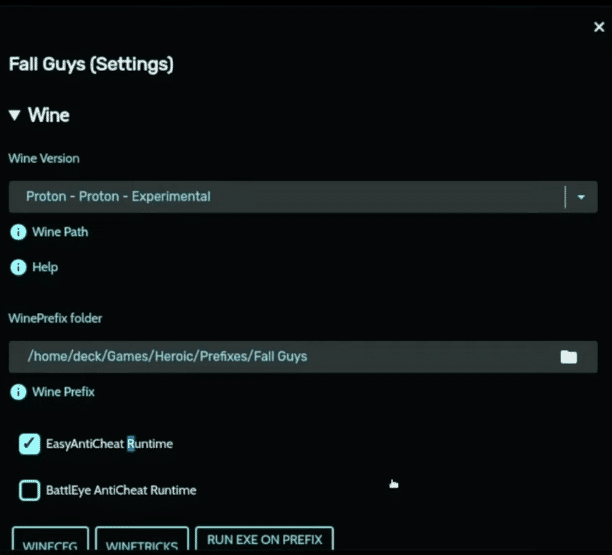 Scroll down to the Other section, and under Select an Alternative EXE to Run, navigate to and select:
/home/deck/games/Heroic/FallGuys/RunFallGuys.exe
Close out of the settings and click on Yes to enable GameMode.

First start of Fall Guys – Installing Microsoft C++ Redistributables
Launch Fall Guys from the Heroic Games Launcher. The first launch may prompt you to install Microsoft C++ Redistributables.
Follow the on-screen instructions to install them.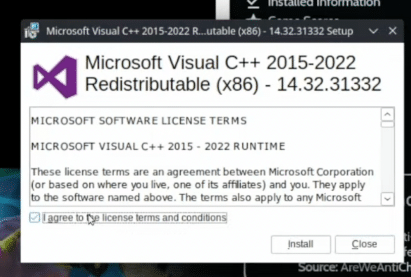 Step 8: Missing Files Error (Expected)
After the Microsoft C++ Redistributables installation, you may encounter a missing files error. This is expected and will only happen once.
If you get this error, exit out of Fall Guys.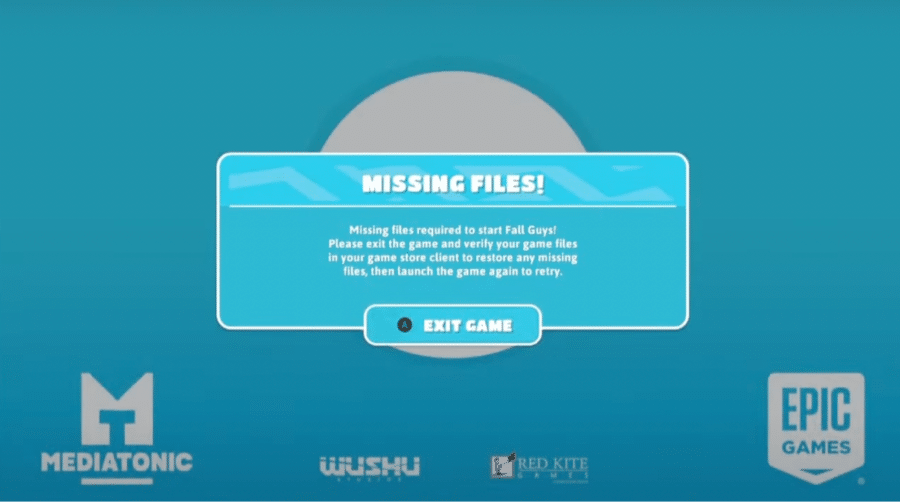 Step 9: Enable EOS Overlay
Go back to the Heroic Games Launcher, Fall Guys in your library, and navigate to the three-dot menu. Select Enable EOS Overlay.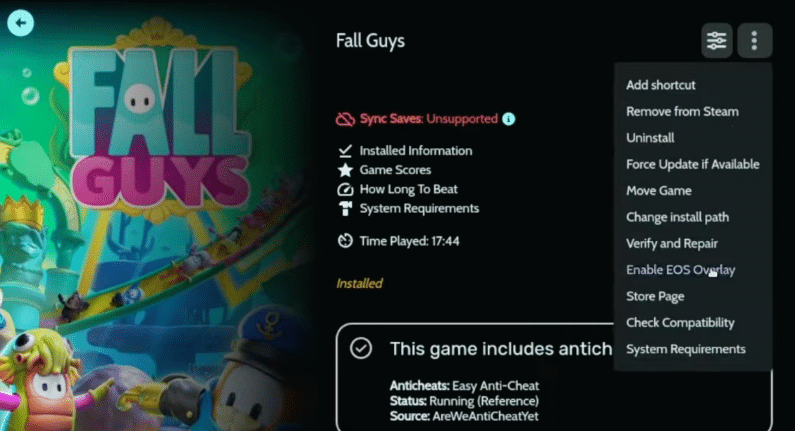 Step 10: Install Epic Online Services (EOS)
Launch the settings menu and then click on Run EXE on Prefix.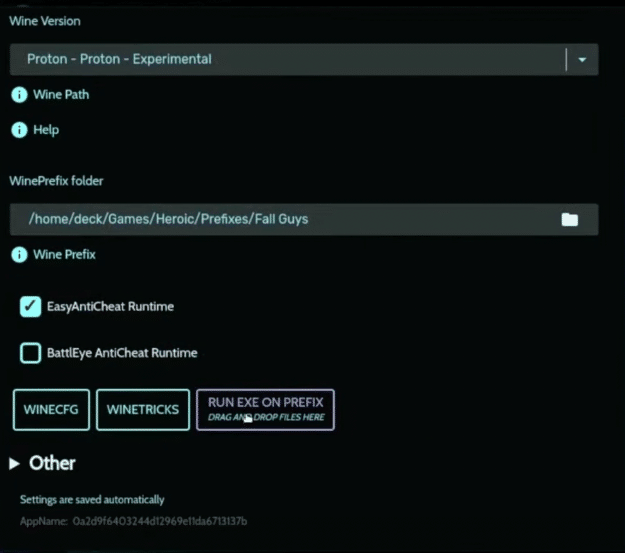 Select the EpicOnlineServices folder and EpicOnlineServicesInstaller.exe file.
The process will run in the background while you play Fall Guys and provide you with a bypass for the anticheat.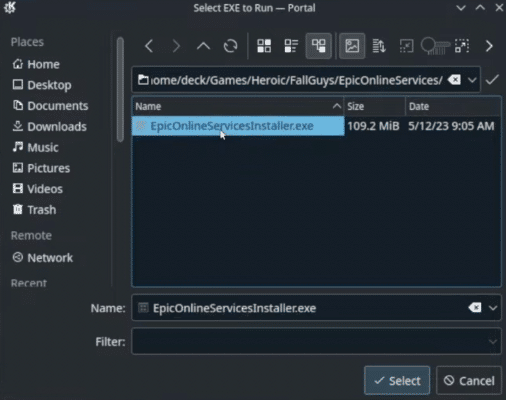 Second start of Fall Guys – Install EOS
Relaunch Fall Guys from the Heroic Games Launcher. This time, it will install EOS. Wait for the installation to finish.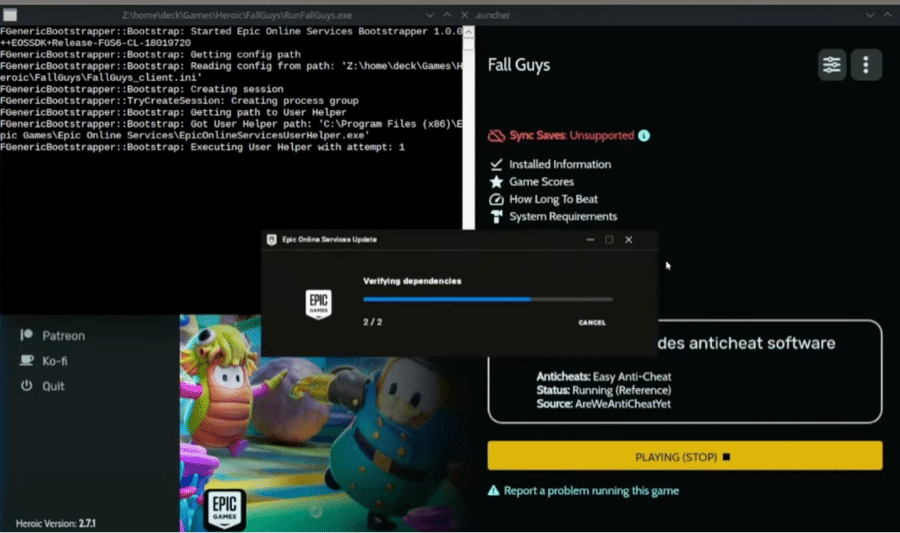 After the installation, Fall Guys will launch without the missing file prompt.
You can now start playing the game.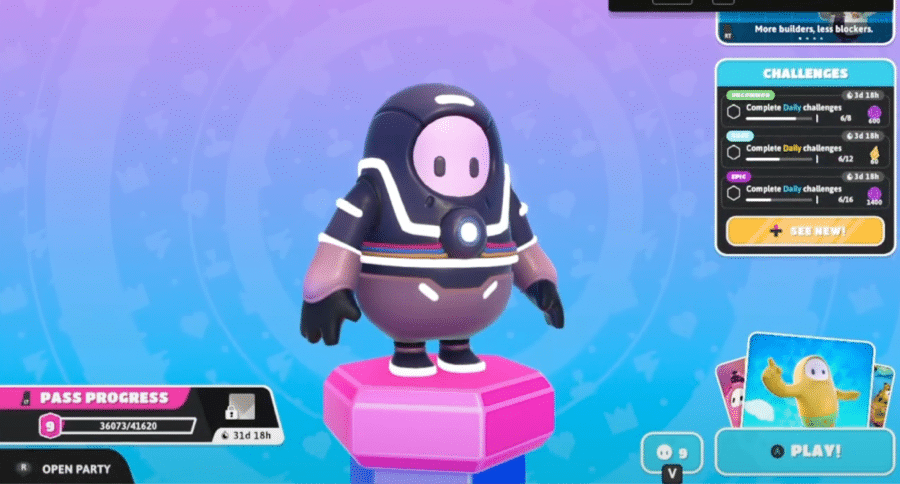 Adding Game to Steam
To add Fall Guys into Steam, launch the Steam client on your Steam Deck. Click "Games" in the top navigation bar and select "Add a Non-Steam Game to My Library."
In the window that appears, locate the Fall Guys executable file (RunFallGuys.exe) and add it to your Steam library.
When playing Fall Guys, enabling Gaming Mode on your Steam Deck is recommended. This helps optimize the system's performance and provides a smoother gaming experience.