In this official Steam Deck docking station review, I'll go through Valve's official Dock in detail. I'll show you key features you should know about, along with a setup guide and instructions on how to use it.
The official dock is one of the top Steam Deck accessories. It allows you to play your top Steam games in Desktop mode on a TV or with an attached keyboard and mouse.
If you are in a rush, use the button below to buy your official Dock today.
The official Dock, as expected, has tight integration with the Steam Deck, but how does it compare to other third-party alternatives? Keep reading to find out.
Official Steam Deck Dock Overview
The Steam Deck Dock is a portable device that you plug into your Steam Deck to enable you to play any game from the Steam library on a monitor or any external larger screen like a TV. With the Steam Deck Dock, you can set up your Steam Deck on your work desk or connect it to your living room TV.
Unlike other third-party docks, the Steam Deck Dock supports official firmware updates and doesn't need an external power supply. It has a few features you will not find in competing docks.
The Steam Deck Dock is very portable. It can firmly hold your Steam Deck in place. It features up to 8 ports, which I'll cover in full detail below. It also has a USB-C cable that connects to the Steam Deck. This number of ports makes it easy to extend how you use your Deck.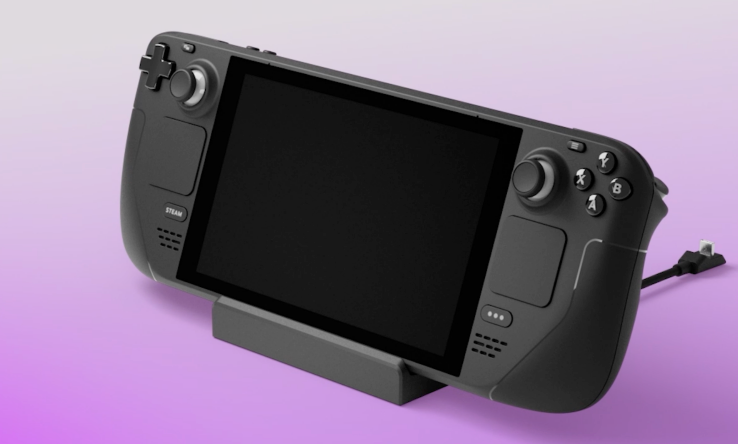 Key Features
The Steam Deck Dock boasts several great features you need to be aware of. Some of these features include:
Official Integration with the Steam Deck
The Steam Deck Dock is the official Dock for the Steam Deck from Valve. It is most helpful if you want to connect your Deck to the TV in your living room or play your favorite games using a large external monitor.
Being an official release, the color scheme matches the black on the Deck, and the design allows your Deck to sit safely inside its grooves. The build quality is as good or better than other alternatives.
Also, your dock will automatically update its firmware when you connect it to your Deck, which gives you the latest features and security updates for it.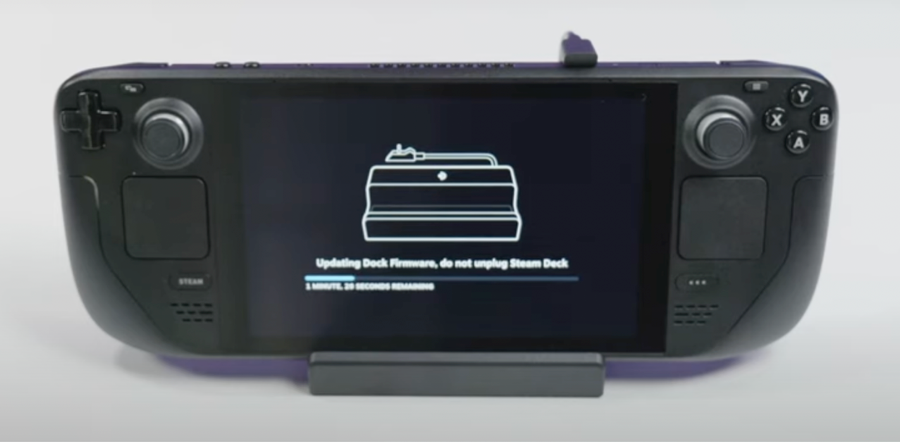 8 Included Ports
The Steam Deck Dock comes with eight ports to enable you to extend the use of your Deck. The ports include:
HDMI 2.0 port
DisplayPort 1.4
Power in
Gigabit Ethernet
USB A ports (version 3.1)
This Dock also has a USB C cable that connects to the Steam Deck's power port. All essential ports are included here, and you can use the USB ports for accessories like a keyboard and mouse or extra storage space.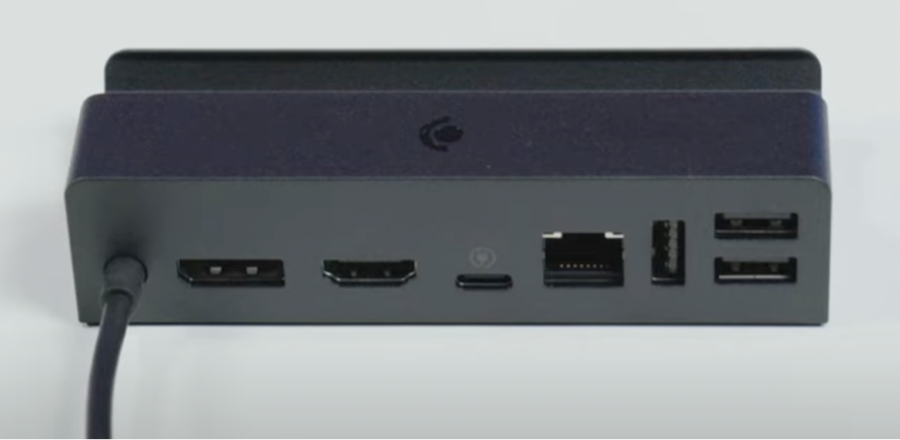 Multiple Display Support
With HDMI and DisplayPort ports, you can hook up to multiple displays simultaneously. This allows you to share your Deck screen across different monitors or TVs or increase productivity with an extended desktop.
FreeSync Support
The Steam Deck Dock supports FreeSync, a program that controls a monitor's refresh rate to sync with games' frame rate. With the Steam Deck Dock connected to your Deck, you can play games without experiencing "tearing," a term used to describe a situation when a monitor won't refresh quickly to meet a game's refresh rate.
FreeSync offers a clear and problem-free video signal.
Steam Deck Docking Station Release Date
The official dock was initially announced back in February 2022 and was going to be shipping alongside the Steam Deck. However, manufacturing backlog led to continuous delays in the release and allowed a lot of third-party docks to take control of the market.
The official dock was eventually released by Valve on October 6, 2022.
Steam Deck Dock Ports
As we mentioned earlier, the Steam Deck Dock has up to 8 ports. Here, we will explain what you can use each port for:
DisplayPort 1.4 and HDMI 2.0: These two ports connect the Steam Deck Dock to an external display device like a monitor or a TV in your living room. It carries audio and other forms of data.
Power in: The Power in port is where you will connect the charger with the Dock to charge your Deck.
Ethernet: The Ethernet port connects the Dock to a wired network.
3x USB 3.1: The three USB 3.1 ports can connect peripherals like a keyboard, mouse, or gaming controller.
USB-C cable port: The USB-C cable indirectly plugs into your Steam Deck to lock everything tightly.
The unofficial ninth port is the grooved slot that your Steam Deck sits in when docked. This keeps it secure and in place while you are in Desktop mode or using the USB hub.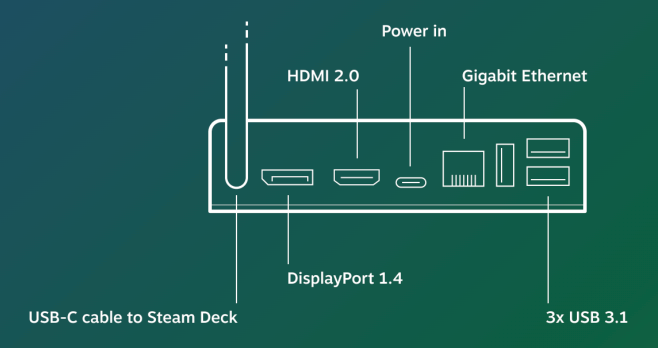 How Much Does the Steam Deck Dock Cost?
The Steam Deck dock is available on Valve's website for $89. This is slightly higher than other alternatives, but you'll be happy with what you get.
How to Connect the Steam Deck to the Dock
It's pretty straightforward to connect the Steam Deck to the Dock. The Dock comes with a USB-C cable that you can't detach. Place the Deck on the docking station and plug in the USB-C cable in the port on top of the Deck, and you are good to go.
You can plug your Steam Deck charging cable into the port on the Dock and charge your hardware while it is in docked mode.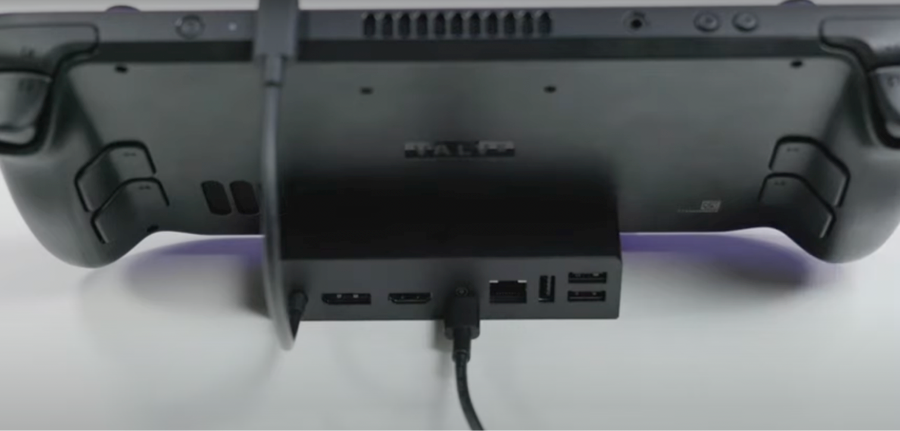 How to Connect the Steam Deck to Your TV With the Docking Station
Here's how to connect the Steam Deck to your TV with the docking station:
Place the Steam Deck on the docking station.
Connect the undetachable USB-C cable that the Dock comes with to the port located on top of the Steam Deck
Get an HDMI cable and connect the cable from the Dock to your TV.
Connect the Dock to the power supply using the included USB-C charger.
Connect your mouse, keyboard, or controller using three USB 3.1 ports.
You should be good at this point. You can then switch on your TV to detect the signal on the HDMI cable. You can start playing your favorite steam games on a larger screen.
What I Like About the Steam Deck Dock
I like that the Steam Deck Dock can output the Deck to different external displays in 4K resolution. I also like that the device doesn't need external Power to function. Plus, you can easily update the firmware compared to competing docks.
The Dock has official support from Valve, and switching to and from desktop mode on your TV feels a bit snappier than other third-party docks.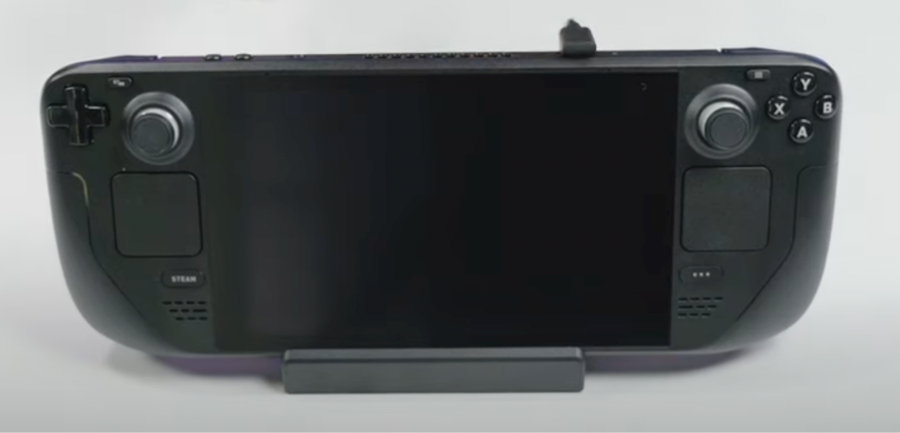 What I Don't Like
The first thing I don't like about the Steam Deck Dock is its pricing. It's a bit more expensive than other docks on the market, which may be a big turn-off for most gamers. Some generic USB C hubs offer even more ports for less of a price if you are okay with not having a perfect slot for your Steam Deck to sit in.
Secondly, it doesn't have a port to connect a second solid-state drive (SSD), a feature that some third-party docks come with.
Alternatives to the Official Dock for the Steam Deck
JSAUX 6-in-1 Steam Deck Docking Station
The most popular alternative to Valve's official Dock is this one by JSAUX. The 6-in-1 Dock has a third USB port, the only addition to the JSAUX 5-in-1 dock.
The JSAUX dock features the same ports as the official Dock: a single HDMI, ethernet, USB C charging port, and 3 USBs. It is missing the DisplayPort port, so you can't plug it into a second monitor or screen. The price is more reasonable than Valve's Dock.
Anker USB C Hub (8-in-1)
This Anker 8-in-1 USB hub is the most popular docking station you can buy today. Included in this Dock are eight different inputs:
HDMI ;port
USB-C Charging Port
USB-C Data Port
Two USB A ports
Gigabit Ethernet port
SD
MicroSD
The MicroSD port is an excellent feature on this Dock because you can plug in a second external storage card for your Deck. The biggest drawback to the Anker hub is that it does not have a stand base to sit your Deck into. You'll need to lay your Deck on your table or prop it up against something else.
iVoler 5-in-1 Docking Station
The iVoler 5-in-1 Docking Station is an excellent alternative to the Valve's Dock. It has a similar stand base to which you can sit your Steam Deck. You connect the iVoler 5-in-1 Docking Station to an external display using the relevant port and cable to enjoy smooth visuals.
Compared to the Valve dock with eight ports, the iVoler 5-in-1 Docking Station comes with an HDMI 2.0 4K at 60HZ output, a USB C port for power delivery, and three USB-A ports. You don't get the option to connect an ethernet port to this Dock.
OwlTree 5-in-1 Dock
Like the Valve dock, the OwlTree 5-in-1 Dock can charge your Steam Deck and output up to 4K resolution to your monitor or TV. However, while the Deck Dock features eight ports, the OwlTree 5-in-1 Dock has five ports, including HDMI output, 3 USB 3.0 data ports, and a USB Type-C PD fast charging port.
It combines the function of a stand and hub in one. It works the same way as the official Dock but doesn't support firmware. You can connect a mouse, keyboard, and controllers through the three USB 3.0 ports.
Frequently Asked Questions (FAQs)
Do you need a Steam Deck dock?
A docking station is a crucial Steam Deck accessory if you use it in desktop mode and like to play games on a full-sized monitor or TV. The Dock is also vital if you want to use your wired keyboard and mouse. It is fine without a dock if you primarily plan to use the Steam Deck on the go.
Is the official Valve dock for the Steam Deck available to buy?
After lengthy delays, the official Dock for the Steam Deck is now available from the official website.
Will any USB C Dock work with the Steam Deck?
Yes, any USB-C dock will work just fine with your Steam Deck. The three main features you want to ensure are that the HDMI port supports 4K, the USB-A ports support the 3.1 standard and that the Dock has the look and feel you want. Some docks made for the Deck come with a stand base in which you can sit the device.
Can you charge your Steam Deck through the Dock?
As long as your Dock has a power delivery rated USB-C port, you can use the standard wall charger to charge your Deck through the Dock.