Welcome to the digital showdown of the year, where we compare the Steam Deck vs ROG Ally by Asus in full detail. Who will come out on top in this battle of pixels?
Spoiler alert: there's no easy answer.
Stick around as we dive into performance, portability, and price, weighing the pros and cons of each device in detail for you. If you have tried both devices, let us know which handheld gaming PC you like better between the Asus Rog Ally vs Steam Deck down below.
Steam Deck vs Asus Rog Ally Comparison Table
| | | |
| --- | --- | --- |
| | Steam Deck | Rog Ally |
| CPU & GPU | AMD Van Gogh APU – Zen 2 4c/8t, 2.4-3.5GHz (up to 448 GFlops FP32) And 8 RDNA 2 CUs, 1.0-1.6GHz (up to 1.6 TFlops FP32) | AMD Ryzen Z1 Extreme (Zen 4). RDNA 3 Graphics Card |
| RAM | 16GB LPDDR5 | 16GB LPDDR5 |
| Storage | 64 GB, 128 GB, 256 GB | 512 GB + UHS-ii MicroSD Slot |
| Screen size | 7-inches | 7-inches |
| Resolution | 1280 x 800 | 1920 x 1080 |
| Battery Life | Up to 8 hours | Up to 3 hours, depending on the mode |
| Software | SteamOS (Linux-based) | Windows 11 |
| Controls | Full controller, two trackpads, extra configuration buttons | Asymmetrical Xbox style |
| Games | Anything from the Steam store officially, plus unofficial support for other third-party launchers and cloud services. | Access to a wide range of online game stores, third-party launchers, and cloud gaming services |
| Price | $399 / $529 / $649 for 64/256/512 GB | $600 for the Ryzen Z1 version $700/€800/£700 for the Z1 Extreme edition |
What is the Rog Ally?
The Asus Rog Ally is an impressive handheld gaming console modeled similarly to the Steam Deck. Boasting impressive hardware specifications that include AMD's latest Zen4 Phoenix mobile processors, the Asus ROG Ally poses a direct challenge to Valve's Steam Deck.
Gamers can enjoy smooth gameplay even with demanding titles on this powerful device.
Featuring a 7-inch IPS LCD with FHD resolution, 16:9 aspect ratio, and a 120Hz refresh rate, the ROG Ally boasts up to 500 nits of brightness and Gorilla Glass Victus protection. Asus claims it has a 7ms response time and can display 100% of the sRGB color space.
This powerful device has two different chipset versions – AMD's latest Ryzen Z1 and Ryzen Z1 Extreme chips.
The former boasts a six-core Zen 4 CPU with twelve threads, while the GPU is covered by four RDNA 3 cores. The latter version features an eight-core Zen 4 CPU with sixteen threads and twelve RDNA 3 GPU cores with 24MB cache, giving it a considerable performance advantage over the Steam Deck.

What is the Steam Deck?
The Steam Deck is a handheld gaming device developed by Valve Corporation. It was announced in July 2021 and launched in early 2022.
The Steam Deck runs on a custom SteamOS operating system, a Linux-based OS. It has a 7-inch touchscreen display and a resolution of 1280×800. The Deck's custom chipset is a quad-core Zen 2 CPU with a RDNA 2 GPU.
The device has a built-in controller with two thumbsticks, a D-pad, and a full set of buttons. The Deck also supports Bluetooth connectivity for additional controllers. It has a USB-C port for charging and connecting to external displays, and it also includes a headphone jack and a microSD card slot for storage expansion.
The Steam Deck allows users to play PC games on the go, as it is compatible with the vast library of games available on Steam. It can also be used as a portable PC, as it can be connected to external displays and accessories such as a keyboard and mouse.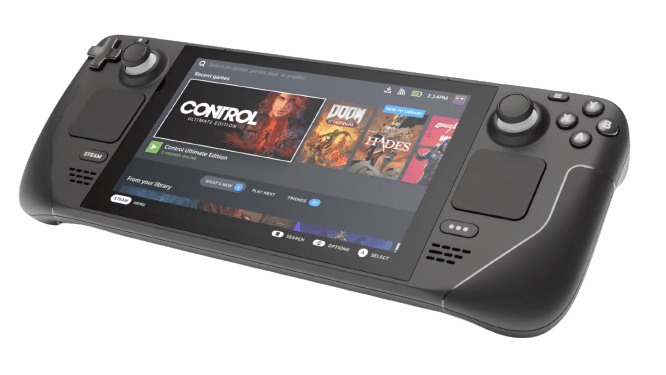 At a high level, these two devices are direct competitors. If you are trying to decide which one to buy, you'll want to know:
Which device can play powerful more games?

Which device is more comfortable to play for long periods in terms of button layout, battery, and display?

How much does each device cost?
Steam Deck vs Rog Ally: A Detailed Comparison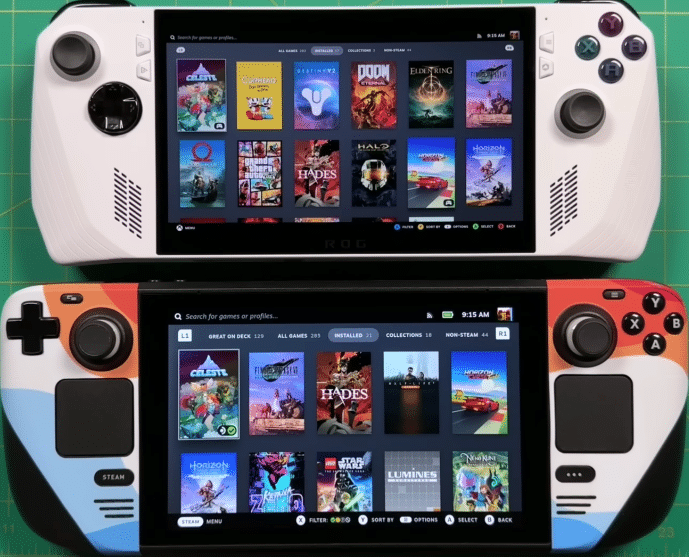 CPU and GPU
The Steam Deck is a high-performance gaming console that handles AAA games efficiently. It features a powerful AMD Zen 2 processor boasting four cores clocked between 2.4 and 3.5GHz and an AMD RDNA 2 graphics card that can deliver up to 1.6 TFlops FP32.
On the other hand, the Rog Ally's processor has emerged as one of the most noteworthy specs disclosed so far. It boasts an eight-core/16-thread chip that utilizes AMD Zen 4 core architecture with RDNA 3 graphics tech.
The chip in the Ally represents an improvement over the Steam Deck's Zen 3/RDNA 2 APU. According to Asus, the processor can attain CPU clock speeds up to 5.1GHz and GPU clock speeds up to 2.7GHz.
Winner: Asus Rog Ally
RAM
The Steam Deck features 16 GB LPDDR5 RAM. This memory can seamlessly run even the most demanding games without hiccups or performance issues.
Meanwhile, the ROG Ally has identical specifications across its two models, including 16GB LPDDR5 dual-channel memory and 256/512GB PCIe 4.0 M.2 SSDs in the 2230 size.
Winner: Draw
Storage Options
The Steam Deck comes in three different storage sizes, including 64 GB, 256 GB, and 512 GB. You can also extend the internal storage an extra 2 TB with an external MicroSD card.
The Steam Deck offers a simple and easy method for upgrading the internal SSD to a larger capacity, providing increased flexibility and storage options.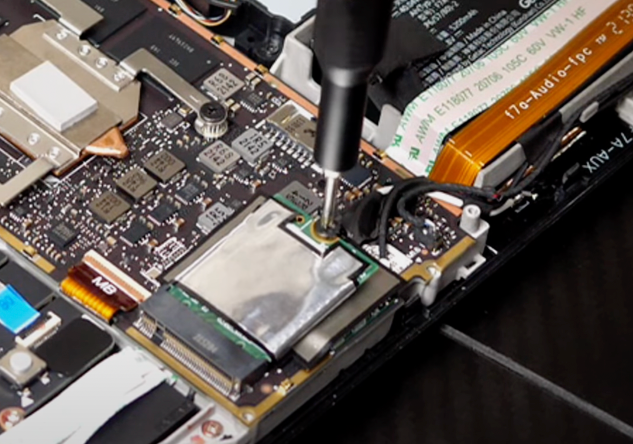 On the other hand, both versions of the Rog Ally – the Ryzen Z1 and Ryzen Z1 Extreme – both have a 512 GB SSD hard drive (equal to the high end Steam Deck). I think you need this size to handle all of the games you will install on it, but the Ally is less flexible than the Deck.
Both the Steam Deck and the Rog Ally have M.2-2230 solid-state drives. This is great for modders because it should mean that there will be a healthy selection of internal SSD options for you to upgrade.
Winner: Steam Deck
Screen Size
The Steam Deck boasts a spacious 7-inch diagonal screen with LCD technology and a resolution of 720p.
Similarly, the Rog Ally also uses a 7-inch IPS screen. The screen delivers a great subjective picture impression. The Ally does support 1080p, which is an upgrade.
Winner: Draw
Display Resolution
The Steam Deck operates at a resolution of 1280 x 800 pixels and an aspect ratio of 16:10. This gives the device a pixel density of 216 pixels per inch (PPI). You can run games at 60 frames per second (FPS) with the resolution set at 800p.
The Deck has an adaptive brightness feature that allows for automatic adjustment to suit your surroundings, ensuring optimal visibility.
You can also connect the Steam Deck to an external display with a resolution of up to 4K to launch games or switch to 'Desktop Mode". You connect via the device's USB-C port or a Steam Deck dock that is available separately.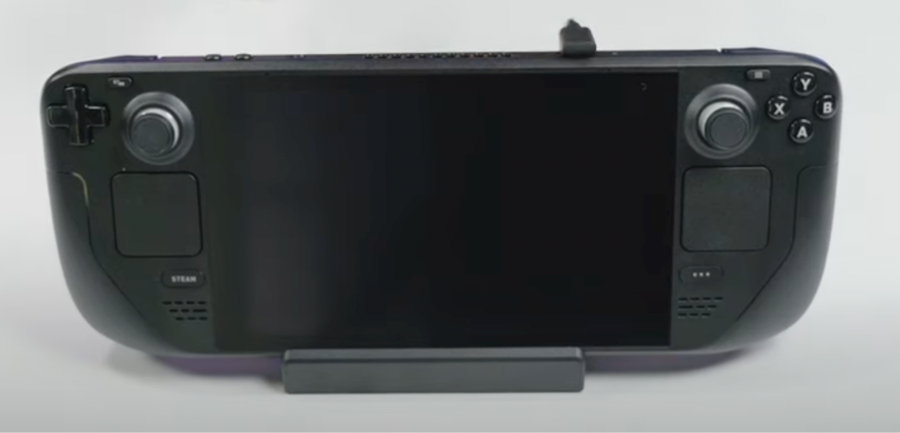 On the other hand, the Rog Ally has a superior display, with a screen resolution of 1920 x 1080 pixels and a 16:9 aspect ratio. The 7-inch IPS display has quick response times and adaptive sync, which is an outstanding choice, as it boasts a brightness of nearly 500 nits.
The ROG Ally truly amazed me with its stunning display and higher resolution screen, evident from the impeccable detail in the environments of Doom Eternal. The visibility of far-off objects was equally impressive as those nearer to the foreground, which also held true for Cyberpunk 2077 and Marvel's Spider-Man.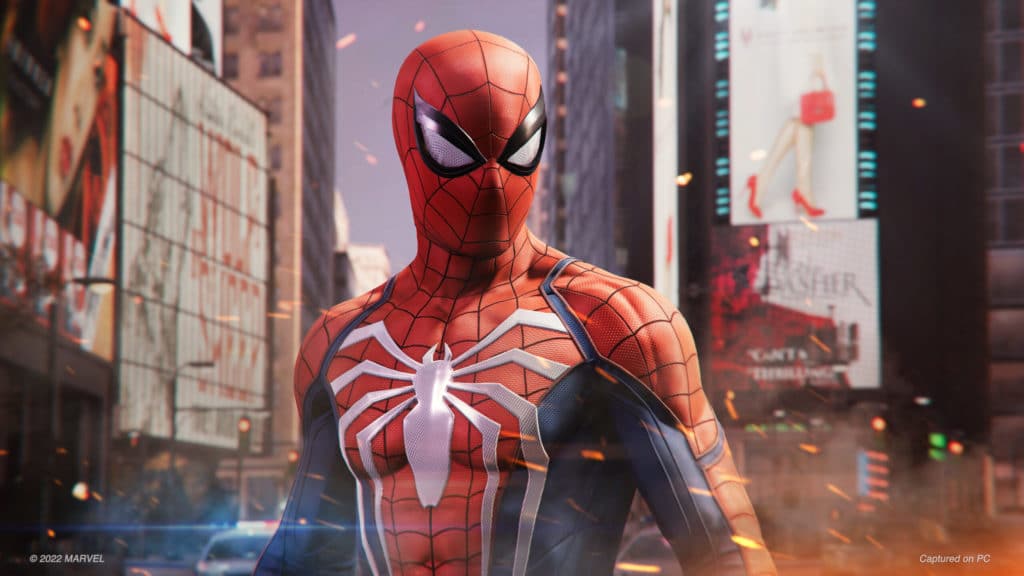 Winner: Asus Rog Ally
Battery Life
The Deck provides up to 8 hours of uninterrupted gaming experience. If you play a lot of AAA titles, this number is quite a bit lower. In Spider-Man, I would say about two hours would be the maximum battery life. Running emulators on the Steam Deck, I could see something closer to the advertised length.
In Turbo mode, the Rog Ally utilizes approximately 40-42 Watts and lasts roughly an hour on a 40 Wh battery. If you switch to Performance mode, however, the power consumption reduces to approximately 22-24 Watts, resulting in a runtime of roughly 1 hour and 45 minutes.
In terms of battery life, the Steam Deck wins here. Valve has really optimized the hardware of the Deck to ensure extended battery life, offering a longer and more immersive gameplay session in general. You can really notice it verses the Ally, which I think went too aggressive in this area.
If you use a power bank, it's possible to increase the runtime of either device. A 20,000mAh power bank could add as much as 4x to your battery life.
Winner: Steam Deck
Software
The Steam Deck operates on SteamOS, a Linux-based operating system that links to the Steam Store. With this platform, you can seamlessly play most games without technical issues.
You can install Windows on the hard drive as a dual boot or on its own instead of SteamOS (which we don't recommend). The MicroSD card is also a popular spot to install Windows.

In comparison, the Rog Ally runs Windows 11 natively on it. It comes loaded with Armoury Crate SE, a software center that ensures that your graphics card, motherboard, and other peripherals are up to date.
I would say that the Deck is a smother software experience. It has the Steam store loaded right onto it for some easy browsing. One nice feature on the Ally is that Armoury Crate lets you connect to the Epic Store, Ubisoft Connect, and other third-party launchers more easily.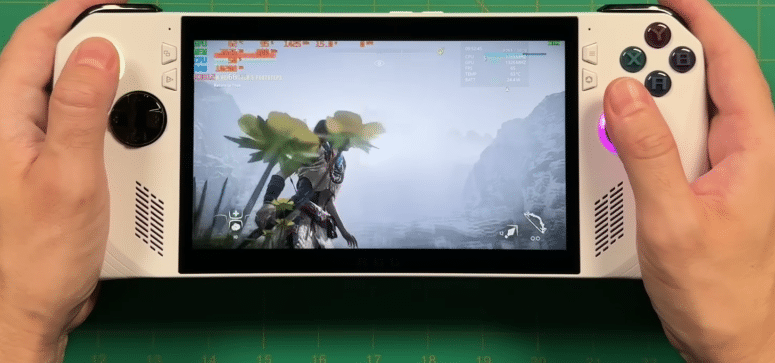 Deciding on the better choice relies on your specific requirements.
Winner: It Depends
Price
The internal storage size of the Steam Deck determines its price, and there are three pricing options available:
The 64 GB version is priced at $399.

The 256 GB version costs $529.

The 512 GB version is the most expensive, priced at $649.
The price of the ROG Ally is based on whether you buy the basic Ryzen Z1 version or the Z1 Extreme edition:
The Z1 basic costs $600

The Z1 Extreme is more expensive, priced at $700
Both versions come with 512 GB in hard drive space.
While I think the price is a draw at face value, Asus' offering is more impressive. They are offering an equal product, but without a massive game library to subsidize their costs.
Winner: Draw
Controls
The Steam Deck comes fully equipped with dual mouse trackpads, a full controller setup, and numerous buttons such as A, B, X, Y, and L&R. Additionally, the device features four customizable hotkey buttons on its back.
The button configuration of The Deck is adaptable to fit any gaming style. This means you can easily customize your controller to work well with most games in the expansive Steam Library. You can play games using the controller buttons or pivoting to mouse trackpads.

On the other hand, the Rog Ally features two analog thumbsticks with capacitive touch and customizable RGB lighting, a D-pad, ABXY buttons, left and right Hall Effect triggers, and bumpers. It has really good weight distribution and feels good in your hands.
Additionally, the controller has two grip buttons on the back that can be assigned to specific actions. The command center and view buttons are on the screen's left side, while the menu and Armoury Crate buttons are on the right.
Both devices included six-axis gyro support to enhance gameplay further.
I think that Asus is the first serious competitor to the Steam Deck and the controller layout is a big reason why. However, the trackpads on the Steam Deck are severely underrated and offer more flexibility for different games.
Winner: Steam Deck
Games
With the Steam Deck, you can access an impressive library of over 4,500 fully verified games from the Steam Store. Plus, thousands of others are partially playable or untested on the device. This Deck lets you enjoy popular AAA titles such as Hogwarts Legacy, Red Dead Redemption 2, Cyberpunk 2077, Stray, Skyrim, Spider-Man Remastered, and many more.
Additionally, the Steam Deck allows you to play games remotely from your PS5 and supports Xbox Cloud Gaming, providing an even more comprehensive range of gaming options.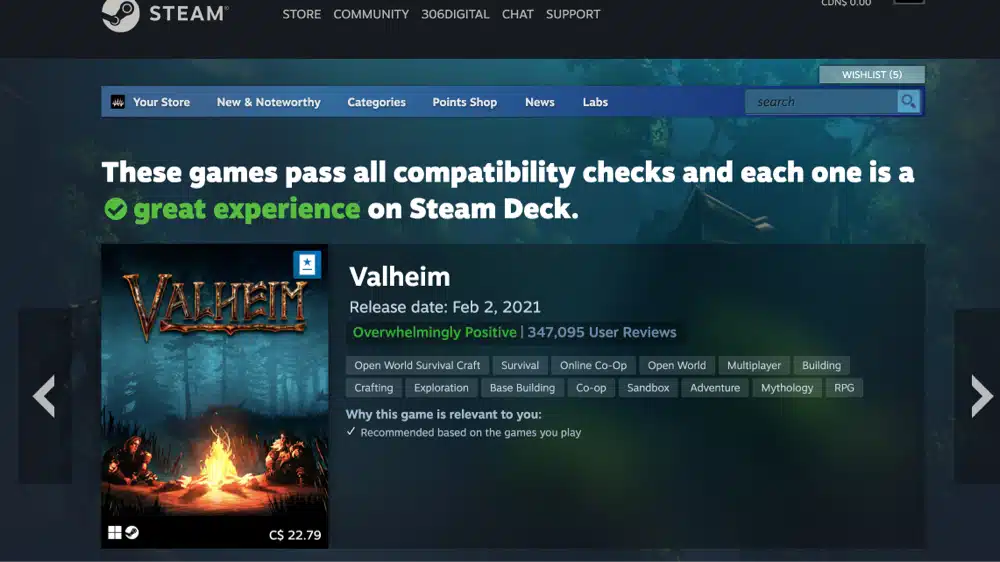 The ROG Ally, which runs on Windows 11, also provides access to a wide range of online game stores and cloud services, including:
Epic Games Store

Nvidia GeForce Now

PC Game Pass

Cloud Gaming from Xbox

Steam
One disadvantage is that you won't know exactly which Steam games run well on the Rog Ally. You can use the Deck compatibility to gauge things at a high level, but the information won't be so transparent.
Running Windows 11 means that game compatibility should be high on the Ally. Plus, anti-cheat systems are more compatible with Windows, so you'll get to play first person shooters like Call of Duty with less fuss.
One other perk with the Rog Ally is that you get a complimentary 90-day Xbox Game Pass Ultimate trial with your purchase. This lets you enjoy a vast selection of cloud-based games from the get-go.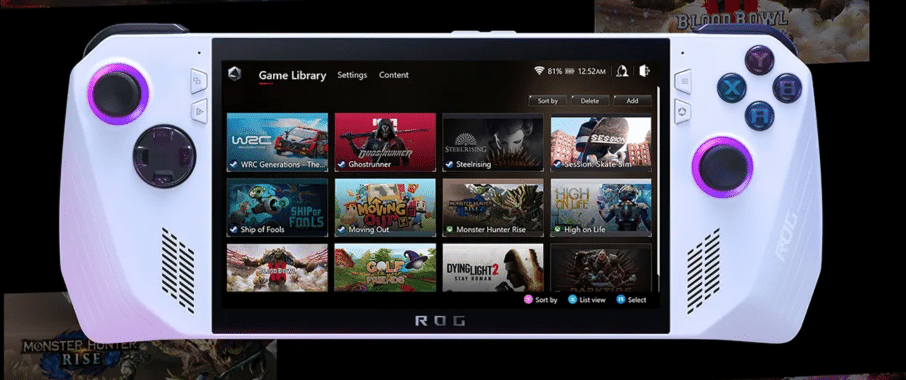 Winner: It Depends – Steam Deck for support transparency, Rog Ally for Windows compatibility
Accessories
The Steam Deck Deck comes with its own semi-hard zipper case and a soft bag to store the charging cable in. This is a great perk since we would recommend that everyone has a case anyways.
The popularity of the Deck has also led to the explosion of a healthy third-party accessories market. You can get custom cases, skins, controllers, cooling options, and various other accessories for the device.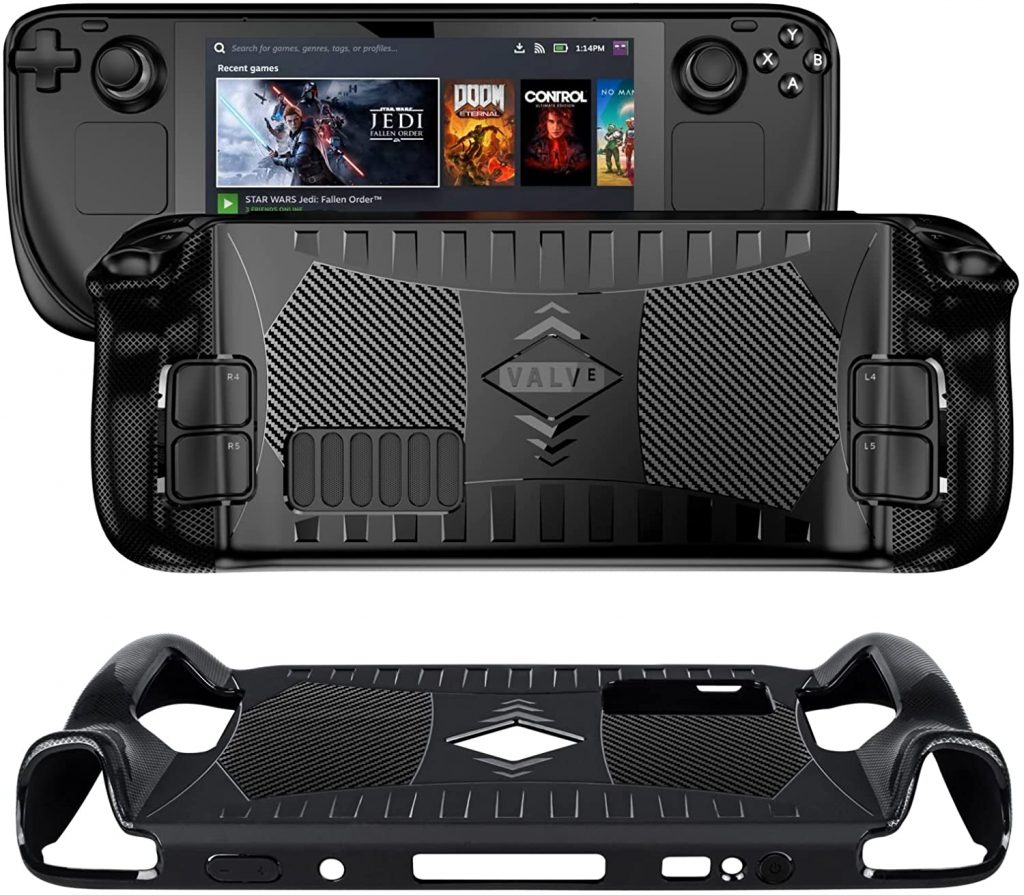 The ROG Ally comes with a soft sleeve to keep your device safe on the go. It is smaller and more compact, but doesn't offer a place to store your charging cavle with it. Asus features an integrated stand for the Ally, which is a perk.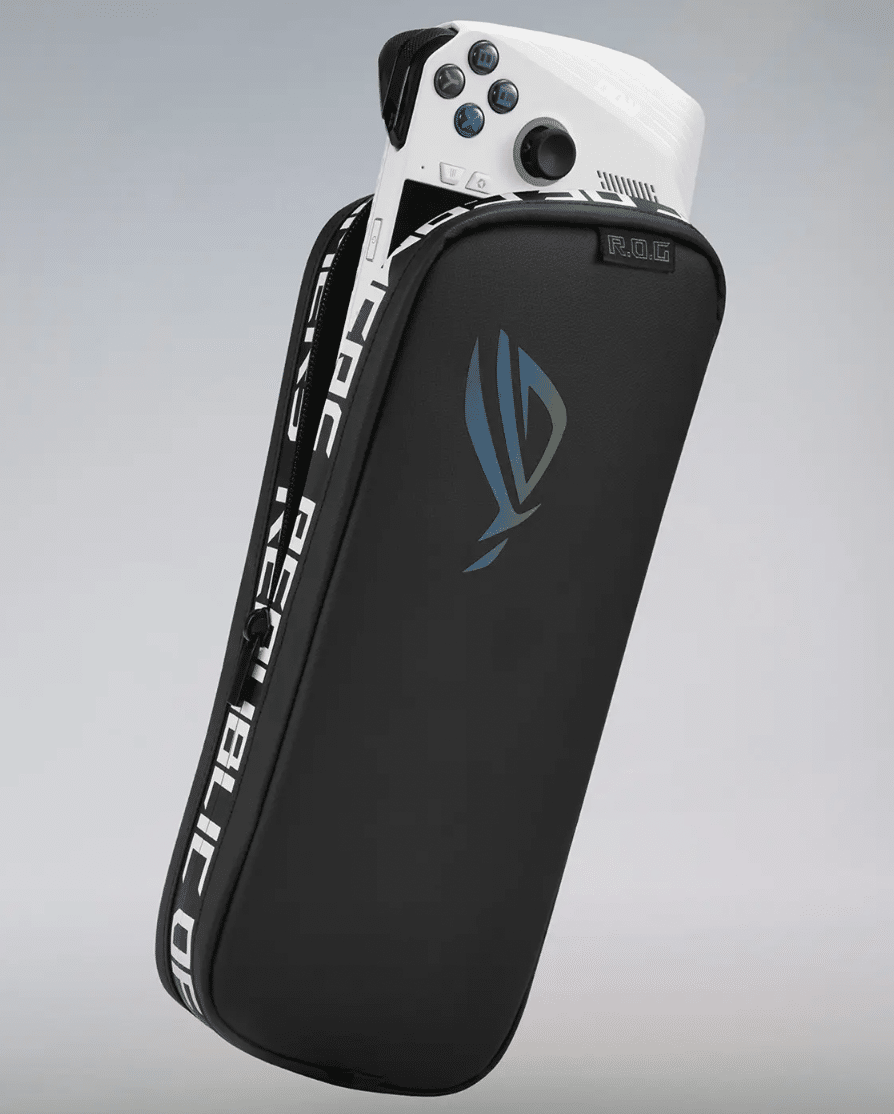 Additionally, Asus has launched a new controller designed for the Ally that can be used with any Bluetooth-enabled device. I hope a big secondary market for Rog Ally accessories opens up in the future.
Both devices come with a USB-C charging cable.
Winner: Steam Deck
What I Like Better About the Steam Deck
Valve has done an outstanding job optimizing the hardware of the Steam Deck, making it compatible with AAA titles that were previously only playable on gaming PCs. With thousands of titles available on the Steam store, and constant additions to its supported games, the Steam Deck is an excellent piece of technology.
The 7-inch screen on the Steam Deck may only display 720p, but it doesn't feel inadequate due to its size. Although the 64 GB internal storage may be insufficient for some users, adding an external MicroSD card should suffice for most.
The Steam Deck's battery life is impressive, especially when playing emulators (PS2, Switch, etc) or indie games. You can typically enjoy up to 5 hours of playtime, sometimes up to 8. Additionally, the advanced graphical settings on the device allow for further customization and optimal gameplay.
What I like Better About the Rog Ally
The Asus ROG Ally is a remarkable gaming handheld with impressive hardware and superior controls for an optimal gaming experience. The Armoury Crate SE software center is designed with a touch-optimized user interface, making it easy to manage and customize control schemes for all your games in one place.
The Command Center is also easily accessible, providing real-time hardware monitoring and customization with just a touch of a button. The device runs on a stock Windows 11 operating system, and you can attach it to a USB-C screen or docking station for better gameplay.
This handheld device surpasses some gaming laptops in multi-core performance, which is remarkable given its price point.
The Rog Ally will be a great option if it can build out some of its resources:
a game compatibility list

more third-party accessories

a healthy support community
Video Comparison
Want to see the Steam Deck vs Rog Ally in more detail? Check out this 43 minute comparison video!
Conclusion
Both the Rog Ally and Steam Deck are game-changers in the handheld gaming market.
The Rog Ally has slightly better performance and a higher resolution screen. It supports Windows 11 and third-party launchers more easily than Valve's handheld one.
The Steam Deck has better battery life and clearer game support. The controller layout is more versatile, and its carrying case will keep it safe better.
Comment below and let us know which device you like better between the Steam Deck vs Rog Ally!