In this step-by-step guide, we'll show you how to install Skyrim VR mods into your game. We'll go through the basic manual method, and also show you how to use Vortex Installer to add custom modifications to this popular VR game.
This guide to mod Skyrim VR is for users running the latest version of Skyrim VR. The step-by-step instructions below are accurate for the virtual reality version of the game. The instructions are similar to our how to install Blade and Sorcery mods guide, but adjusted for Skyrim VR.
Make sure you check out our best Skyrim VR mods guide for the top rated modifications that you can install.
Comment down at the bottom of this guide if you need any more help.
Before we show you how to install and get things setup, there are a few basics to cover first.
Will All Skyrim Special Edition Mods Work on Skyrim VR?
Skyrim Special Edition is the non-VR version of the game. Bethesda used it as a basis for the VR version and MOST mods will work fine in either game. However, there are a few exception which you should know.
Mods that affect the user's first-person look and feel will not work. This is because in Skyrim VR, your first-person is yourself and your hands are being controlled by your motion controllers.
Mods from the Creation Club, which are in a .ESL file format will also not work.
Finally, mods that use Skyrim Script Extender (SKSE) or SkyUI will not work unless you have installed SKSE and SkyUI in your system. Script Extender lets you implement mods with additional or altered scripts. Since this requires a few extra steps, we'll show you how to get setup below!
SkyUI can be installed through Vortex like any other mod.
If you use the Vortex Manager below to manage and install Skyrim VR mods, it will give you an error if you try installing any mods that are not compatible with your game.
How to Enable Mod Support for Skyrim VR
Before you install any mods, you have to enable the support in your game. To do this:
If you haven't yet, launch Skyrim VR and make sure it runs properly. Then, quit the game.
On your PC, navigate to: Documents > My Games > Skyrim VR
Open the SkyrimPrefs.ini document in notepad.
At the bottom of the document, add the text [Launcher]. Underneath that, add the line bEnableFileSelection=1 and then save the file.
Now you are able to install any mod into the game you want!
Unfortunately, you cannot mod Skyrim VR on the Playstation VR because you don't have access to edit any files on the operating system.
Before we show you how to mod Skyrim VR, let's go into more detail about Vortex Installer.
You can install Skyrim VR mods using the Vortex installer. This will get you custom working mods in the game as quickly as possible.
A lot of players enjoy the Vortex installer because the user interface makes it easy to use. However, it is not compatible for everyone.
What is Vortex Installer?

Vortex Installer is a mod manager software that easily lets you easily install modifications on a number of different games including:
Skyrim
Dark Souls
Fallout
Stardew Valley
Grand Theft Auto
The Sims
Borderlands 2
It has close integration with the Nexus Mods website, which all of our best Skyrim VR mods link to. Vortex has taken over the old Nexus Mod Manager so any guide on how to install Skyrim VR mods using NMM is out of date.
However, Vortex Installer only works on Windows, so Mac users MUST use the manual install method below. You'll also need to use the manual install method if you download a modification from anywhere other than Nexus Mods.
With that out of the way, let's show you how to install Skyrim VR mods and customize the game.
How to Install Skyrim VR Mods Using Vortex Installer
The easiest way for most people to install Skyrim VR mods is to use Vortex. The following tips will show you how to install mods by using the Vortex Installer tool.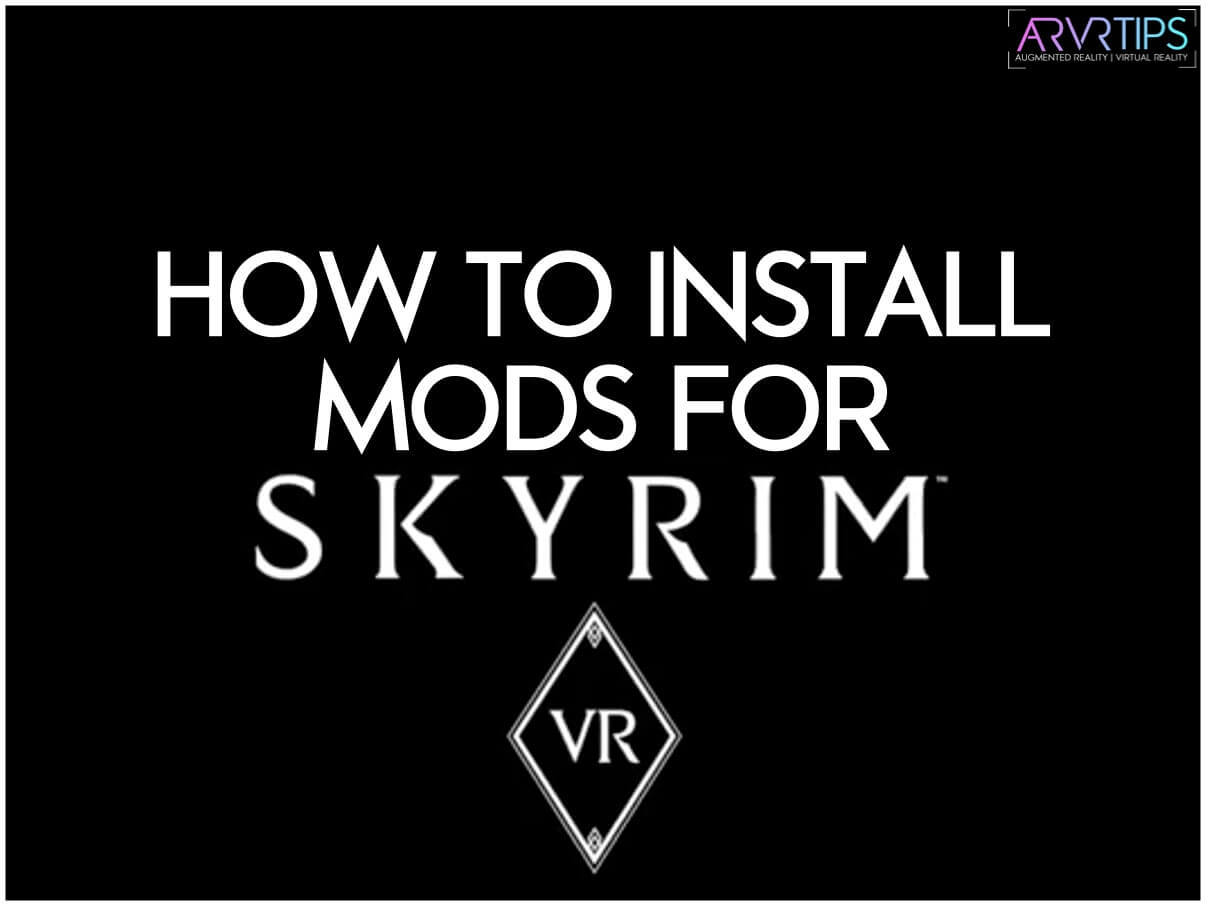 In the step-by-step instructions below, we'll show you how to install Skyrim VR mods using the Vortex Mod Manager program.
Total Time: 10 minutes
Download Vortex Mod Manager

Go to the Nexus Mods page and click on the Download the latest version now button. 
Select Manual Download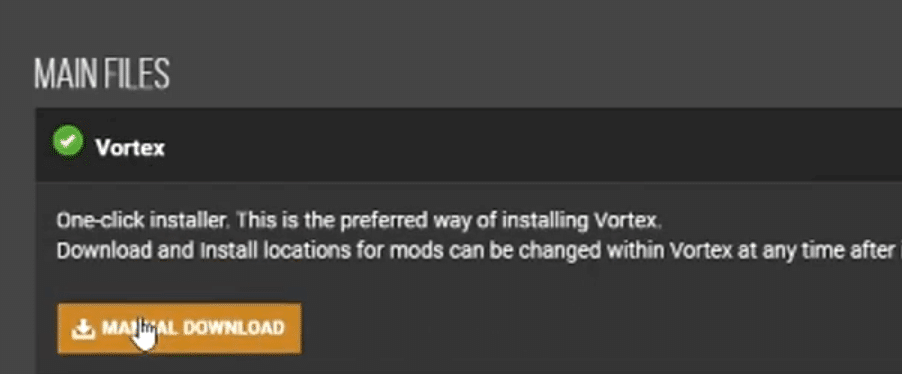 Scroll down and choose the Manual Install button to download Vortex to your computer.
Select Slow Download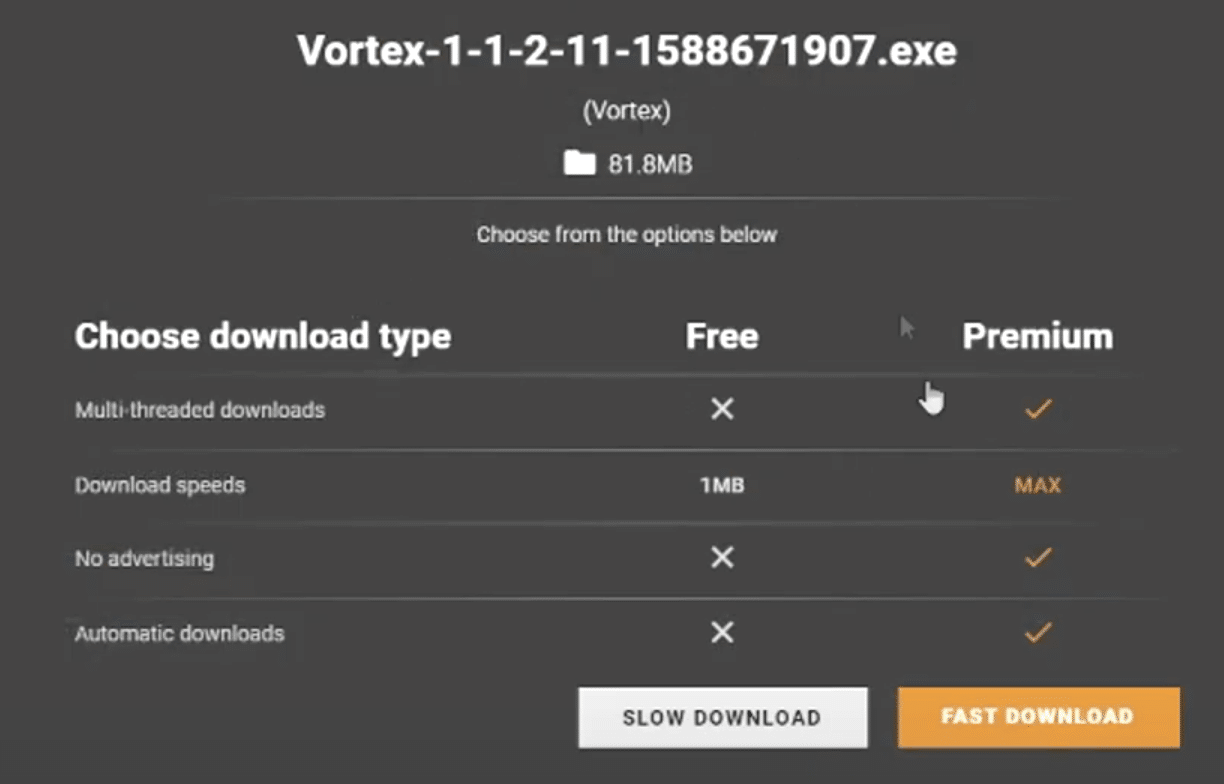 Scroll down and choose Slow Download. After it is done downloading, run the installer and follow the prompts to install Vortex on your computer.
Login With Your Account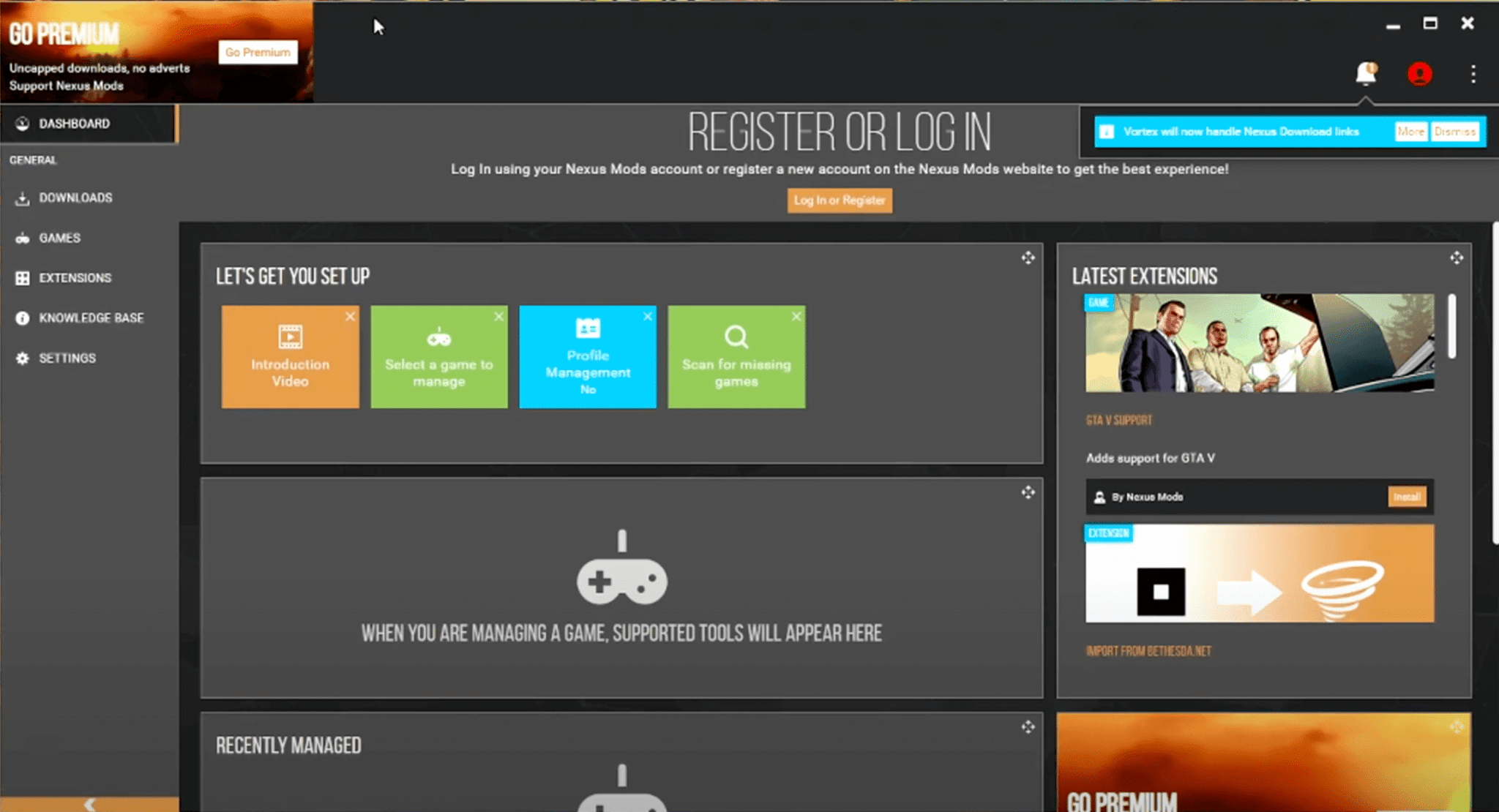 Launch Vortex, which is now installed on your computer. Click the Login button to sync Vortex with your Nexus account.
Find Skyrim VR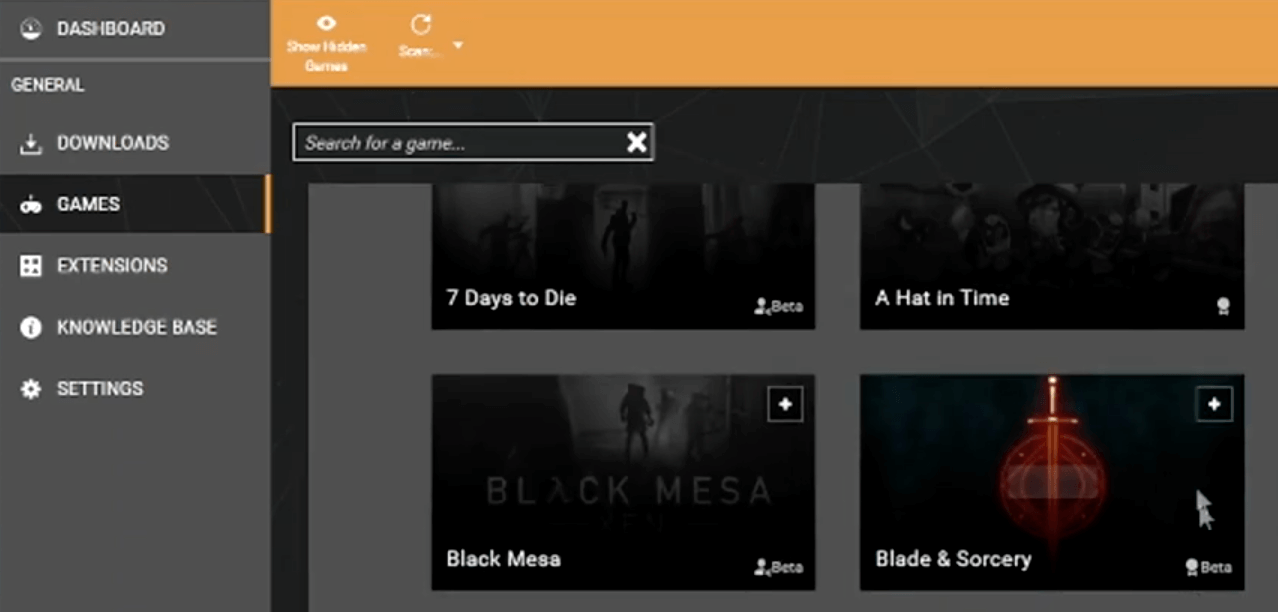 In the Games tab, scroll down until you see Skyrim VR.
Manage Skyrim VR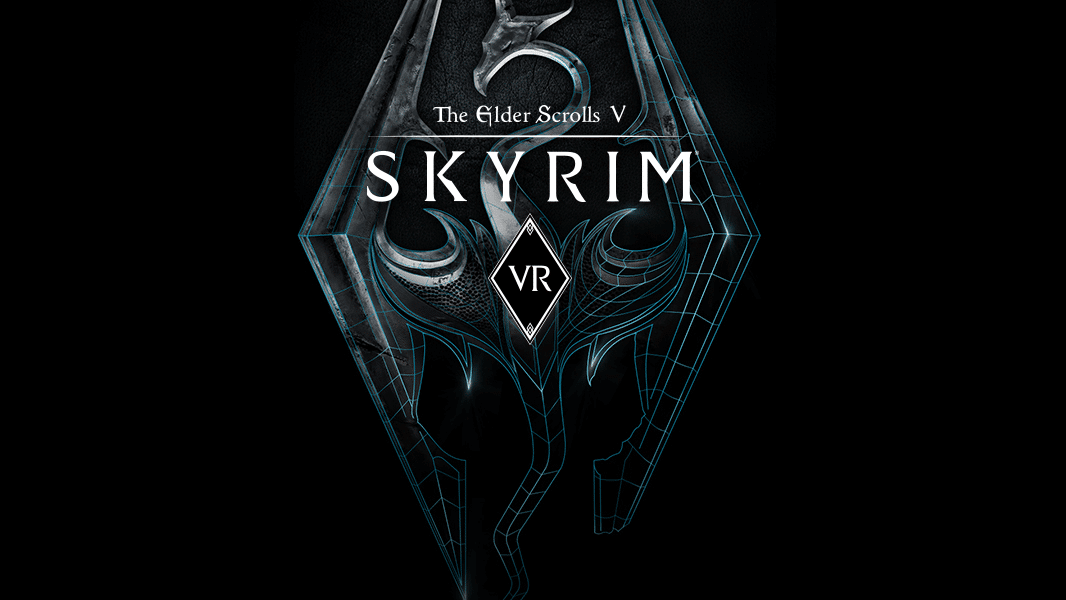 Hover over the Skyrim VR icon and then select Manage.
Find a Mod to Install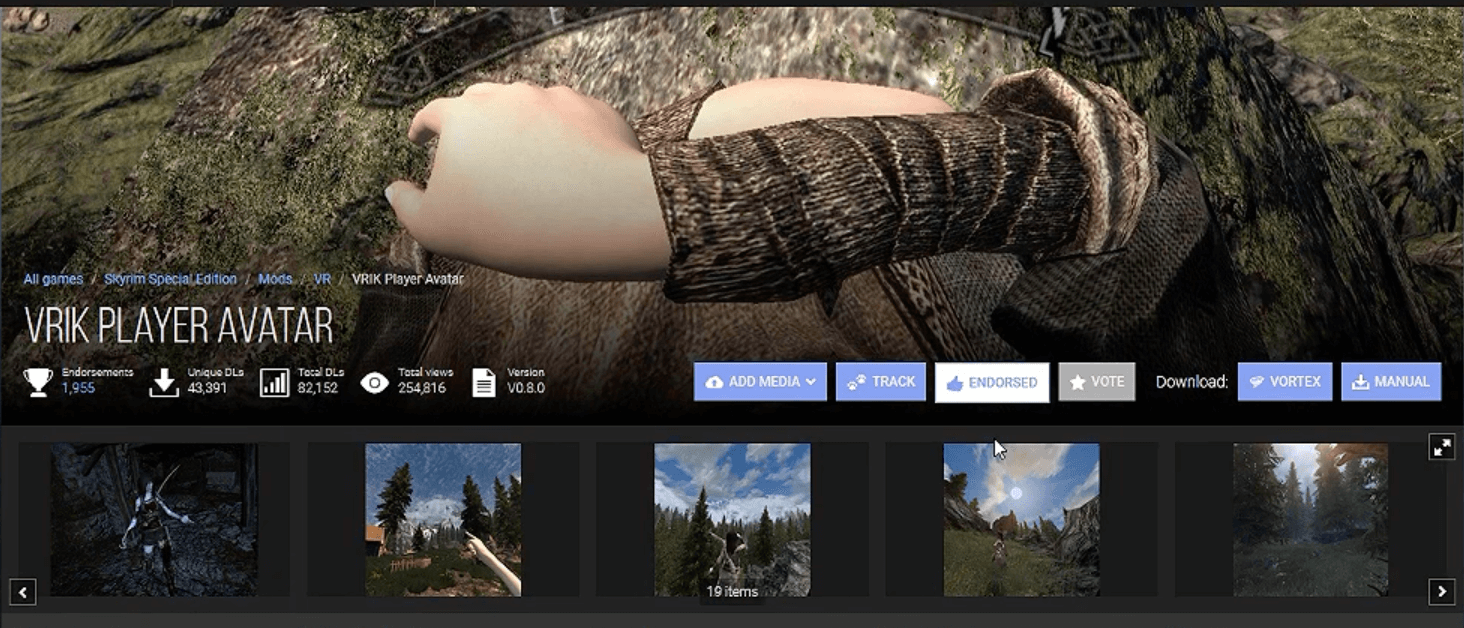 Now, you can go and find a Skyrim mod on the Nexus website or by looking through our Best Skyrim VR mods guide.
Select Vortex Download Method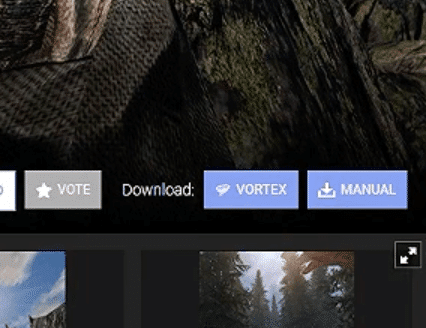 When you've selected a mod, click on the Vortex button. 
Select Slow Download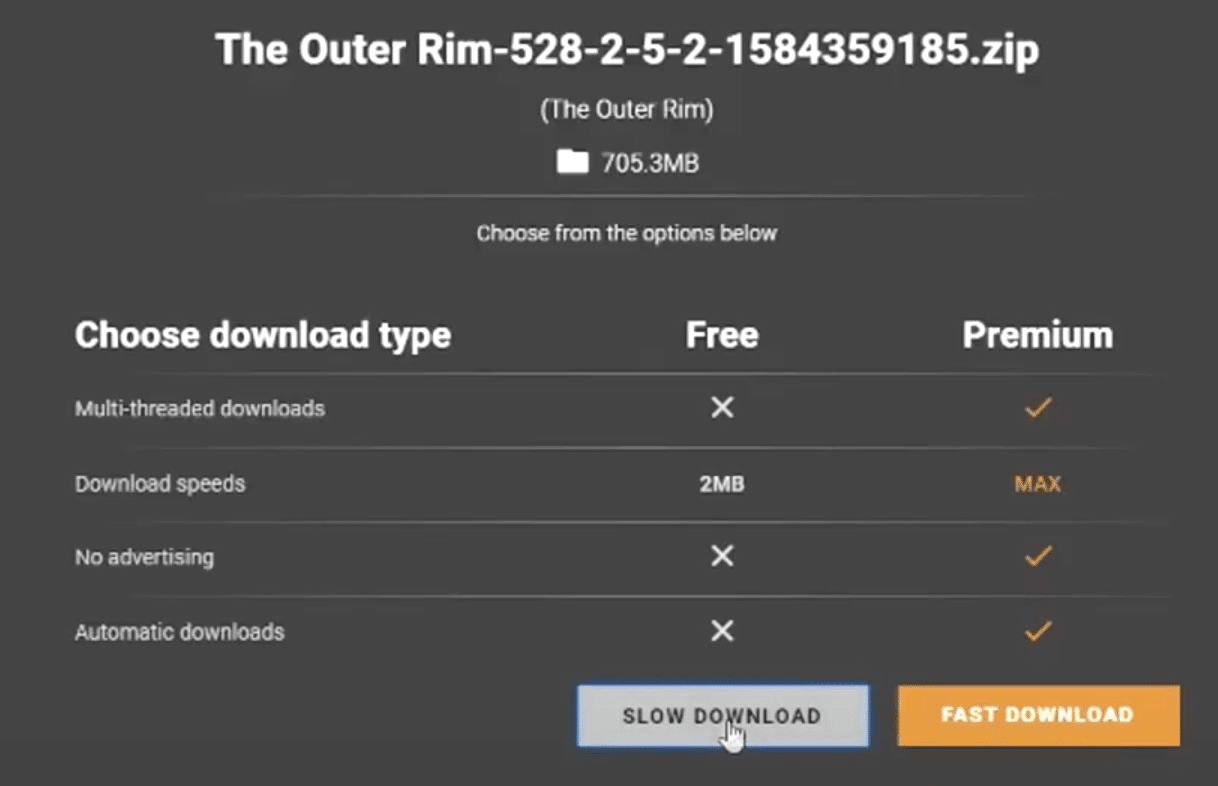 Scroll down and click Slow Download.
Open in Vortex

In your browser, you should be prompted to open the mod directly in the Vortex mod manager. Click Open Vortex to install the mod into Vortex.
Install Skyrim VR Mod and Enable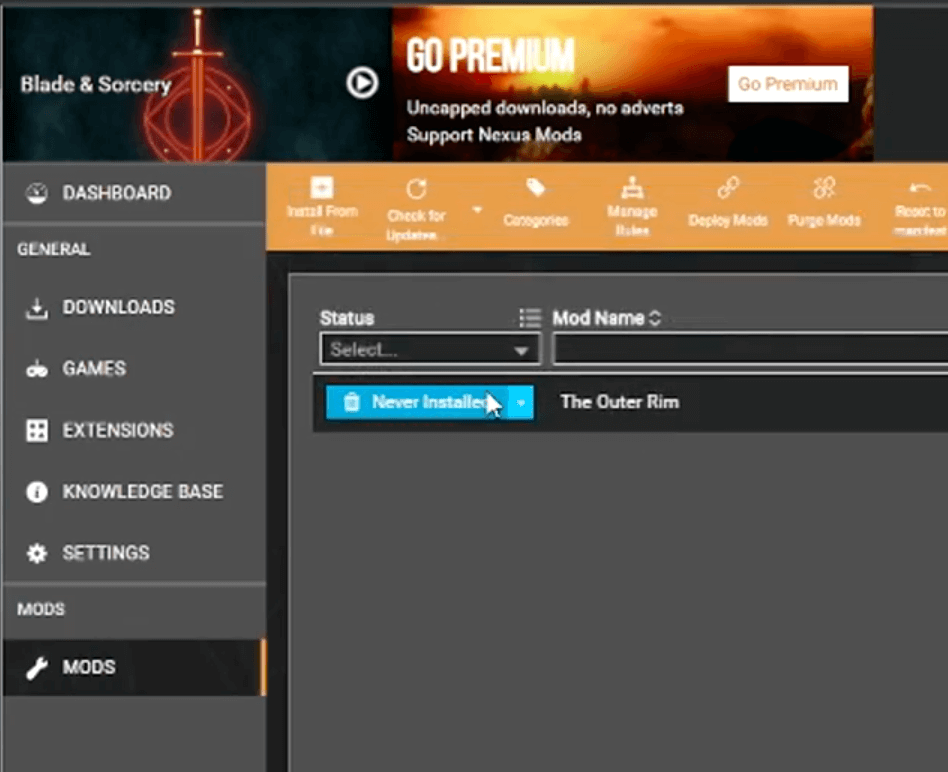 In Vortex under the Mods tab, you can click on any mod that isn't installed yet and select Enable. 
You can now go and use the mod inside the game!
How to Install Skyrim VR Mods Manually
If you want to install Skyrim VR mods manually without the use of Vortex Mod Manager, we have instructions below. However, we do not recommend doing things manually because it requires some manually file editing for each mod you install. If you plan on installing a lot of mods (some users have hundreds) then Vortex Mod Manager just makes things too easy.
If you still want to manually install Skyrim VR mods, follow these instructions:
Follow the Instructions to enable mod support for Skyrim VR above.
Go to the folder C:\Users\<username>\AppData\Local\Skyrim VR and create a plugins.txt file with a new line in the format *Pluginname.esp for every mod you are installing. You need to add a new line every time you install a mod and change the "Pluginname.esp" part to match the mod file.
When you want to install a mod, move it into the Data folder of your Skyrim VR folder in Program Files.
This is how you install Skyrim VR mods manually.
How to Install Skyrim Script Extender VR (SKSE VR)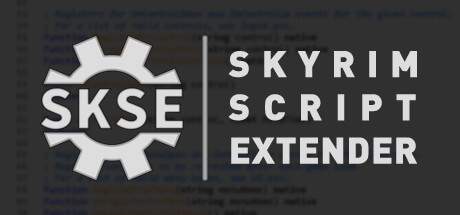 Before you install Skyrim VR mods, you should install Skyrim Script Extender first. SKSE allows you to install mods with additional or altered scripts to them. These mods take apart the executable files of Skyrim and inject code where they need to.
If you don't install SKSE, you may get errors when you try to install other mods. To install and setup SKSE:
Download the SKSE VR .zip file from the official website and extract it to your Desktop.
Open up the main folder and you will see 5 files and 3 folders. Ignore the "src" and "actionbindings" folders. Zip up the "Data" folder and rename it to "SKSE_Data".
Install this zip file in Vortex by using drag-drop or copying it to the download folder of your manager.
Then, copy the 5 single files (all starting with sksevr_) and paste them into your SkyrimVR directory (where the SkyrimVR.exe is located).
In Vortex, right click the file "sksevr_loader.exe" (inside the SkyrimVR folder) and create a shortcut to the desktop.
You have now installed SKSE VR and will be able to freely install most Skyrim VR mods without errors.
How to Install SkyUI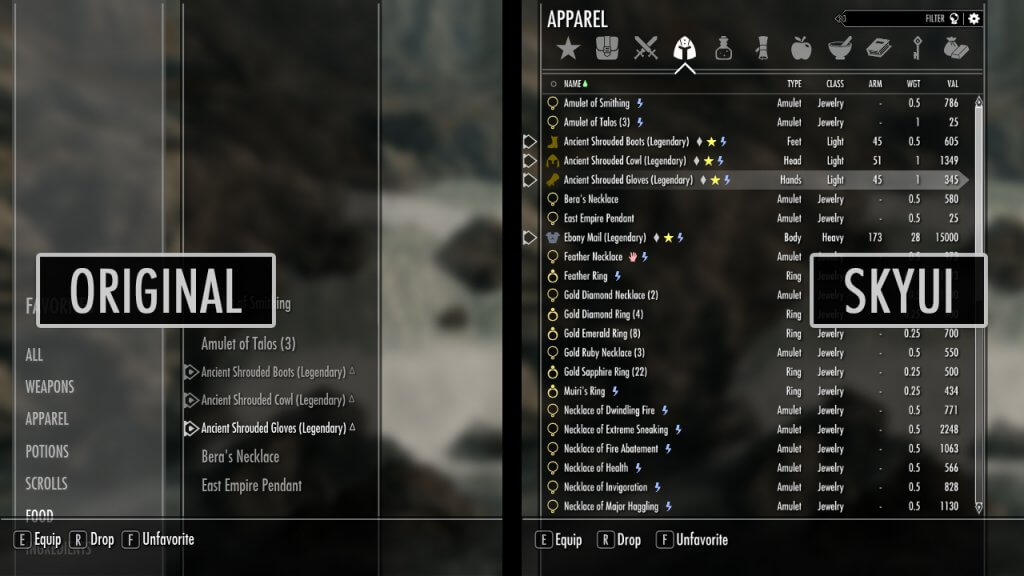 SkyUI adds a mod configuration menu in the game which allows you to view the status of all your mods while in Skyrim. It also improves the user interface for loot and inventory for VR players. Other mods for the game rely on SkyUI as well, so installing it will make sure you have maximum compatibility with other mods.
To install SkyUI, simply go to its page on Nexus Mods and install the mod using our step by step guide above.
Once you are done, you will be able to install Skyrim VR mods with maximum compatibility!
How to Enable Skyrim VR Mods in the Game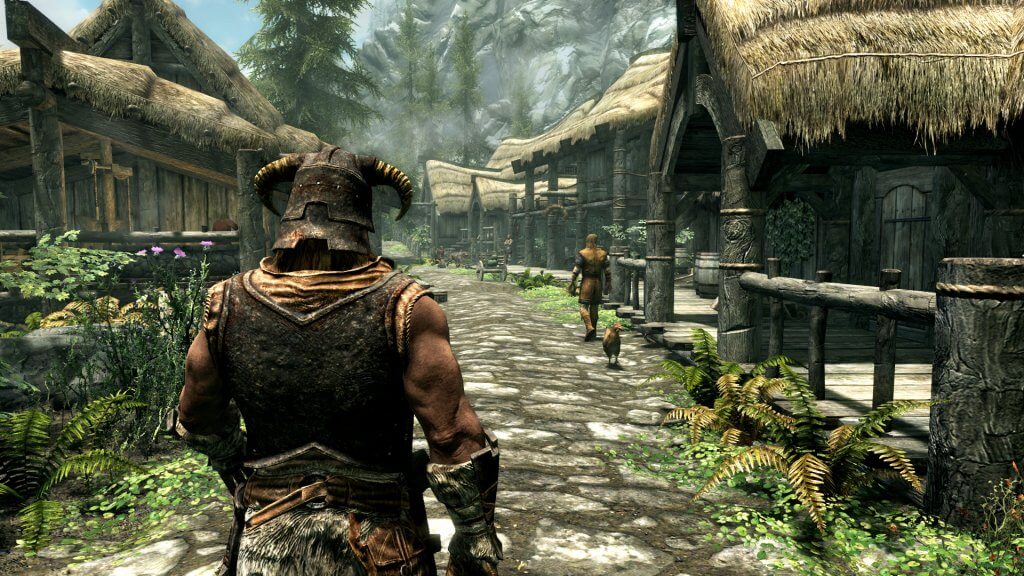 Other Frequently Asked Questions about Skyrim VR Modding
What are mods for Skyrim VR?
Mods are adjustments to the game that alter the visual or gameplay components of Skyrim VR. Some mods make cosmetic adjustments such as graphical or behavior changes and other mods can add new levels and objectives into the game.
How many mods can I install into Skyrim VR?
In theory, you can install and use as many mods as you want in the game. However, you need to be aware that each mod may put a strain on your computer's resources and you could see additional lag or framerate drops while playing. As well, some mods may fight each other and may not be compatible. I recommend that you always know what mods you have installed so that you have a better understanding if things go wrong.
What is the easiest way to install Skyrim VR mods?
The easiest way to install mods for Skyrim VR is by using the Vortex software. Vortex makes it really easy to search, install, and uninstall mods as you wish.
So now that you've loaded up a few mods, how do you actually use them? Unlike games like Blade and Sorcery where you have to enable mods in the game, Skyrim VR mods load up with the game! That means that any weapon or texture modifications will be seen as soon as the game loads up.
If you've installed SkyUI, you will see an update menu that sorts out all of your inventory related mods much nicer.
That is how you install Skyrim VR mods properly into the game and get setup.
If you are having any trouble downloading and installing mods for Blade and Sorcery, comment below, and we will help you out!