Like a lot of people during the pandemic, I've had to deal with office and gym closures. Luckily, my Oculus Quest VR headset has been all I've needed to get a good sweat on during a workout. In this review, I'm going to talk about Supernatural vs VRWorkout, two popular VR workout games available for the Oculus Quest.
I'll go over some features about both games I like, room for improvement, and overall which game gave me the better workout!
On first glance, these two games might not seem all that comparable. Supernatural has a full production team creating curated content, contests, and features to help justify its price point. VRWorkout is created by a single developer and is only available if you sideload it onto your Quest.
However, both games have the same purpose which is to help you get fit wearing only your Oculus Quest. They both also happened to be released towards the beginning of the pandemic and lots of people online have been asking for a good comparison for the two.
These two games are both featured in our overall guide for best VR fitness game.
So let's take a look!
Supernatural Overview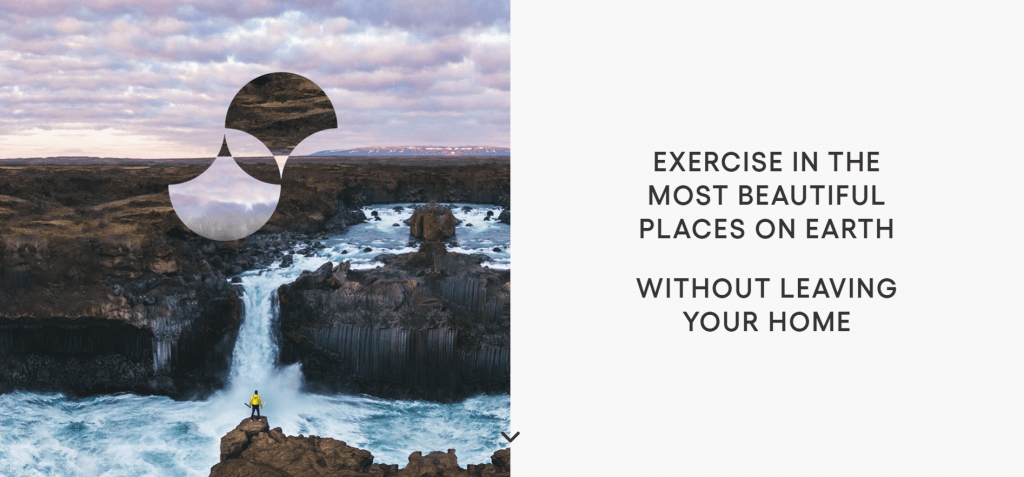 In Supernatural, you stand on a platform surrounded by some of the most gorgeous landscapes in the world. Your VR controllers turn into over-sized baseball bats, which feels conveniently similar to Beat Saber. Personalized coaches lead you through workouts where you use your bats to smash through blocks in specific directions. You also have to squat and perform side-to-side lunges as well.
The entire Supernatural experience moves in time with your music soundtrack, which changes every day and includes real popular songs licensed through Spotify. Each day's music has a different theme, but the exercises and movements stay the same.
Supernatural VR also has a companion app that keeps track of your workouts and lets you sync up with friends too.
VRWorkout Overview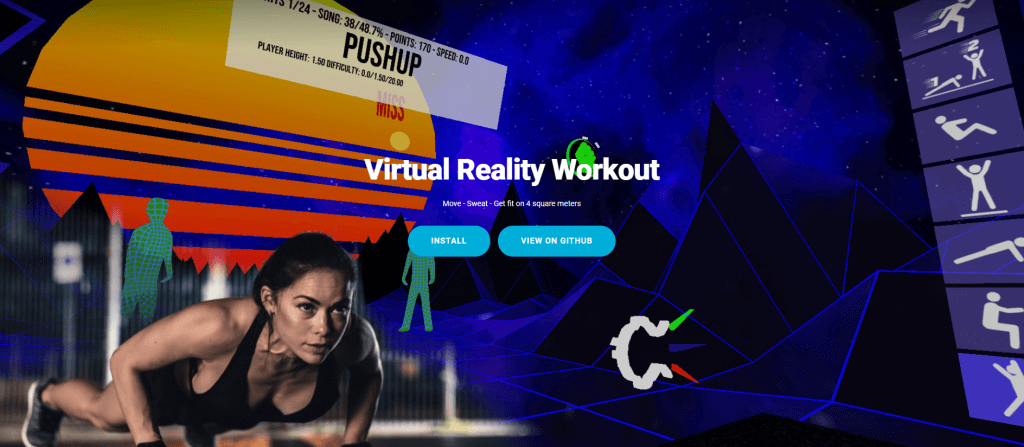 In VRWorkout, you enter into a low-fi training arena. Instead of using VR controllers, VRWorkout integrates closely with hand tracking on the Oculus Quest so that you can put down your controllers completely. A computerized voice leads you through 8 different randomized exercises in 15-30 second intervals: standing, sprinting, jumping, crunches, squats, push-ups, and burpees. If you aren't familiar with each exercise, don't worry. The main menu of the game has a good tutorial section where you can watch videos of each exercise in perfect form.
The game tracks your score by making sure that your head is in the right position to do each rep and exercise. Targets appears during most exercises that you must hit with your open palm.
VRWorkout contains a few license-free tracks or you can move any of your own songs onto your VR headset (in OGG format) and play those. If the music is distracting or you have something playing outside of your headset, there is a silent mode where it's just you and your virtual trainer.
Both Supernatural and VRWorkout are available for the Oculus Quest. Supernatural can be downloaded directly from the Oculus store, while VRWorkout can be sideloaded using SideQuest. A Steam version of VRWorkout is coming soon.
Next up, we will compare Supernatural vs VRWorkout and let you know which categories each one shines in.
Supernatural vs VRWorkout
Variety of Exercises
Supernatural largely felt like an upper body workout to me. Your intensity is dependent on how hard you swing your bat through each target. Squats and side-to-side lunges are added in for good measure, but aren't scored in the same way. For the most part, your bat swinging effort is a good workout. I broke into a light sweat at the end of my 20 minute (on average) workout almost every day.
During my 30 day trial of Supernatural, I found that the low intensity workouts felt like a waste of time after I got up to speed with the movements. I would think that most people of average athleticism can stick to the medium or high intensity workouts after you are used to everything. Some days, I wouldn't like the workout of the day and I would go back and do an old workout. Having more workouts added over time will be good thing because you won't have to do any duplicates.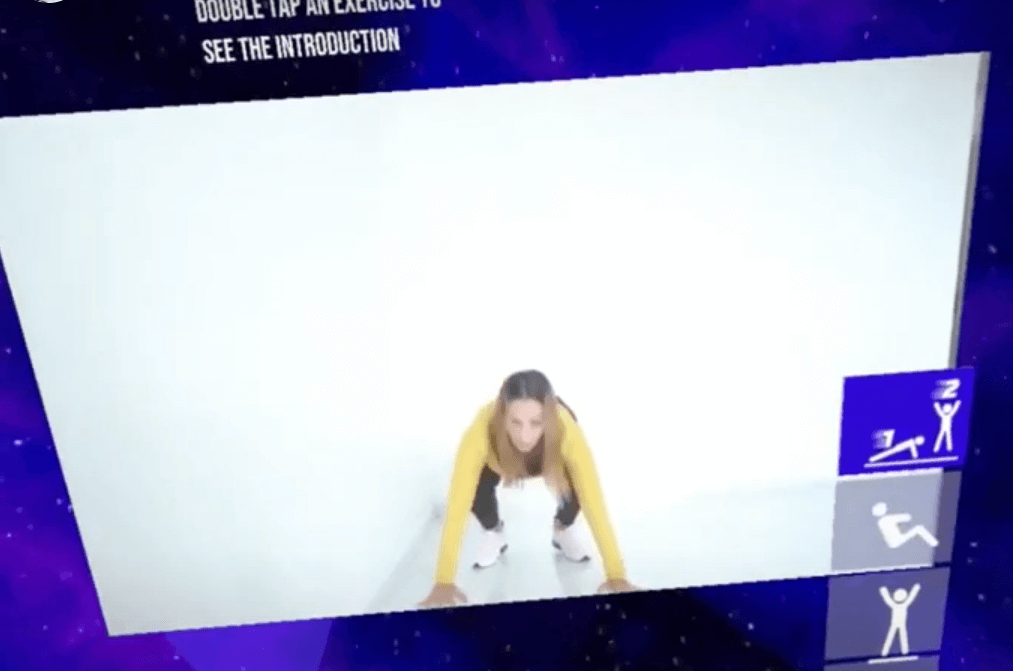 VRWorkout's workouts felt like much better variety to me. Hand tracking support is a game changer for VR fitness games like VRWorkout and it makes the entire experience feel more natural. The inclusion of burpees, push-ups, and sprinting make for a much tougher workout. The game tracks your score based on your headset location or by having you open-palm targets as they pass by you.
To make things easier or harder, you can set your beats per minute (BPM) on the VRWorkout main menu. This can speed up or slow down your exercises to match your comfort level accordingly. The game also has a fun beast mode included where your handed turn into Wolverine's claws when closed. You need to use those claws to attack a beast that comes running at you every so often.
Verdict: VRWorkout has a better selection of exercises which pair well with hand tracking to provide a better variety.
Music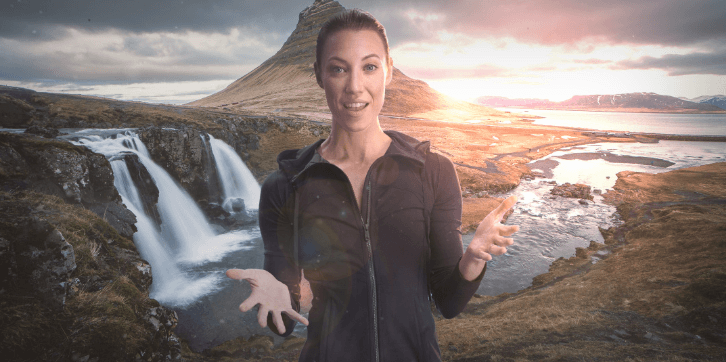 Supernatural has a new workout each day which is curated and assisted by one of their personal coaches. Each workout had a different musical theme, from classic pop or rock to EDM or hip hop. It was nice to hear familiar songs during the workout, which helped to mask the fact that you are mostly just swinging your arms.
Each music track in the game is mapped to a specific sequence of moves. This ties the workout and music together nicely, as you are moving in time with the beat. Supernatural makes it easy to get lost in the music and have some fun exercising at the same time. These tracks are licensed for use in the game, which I imagine is pretty costly for Supernatural. I wonder if the team could save costs by having user-submitted music in the game. BoxVR has taken this approach and has high quality tunes that don't feel amateur.
Out of the box, VRWorkout does not contain any real music tracks. A few license-free tracks are included with the game by default. They are okay to workout to, but don't have that same feeling that Supernatural's curated playlist does. A recent update adds the ability to add your own music into the game. It took me a few minutes to figure out how to convert songs on Youtube to the required OGG format (I use Apple Music and don't own any physical media files), but not hard overall.
VRWorkout randomly switches your exercise every 15-30 seconds. Some exercises have better rhythm than others and you sometimes get lost trying to find the pattern if you are listening to the music and vice versa. If the game could read the BPM of your chosen track on the fly, it could do a better job lining up each rep with your music.
Verdict: One of Supernatural's biggest selling points is the curated real music used in each workout.
Presentation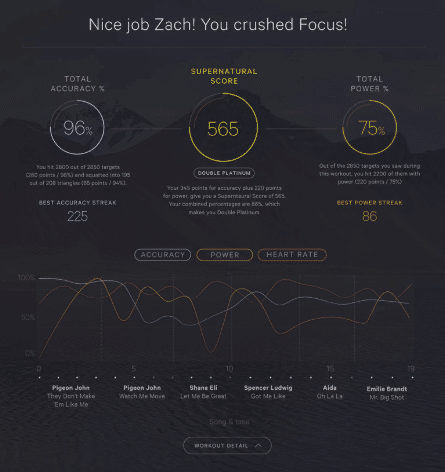 The presentation in Supernatural is top-tier, no doubt about it. You play each song standing on a platform overlooking some of the most beautiful scenery in the world. Your personalized coaches call you "athlete" and offer words of encouragement throughout each song. At the end of each round, you are assessed on your accuracy and power. If you have an Apple Watch, you can sync it to Supernatural and it will tell you your active heart rate through each song.
The company has also stepped up their presentation lately too. They are hosting weekly and monthly fitness challenges where you can view leaderboards showing where you stand. New players who activate their 30 day free trial are being sent Supernatural branded VR sweat covers. The company is also taking song and feature requests on Discord. The presentation is about a larger question about whether a subscription-service model can work in the VR world (more on that later).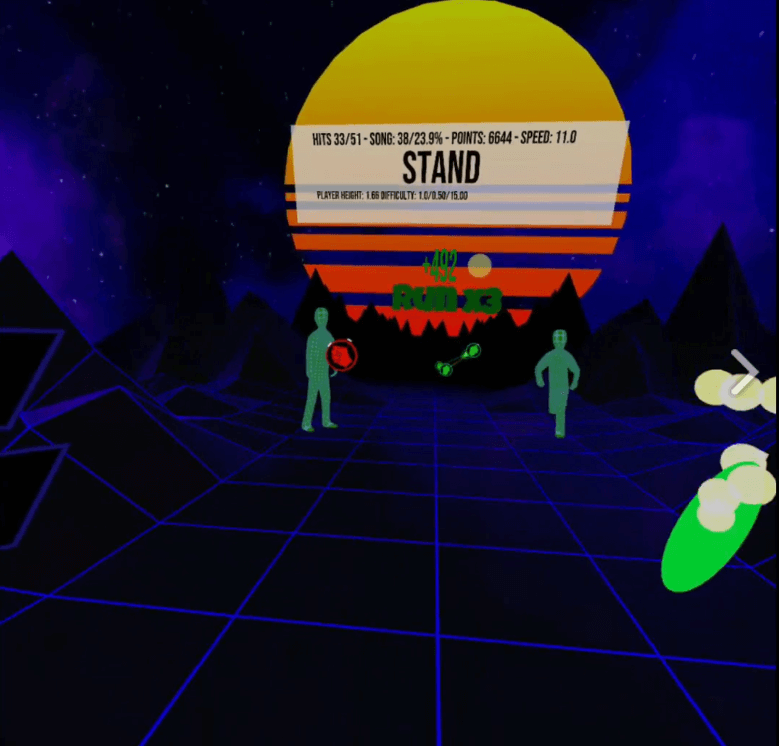 By contrast, VRWorkout takes a much more simplified approach with presentation. The graphics are straight up amateur. You aren't given any words of encouragement during your workout either. But where Supernatural felt borderline distracting, you don't feel cheated out over VRWorkout's approach. And improved visual presentation is an easy, but time consuming, action item to implement.
VRWorkout keeps track of your score as you workout as well and you get points for hitting targets. However, there is no leaderboard in the game and the scores feel more random than anything else.
VRWorkout has an active Discord of its own, where feature requests and discussion take place. The developer does all of his work in his spare time and is responsive to feedback from everyone.
Verdict: The presentation and social features of Supernatural give it a clear edge.
Gameplay
Nice presentation is great, but Supernatural vs VRWorkout, how does Gameplay stack up?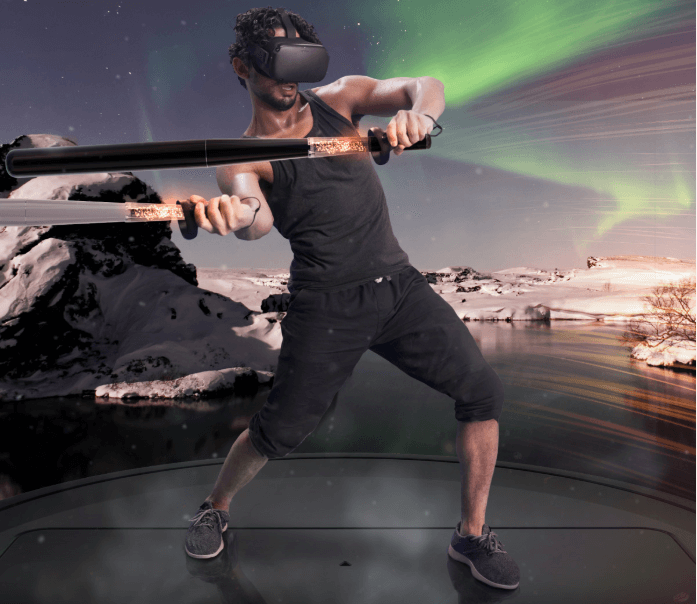 For Supernatural, hitting targets feels natural once you get used to a full motion instead of a flick of the wrist like in Beat Saber. Since everything is in time to the music, you often hit combinations you didn't think you could just by following each beat.
As a workout, Supernatural feels like mostly a cardio workout. I wouldn't say my muscles were ever sore. I did 26 workouts during my 30 day trial and mostly stuck to medium and high intensity classes of 20-30 minutes per day. If you can believe an Apple Watch, it would tell me I burned between 300-350 calories per workout.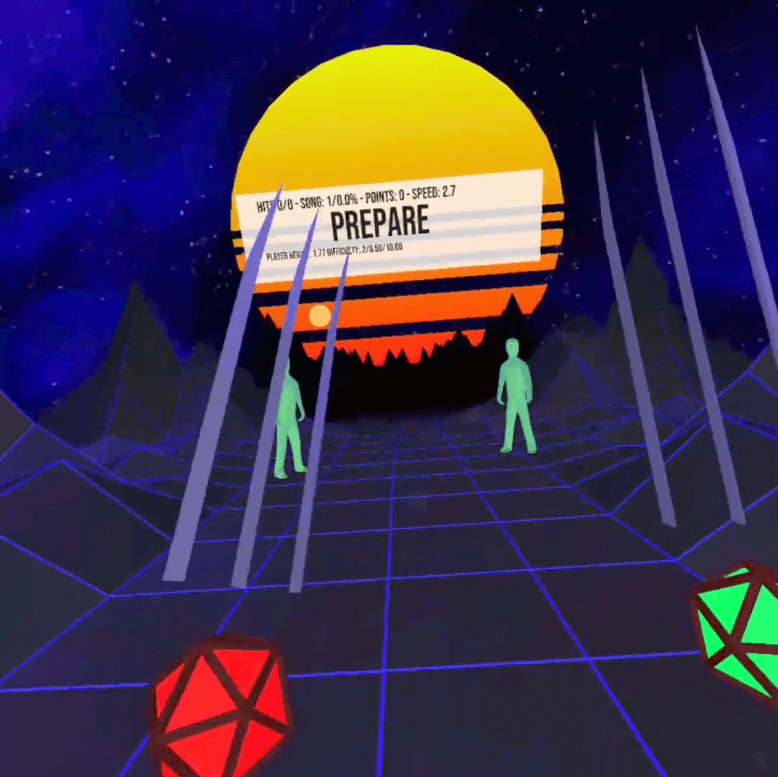 VRWorkout's target hitting could use some improvement. With hand tracking, it watches to make sure you open-palm each target as it passes by. Since the targets are no bigger than your palm, there isn't a lot of room for error by yourself or in the Quest's hand tacking. Targets with your head are much more intuitive and easy to hit. During squats or burpees, these targets are in a good spot to prove completion of each rep.
As a workout, VRWorkout is a great full body effort. If you haven't done a pushup or burpee in a while, you are in for a nice treat. As an added bonus, you can run in place during any exercise for some bonus points during your workout. During my 20-30 minutes of exercise per day, my Apple Watch would say I burned between 400-500 calories per workout.
There is a nice tutorial area in the VRWorkout main menu, which shows you how to perform each exercise.
Verdict: It depends. If good presentation gives you motivation to workout, then Supernatural does a better job. If your job is the burn the most calories in less time, VRWorkout is the winner.
Price
For price, Supernatural vs VRWorkout has its most obvious discrepancy.
Supernatural's premium presentation leads to a premium price point. The service costs $20 per month, which goes down to $15 per month if you subscribe for an entire year. Your willingness to pay for this probably depends on how much you value the personalized coaches and music.
Supernatural also sells a number of workout accessories on their website too. One of the nicest items is a silicon VR Cover that fits over top of the cloth frame that rests on your face. This lets you sweat all you want without worry. We highly recommend a VR cover if you plan on working out with the Quest.
VRWorkout is completely free, which you can install onto the Quest via SideQuest. If you are already an active person and don't require much motivation, you'll like how easy it is to get up and running with VRWorkout. If you are the kind of person who likes to support independent development, then consider donating to the developer for his time. It would be great to see VRWorkout accessories and an online store too.
Verdict: VRWorkout is completely free, which is a tough price to beat.
Room for Improvement
Supernatural vs VRWorkout, both games have some room for improvement.
Supernatural
Supernatural's biggest, and most obvious, drawback is its price. In a world where monthly payments have taken over, it needs to continually become better in order to justify your money each month. In order to gain more customers, Supernatural should offer a stripped-back free version of their app. This could mean license-free music (submitted by fans perhaps), no instructor, and basic scenery. If there was a collection of 5 workouts like this, Supernatural could build a list of free users and convert them into paying customers through merchandise, future paid promotions, or other methods.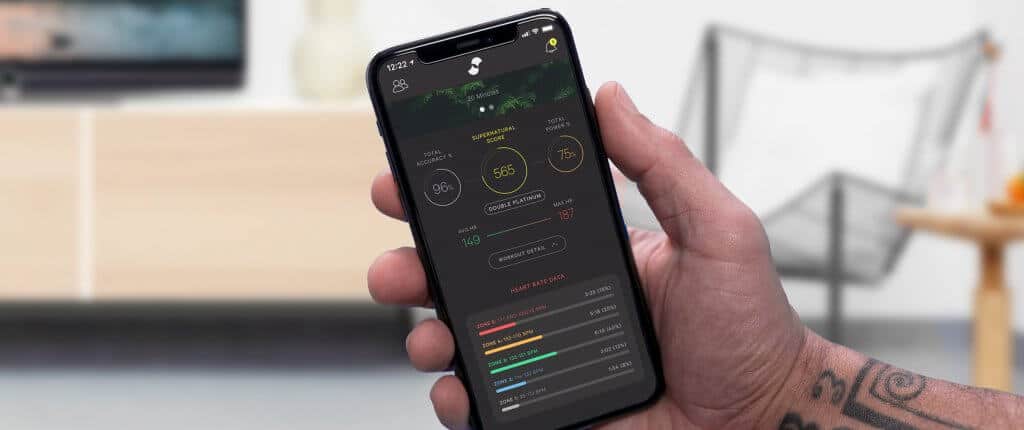 Supernatural could also use some more variety in their workouts. Hand tracking integration could allow players to wear weighted gloves and perform other exercises.
The companion phone app for Supernatural is a great asset for the game, but feels a bit light so far. If you don't have any friends playing the game, then the leaderboard area probably isn't something you'll look at regularly. It would be nice if the app included some daily or weekly challenges that paired game time with other forms of exercise too.
VRWorkout
VRWorkout's presentation is its biggest drawback to attracting casual players. It could take some obvious cues from Supernatural to improve presentation and polish things up. A better training arena and clearer post-workout screen would be nice. Letting you put multiple songs into a playlist would allow for smoother transition in between songs too.
The developer of VRWorkout should include fan-submitted tracks from Reddit users in the game. This would allow for some better variety over the currently included music.
For workouts, VRWorkout is already the most superior VR fitness app in terms of variety of exercises. Hand targets could be improved and made larger so that it's easier to palm. The game could also add directional targets that you have to swing through or punch (jab, uppercut, cross-body, etc) for even more variety. There are some VR workout games that could provide some good inspiration, including Supernatural, BoxVR, Thrill of the Fight, OhShape and more.
Should we look at comparing another area of Supernatural vs VRWorkout? Let us know down below.
Conclusion – So, Which is Better?
Overall, both Supernatural and VRWorkout are great workout apps on their own. A beginner who needs motivation and likes a more customized approach will appreciate Supernatural as their starting point. I have trouble justifying a full year subscription, but a month-to-month approach can be justified.
VRWorkout is the better overall workout app. You get a better variety of exercises and will burn more calories in the same amount of time. It could use further presentation improvements, but these are minor to overlook in a workout game verses a different genre. It's also hard to look past its free price point and responsiveness from the developer.
For most people, I think virtual reality workouts are a supplement to other workout routines and not the only form of exercise in your life. Because of this, the free no-commitment approach of VRWorkout is going to feel better to you. This isn't a knock on Supernatural either. They've managed to create an interesting product, good community, and respectable VR fitness game. It's going to be hard for most people to justify a long-term commitment to an at-home fitness game that costs more than a Netflix subscription.
If you've tried both out, comment below with your Supernatural vs VRWorkout review! We want to know what other people prefer better.