In this step by step tutorial, I'll show you exactly how to play Hogwarts Legacy in VR on a virtual reality headset like the Meta Quest 2 or HTC Vive.
In addition to an overview about the VR mod for the game, I'll go over:
The minimum requirements you need to meet
Latest news on official VR support for Hogwarts Legacy
The best headset to play Hogwarts Legacy in VR
In addition to text instructions and screenshots, there is also a video you can watch below as well.
Related: How to play Hogwarts Legacy on the Steam Deck without lag.
What is Hogwarts Legacy?
Hogwarts Legacy is an action role-playing game set in the Harry Potter universe, developed by Avalanche Software and published by Warner Bros. Interactive Entertainment.
The game is set in the late 1800s, well before the events of the Harry Potter series. When you play, you assume the role of a student at Hogwarts School of Witchcraft and Wizardry. You will attend classes, learn spells, explore the school grounds, and engage in battles against magical creatures and other students.
The entire wizarding world allows you to explore at your own pace. This includes the entire school and its grounds, the landscape outside the school, and other faraway buildings and stores.
The entire store is over 30 hours long to complete, in addition to all of the side quests and things to do in open world.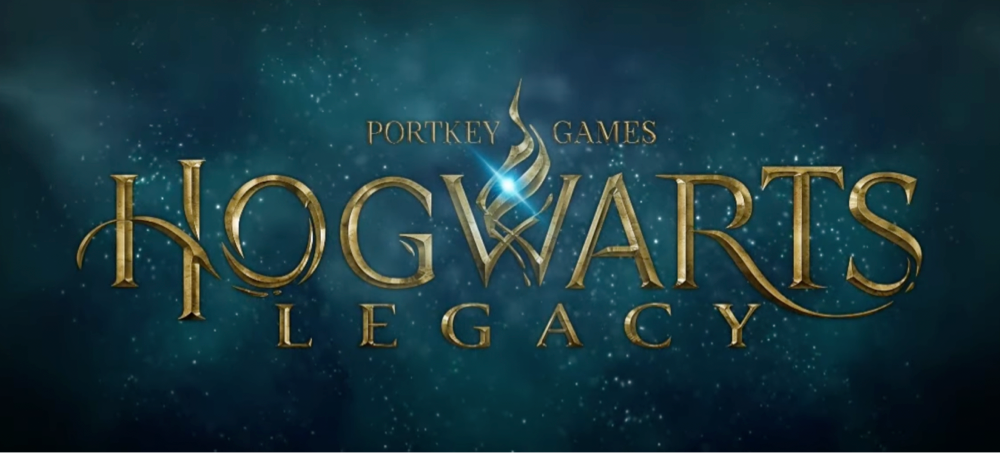 Why is this game so special?
This is the first open-world game that takes place in the entire magical world of Harry Potter. It uses Unreal Engine to make the entire wizarding world to feel full and gorgeous.
For Harry Potter fans, it is a detailed journey through nostalgia of the old Harry Potter books. The game features a lot of the same good and dark wizards from the books and movies. The story of the game puts you right in the action, as you figure out the key to an ancient secret that threatens the wizarding world.
What is Hogwarts Legacy in VR?
Soon after its release, Luke Ross released an unofficial mode for Hogwarts Legacy which enables first-person mode and SteamVR support. When activated, you can play the entire game in a virtual reality headset connect to your gaming computer.
The current mod is unofficial, so bugs and glitches are prone to happen. The mod does not support motion controls, so you'll need to use a game controller or keyboard and mouse combo.
What is Required to Play Hogwarts Legacy in VR?
To play the game in virtual reality, you need the following:
A compatible PC VR headset (Meta Quest, HTC, HP, Valve, or other)
A wired or wireless connection from your PC to VR Headset (Oculus Link, Air Link, or other alternative cable)
A compatible gaming PC to run the game (requirements below)
Luke Ross' VR mod for Hogwarts Legacy downloaded onto your computer (paid)
A few other dependency mods for the game (free)
I will show you how to download and install all of the software mod files down below.
PC Requirements
The minimum requires PC specs to play the game in virtual reality mode are:
Windows 10 or higher
16 GM of RAM memory
DirectX version 12
85 GB of storage space
Video Output: DisplayPort
USB Ports: 1x USB 3.0 port
How to Play Hogwarts Legacy in VR
Download the VR Mod
Click here to access Luke Ross' Patreon, where the latest stable version of of the mod is available. After you subscribe, scroll down and download the latest copy of the Hogwarts Legacy VR mod.

Copy and Paste the Mod
Go to the mod files you downloaded onto your desktop and copy all of them. You want to paste them into your Hogwarts Legacy game folder located at:
/HogwartsLegacy/Phoenix/binaries/Win64/
And paste all of your mod files into this folder.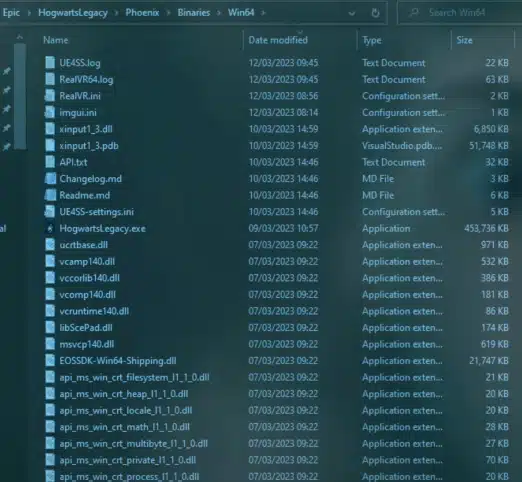 Run the Config BAT File
Find the RealConfig.bat file you placed into this folder and double-click on it to run.
Note: If this BAT file does not run successfully, Luke Ross has some instructions on his Patreon on how to work about this problem, which has to do with an incompatible GPU card on your computer.
Download the "First Person and Customizable Cameras" Mod
Click here to go to the Nexus page for the First Person and Customizable Cameras (with UI) mod. This mod fixes some issues with the first-person camera in this VR mod where the camera is too close, or you have movement issues.
Go to the Files tab and download the latest copy of this mod.
When you click on Download, Nexus Mods will also tell you that you need Blueprint Apparate Mod Loader and the RE-UE4SS mods too, and you'll be able to download those at the same time.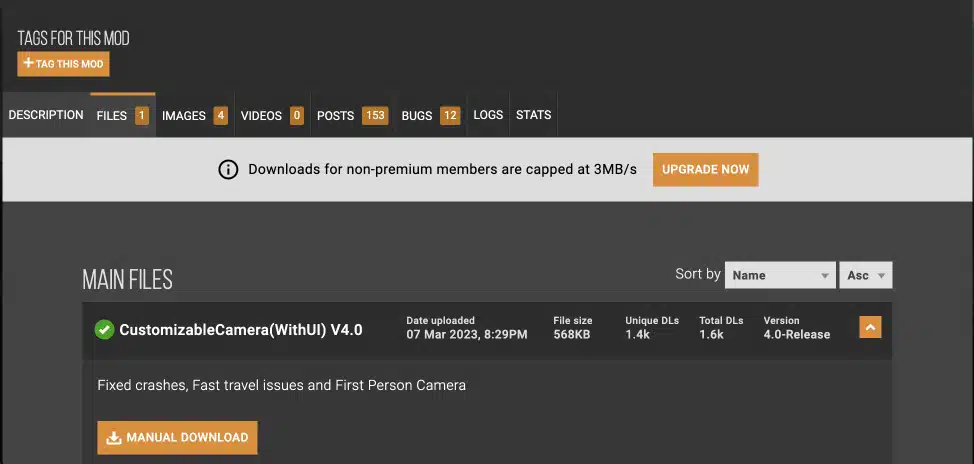 Install Your Mods
First, go into the RE-UE4SS folder you downloaded and copy all of the files. Paste these files into /Epic/HogwartsLegacy/Phoenix/binaries/Win64/
Next, copy the files from your BP Apparate folder. Paste these into /Epic/Hogwarts/Legacy/Phoenix/Content/Paks/~mods/. If you don't have a ~mods folder yet, create one and paste these files into here.
Last, copy the single "Phoenix" folder from your CustomizableCamera folder and paste it into /Epic/HogwartsLegacy/. This will add all of these mod files into the right folders and locations.
How to Setup Hogwarts Legacy in VR
Once you launch the game for the first time (in non VR), a few mandatory setup steps are required.
Enable CameraUI
Press F8 on your computer to open the Blueprint Apparate console window in the top left.
Type CameraUI into this window and hit enter. After you do this, you need to exit and relaunch the game.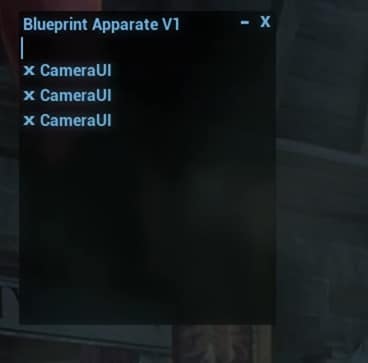 Adjust and Optimize the Camera
After the game opens again, hit F6 on your keyboard to open up a customized Camera settings window. Scroll over to Firstperson and click on the X to close the menu.
Your third-person view will be replaced by a first-person view. Now, you can exit out of the game.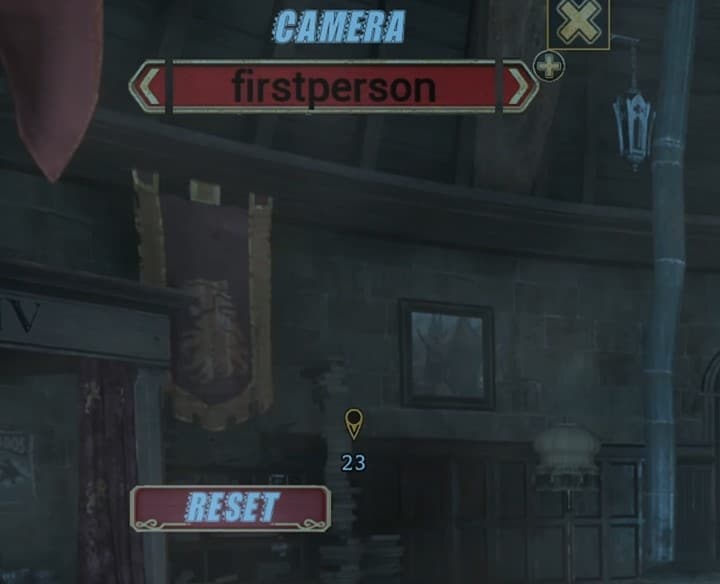 Launch SteamVR and Hogwarts Legacy in VR
Now, open up SteamVR and have it detect your virtual reality headset as you do for any VR game. The next time you launch Hogwarts Legacy and put on your VR headset, you will be in full first-person VR mode.
Best VR Settings for Hogwarts Legacy
There are a few settings and optimization you should do in order to optimize how this game plays in virtual reality.
Adjust the Fog
To start, you want to navigate to C:/Users/*user*/AppData/Local/Hogwarts Legacy/Saved/Config/WindowsNoEditor/ and open up the Engine.ini file in Notepad. Scroll down to the very bottom and add this text:
[/Script/Engine.RendererSettings]

r.fog=1

r.VolumetricFog=0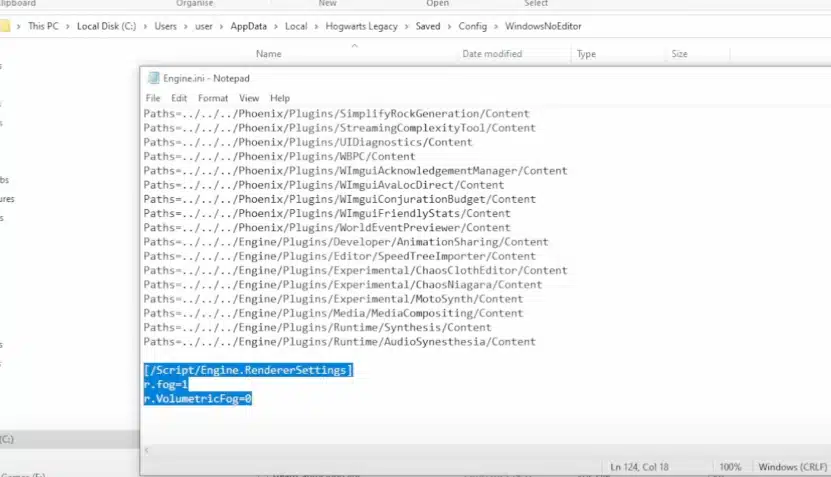 In-Game Settings
In addition, I recommend changing some of your in-game settings to further optimize the game for VR:
Upscale Type: Nvidia DLSS or AMD FSR 2
Upscale Mode: Nvidia DLSS Auto or AMD FSR 2 Quality
VSync: Off
Framerate: Uncapped
Effects Quality: Medium
Material Quality: Medium
Fog Quality: Low
Sky Quality: Low
Foliage Quality: Low
Post Process Quality: Medium
Shadow Quality: Low
Texture Quality: Medium
View Distance Quality: Low
Population Quality: Medium
Ray Tracing Reflections: Off
Ray Tracing Shadows: Off
Ray Tracing Ambient Occlusion: Off
Hogwarts Legacy in VR Youtube Video
Need more help? Check out this Youtube video for installation instructions for the mod. It also has a ton of gameplay examples:
Other Hogwarts Legacy VR Mod Alternatives
Several other VR mods are under development for the game as well.
Praydog
One mod announced right after the game's release date was one by Pradog based on a universal VR mod application. Hogwarts Legacy is a game developed using Unreal Engine 5, which has really good default support with VR Headsets. The Praydog mod uses the backbone for a universal VR mod for games developed with UE5.
No official release date has been announced yet.
Official VR Support
There is still hope that Avalanche Software will release an official VR mod for the game. The original focus (understandably) is to optimize the flatscreen version of the game. With enough support from fans, they could work to enable virtual reality next.
Frequently Asked Questions (FAQs)
Does Hogwarts Legacy have official VR support?
No, the game does not have any support for virtual reality headsets by default. However, the game engine was built on Unreal Engine 5, which does have good library support for VR in general. This has made it easy for an unofficial VR mod for Hogwarts Legacy to be released.
Is the Hogwarts Legacy VR mod free?
The Luke Ross version of the mod is not free and is only available through his Patreon website. Several other VR mods for the game are in development and are anticipated to be free.
Does Hogwarts Legacy Support Motion Controls?
The Luke Ross mod does not support Motion controls yet. You will use your keyboard and mouse or a controller while wearing your VR headset and playing in virtual reality.
What VR headsets can you play Hogwarts Legacy on?
You can install and play the VR mod for Hogwarts Legacy with any PC VR compatible headset, including the Meta Quest 2 or 1, HTC Vive, Valve Index, and HP Reverb.
What other questions about the Hogwarts Legacy VR mod do you have? Comment down below and I'll update this guide with more information!