This is a full and detailed comparison guide between the Oculus Quest 2 vs HTC Vive Pro 2 to determine what the better headset is.
The Quest 2 has been virtual reality's Cinderella story in 2021, but HTC is upgrading their flagship hardware to try and even up the score.
Must-read: Oculus Quest Pro: All you need to know
We'll go over and answer a few key questions:
Does the HTC Vive Pro 2 have enough power to offset the low cost of the Oculus Quest 2?
Oculus Quest 2 vs HTC Vive Pro 2, which headset is better for PC VR gaming?
What headset has the better display?
Which headset is more comfortable to wear?
If you want to add in your opinion, comment down below at the bottom of this guide.
How to Buy the Oculus Quest 2
The Oculus Quest 2 was released on October 13th, 2020 after being announced during the keynote speech at Facebook Connect 7. Below, you can buy the Quest 2 from Amazon and from the official Oculus Store.
No products found.
Click here to buy the Oculus Quest 2 from the official store.
How to Buy the HTC Vive Pro 2
The Vive Pro 2 was released on June 4th, 2021 after being announced during the keynote speech at Vivecon 2021. Preorders for the device began immediately after the keynote ended.
Click here to buy the HTC Vive Pro 2 from the official store.
The Vive Pro 2 will appear online at Amazon and other retailers as soon as stock allows.
Next, we will compare the Oculus Quest 2 vs HTC Vive Pro 2 in full detail!
Comparing the Oculus Quest 2 vs HTC Vive Pro 2
Some features on these two VR headsets are identical:
Similarities
Maximum 120 Hz maximum refresh rate
Full 6 degrees of freedom (DoF) movement
Can run all SteamVR games via either a tethered or a wireless connection to a compatible gaming PC
Compatible with glasses
Differences
Oculus Quest 2
Qualcomm Snapdragon XR2 Processor, 6 GB of RAM, and a hard drive for wireless VR gaming
$299 / $399 in price for the two models
Single panel LCD display with 1832 × 1920 resolution per eye
Manual 3-slot IPD adjustment: 58, 63, and 68 mm options
Inside out tracking
White color only
Upgraded Oculus Touch controllers
New soft touch strap with elite halo-band upgrade option
Internal immersive audio
530 g weight
HTC Vive Pro 2
No independent CPU or GPU; connected VR-ready PC required
PCVR gaming only (SteamVR and Viveport)
$799 (no controllers or base stations) / $1399
Dual panel LCD display with 2448 × 2448 resolution per eye
Fine-tune IPD adjustment from 57 to 72 mm
Outside in tracking with Vive Base Stations
Black and blue color only
Compatible with original HTC Vive Pro or Valve Index Knuckle controllers
Hard padded retractable strap
On-ear headphone audio
Oculus Quest 2 vs HTC Vive Pro 2, there are a lot of small differences! Below we dig into the specs on each headset in more detail and make recommendations for each!
Price
One of the Oculus Quest 2's main selling features is its insane price for consumer VR. The Quest 2 retails for either $299 or $399 USD, depending on whether you want a 64 GB or 256 GB hard drive. It is widely known that Facebook takes a loss on each headset sold and makes up the cost via apps and games sold.
However, the Quest 2 has a few additional costs in order to fairly compare the price to the Vive Pro 2.
To start, it offers an upgrade for $100 to the elite halo strap which provides added comfort and a halo band as in the Oculus Quest Pro . It is not mandatory, but makes the Quest 2's headstrap more equal to what is offered on the HTC Vive.
To add PC VR gaming as an option, an $80 Oculus Link cable used to be required. That is not the case anymore, since Oculus Air Link provides wireless PC VR gaming for free over your wireless network. The technology is scary good.
The HTC Vive Pro 2 retails for $799 USD for only the headset. This is the upgrade option if you already own a PC VR headset with controllers and base stations for tracking. If you need to buy those, HTC sells a full kit for $1399.
Curiously, you can buy the Vive Pro 2 ($800), Valve Knuckle Controllers ($280) and 2 Base Station 2.0s ($200) for a little over $100 cheaper than the full kit costs.
Overall, it is hard for HTC to compare to Oculus on price. A generous apples-to-apples comparison for the Quest 2 vs HTC Vive Pro 2 would be $480 vs $1280. If you stay with the base Quest plus Air Link and buy the HTC full kit for convenience, the comparison is $299 vs $1399.
Advantage: Oculus Quest 2
Price is only one factor though, so lets compare the Quest 2 vs HTC Vive Pro 2 in design, specs, and other factors!
Displays
The Oculus Quest 2 contains a single panel fast-switching LCD display. Its resolution is 1832 × 1920 per eye or 3664 × 1920 total.
The HTC Vive Pro 2 has switched from OLED in the original Vive to dual fast-switching LCD displays on the Pro 2. The resolution of the Pro 2 is 4896×2448 or 2448×2448 per eye.
LCD screens are backlit all the time, causing black colors to appear more like gray. The cost of LCD screens is less, however, which contributes to a lower cost in both of these headsets.
Both displays offer a 120 Hz maximum refresh rate.
Overall, the HTC Vive Pro 2 has about 70% more pixels on the display. It is one of the most gorgeous VR displays that has come out yet.
Advantage: HTC Vive Pro 2
IPD Adjustment
The inter-pupillary distance (IPD) is the distance between the center of your two eyes. The world average is 63 millimeters, but your distance may be more or less depending on face shape, race, and other factors.
The new Oculus Quest 2 contains a manual three-slot IPD adjustment feature. This allows you to set the IPD of the display at either 58 mm, 63 mm, or 68 mm by pushing on the edges of the lenses to slot them into one of the settings.
Then in the settings, the software adjusts the pixels on the display that your eyes see so that they are clear and centered in your eyesight. A drawback in the IPD adjustment of the Quest 2 is that it only supports specific distances. If your IPD distance is between this range, you may find some discomfort when wearing the headset for long periods.
The HTC Vive Pro 2 features an adjustable dial to move the IPD between any value in a range from 58 and 72 mm. This range covers the distance for over 95% of the worlds' population.
Advantage: HTC Vive Pro 2
Head Strap
The Oculus Quest 2 has a soft touch strap that is easy to slip on and off. The top strap of the headset attaches at the back of your head with a loop that goes around the side strap. The side straps have a two-layer adjustable strap instead of Velcro.
Overall, the entire strap is soft to wear and distributes weight around your head, but users have complained about its lack of sturdiness. To make up for this, Oculus has released an optional elite strap for the Quest 2. The elite strap includes a fit wheel that allows you to quickly tighten and loosen the fit on your head.
An additional accessory provides an external battery with the elite strap so that you can double your battery life too.
The HTC Vive Pro 2 features a hard padded retractable strap. It is a sturdy frame that connects to a foam and plastic facial interface. The back of the Vive Pro 2 features soft padding that is comfortable to wear and acts like a counterweight.
Overall, Oculus Quest 2 vs HTC Vive Pro 2 head strap, the Vive wins this one. Looking at the pictures below, you can tell the extra quality that has gone into the design.
Advantage: HTC Vive Pro 2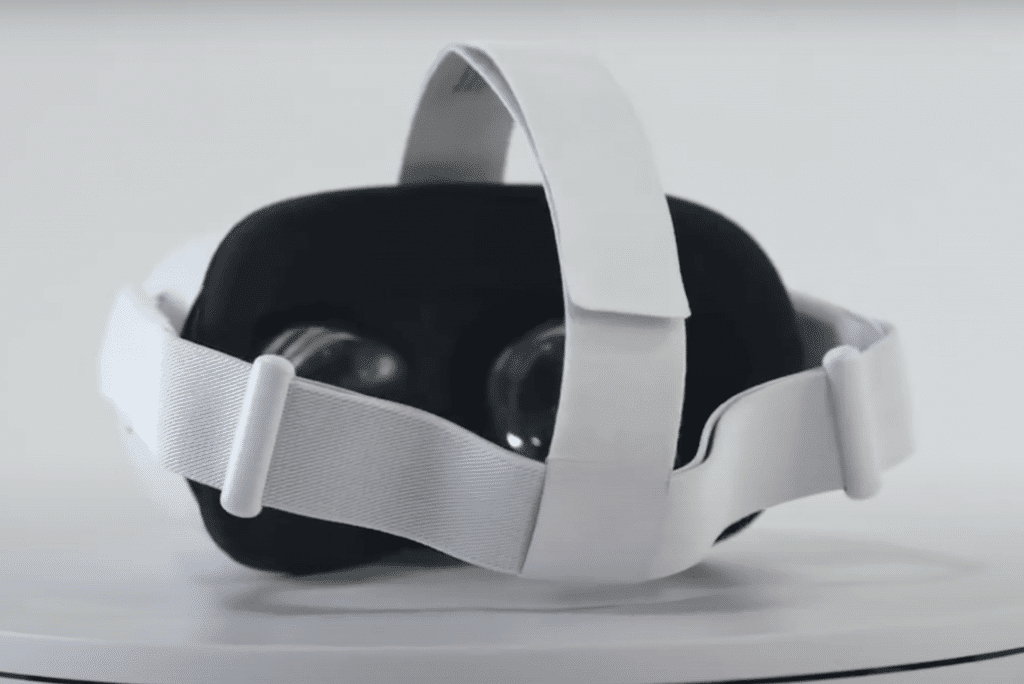 Games
Oculus has three different game stores for the Quest, one for PCVR gaming and two for Android-based VR games on the Oculus Quest:
Plus with an Oculus Link cable or Air Link enabled, the Quest 2 can play all the games on the Rift Store and Steam VRtoo. Games on the RIft or Steam store are more ambitious and higher quality. There are a lot of AAA titles on the store such as Half Life: Alyx, Boneworks, and other good VR deals.
The HTC Vive Pro 2 integrates directly with Steam VR too for playing these AAA titles. In addition, HTC also has their own VR store, called Viveport. Viveport has a lot of the same games as Steam, but within HTC's environment so that they can keep some revenue.
In addition, HTC offers Viveport Infinity, a Netflix-style subscription where you can play hundreds of VR games for a single monthly price of $12.99.
Android OS on the Quest 2
The Oculus Quest 2 contains its own CPU, GPU, hard drive, and 6 GB of RAM memory. It's like having an integrated PC built inside it. The new Snapdragon XR2 processor has some impressive benchmarks compared to the original Quest 1.
Because the Quest 2 is Android-based, it also has access to its own game store. Facebook has been working hard to bring exclusive titles to the Quest 2 store that can't be found in PC VR. Go and check out our upcoming Oculus Quest games here.
Overall, the number of games and the options for playing make the Oculus Quest 2 a better choice for VR gaming.
Advantage: Oculus Quest 2
Audio
The Oculus Quest 2 features 3D positional audio which is embedded in the side strap of the headset. It has been upgraded over the original Quest to allow for better audio recognition in busy environments and an accurate audio representation of all 360 degrees.
The HTC Vive Pro 2 features removable stereo headphones. They are on-ear and connect via a built-in USB-C audio output.
While the Quest 2 does a great job at positional audio, on-ear headphones offer louder audio with deeper bass.
Advantage: HTC Vive Pro 2
Controllers
The Oculus Quest 2 headset has improved Touch controller with better ergonomics. The new generation touch controllers have 4x the battery life of the last generation, which is a huge improvement. Part of this was achieved by reducing the infrared sensors in the ring.
Oculus made a few improvements to the controllers, widening the thumb area, optimizing the halo ring's angle, and making them comfortable to hold.
HTC did not release brand-new controllers with the Vive Pro 2. Instead, two standard Vive wand controllers are included with the full kit package. The Vive controllers have a 6-hour battery life, less than what Oculus provides.
Oculus Quest 2 vs HTC Vive Pro 2, the Quest 2 provides a better controller. It is also included with the base headset package, which is less confusing.
Advantage: Oculus Quest 2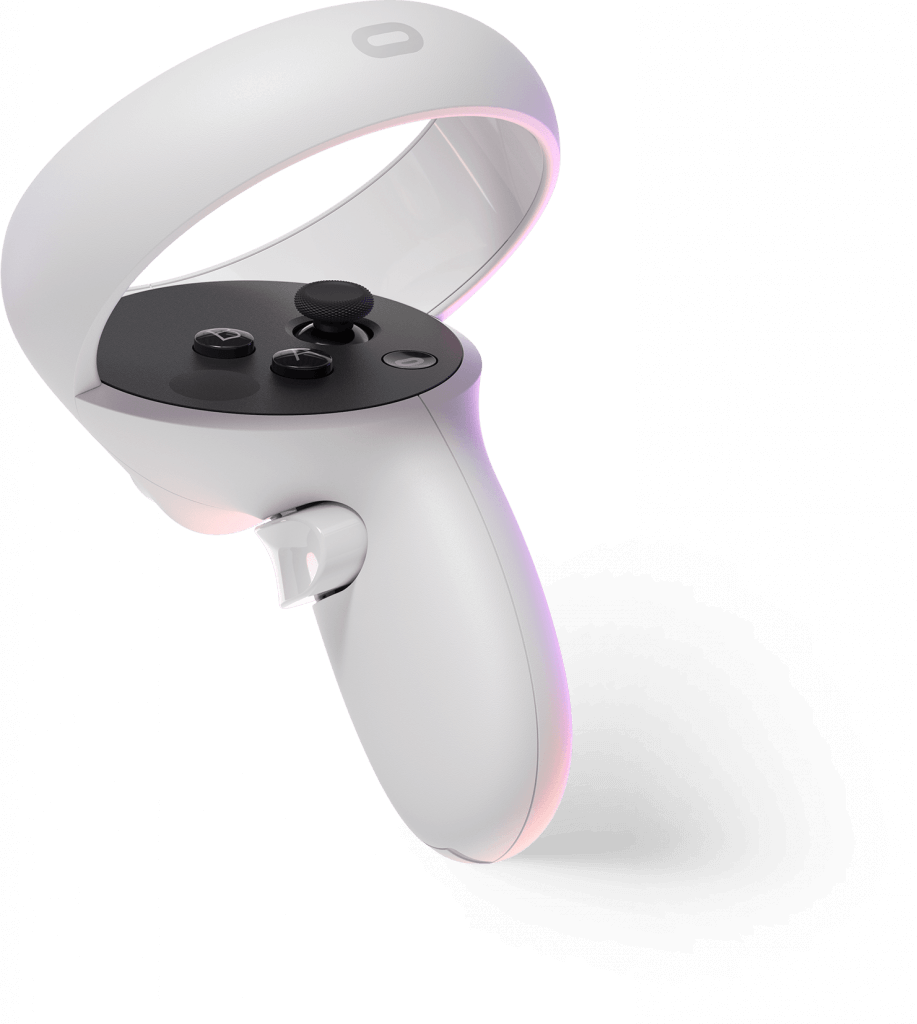 Tracking
The Oculus Quest 2 features full inside-out tracking. The headset features four outward-facing cameras which scan your area and track your motion controllers. Sensors in the headset and controller track your position and movement. No other external hardware is required for the headset.
The HTC Vive Pro 2 takes advantage of outside-in tracking. Two external base stations (included in the full kit but not the base pricing) have to be set up in your play space. They scan your area multiple times per second and synchronize with sensors in the headset and controllers.
Overall, outside-in tracking is more accurate. It also does a better job if you have your controllers behind your back or up in the area because the base stations keep track of everything.
However, inside-out tracking is better because it requires nothing else to work. Oculus has also been praised for the accuracy of the tracking and how it works almost as well as the base stations do.
It depends on if you have the right space for the base stations or if you prefer the mobility of your VR headset.
Hand Tracking
Oculus has invested heavily in an experimental feature called hand tracking. It allows you to put your controllers down and use your hands to play games. Oculus has been continuously improving the technology, hoping to one day release a VR headset that does not need controllers.
You can view a list of the top Oculus Quest hand tracking games here.
HTC has no capabilities for hand tracking. Outside-in tracking would be hard or impossible to track hands down at that level. It's a small thing, but Oculus Quest 2 vs HTC Vive Pro 2 for hand tracking, Facebook wins.
Advantage Overall: It depends.
Conclusion
At $299, the best thing that the Oculus Quest 2 has going for it is its price. It is over $1,000 less than the HTC Vive Pro 2 kit which actually allows you to play in virtual reality.
Oculus has done a good job providing addons for the professional VR player who wants better such as the elite strap and different external audio options. The Quest 2 also has better game selection between the official Oculus Store, Steam VR store, Oculus App Lab, and SideQuest VR.
HTC has done a great job providing the premier virtual reality experience. They've assumed that anyone buying their headset is looking for the best everything:
The best display
Full IPD adjustment
a solid and comfortable headstrap
Outside-in tracking
The question is, does the average VR player care? Oculus has packaged up their hardware in under $300, and you don't hear reviewers complaining about the simplified IPD or inside-out tracking.
Time will tell if HTC has enough of a fan base that will pay for the Vive Pro 2. It is a sweet piece of technology, but against where the industry has been trending.
Our overall recommendation is obvious. If you are passionate about the extra features in the HTC Vive Pro 2, the price probably doesn't scare you. If you want the easiest access to virtual reality with the most content and a growing list of exclusives, go with the Oculus Quest 2.
If we've missed anything in our Oculus Quest 2 vs HTC Vive Pro 2 guide, comment below and let us know.