Facebook announced their Q1 quarterly results yesterday and highlighted the success of the Oculus platform. CEO Mark Zuckerberg touched on the financial and customer success of the new Oculus Quest 2 platform and gave a few hints about where the company is taking the technology in the future.
Facebook does not record Oculus Quest sales officially, so these earning calls are the best glimpse at measuring success of the platform.
Continues Oculus Quest 2 Success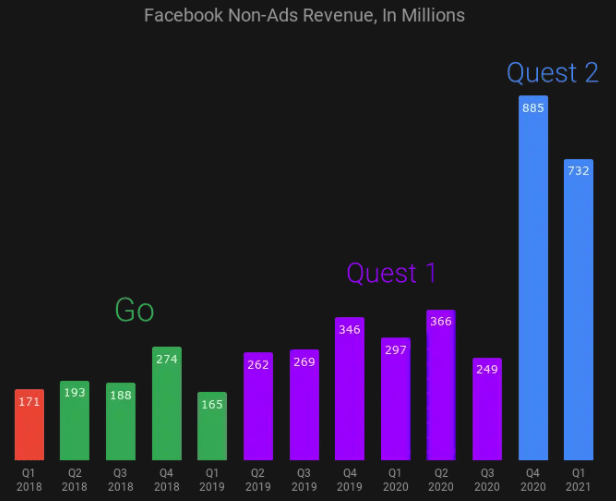 Facebook highlighted the continued success of their "non-ads" revenue, which is where their VR hardware and software falls into. As you can see, the first quarter with the Oculus Quest 2 was 338% higher in revenue than during the original Quest 1. The second quarter with the new headset was 272% higher than the second quarter of the Quest 1.
Mark Zuckerberg highlighted, "We're going to keep investing heavily in building out the best [VR] experience this year, and this accounts for a major part of our overall R&D budget growth.
Quest 2 is doing better than we expected, even after the holiday season. We continue to see good engagement and we keep shipping updates that make it better."
The non-ads revenue category also includes Portal hardware sales and revenue from payments in Facebook smartphone apps. Therefore, it's not possible to calculate exact VR sales units from these numbers.
VR Headsets with Wires
Mark Zuckerberg touched on other companies who are focusing on VR hardware that requires a hard wire.
"Some other folks might try to ship something that they claim is higher quality but has a wire, and I just don't think that consumers are going to want to go for that. Having wires wrapped around you just really breaks the sense of presence and immersion," Zuckerberg said.
Valve, HTC, and HP are all focused in the wired VR space. However, HTC is set to announce a new headset in a few weeks that may or may not be wireless. Sony has also announced that the upcoming Playstation VR 2 will require a single wired connection.
Non-ad revenue only makes up 3% of Facebook's overall business. The other 97% comes from digital advertising.