FitXR, the popular VR fitness game, has announced that it is switching all existing and future users to a subscription-based model. Instead of a one-time payment of $29.99 for the game, FitXR will be free with a $9.99 subscription fee.
The developers behind FitXR promise that existing users will be able to access all current features without paying into the subscription model. However that does not tell the full story, which we will break down below!
If you have any other context to add to this guide, comment down at the bottom of this guide and let us know.
BoxVR to FitXR Conversion
in August 2020, the former BoxVR game rebranded itself into the current FitXR version for the Oculus Quest. This change brought on a number of new features:
Graphical improvements
Full-body group multiplayer classes
A new arena
Improved focus on full-body workouts
The promise of more workout types in the future
The conversion into FitXR also took away a number of features:
Custom playlists were removed from the game
The new FitXR environment completely replaced the three BoxVR environments that were previously available
FitXR is always-online; there is no more offline playing
The developers of FitXR promised to bring these features back at a later date, saying that the name change was the first piece to a larger puzzle.
FitXR Subscription Introduced
Earlier this week, Facebook announced that it was allowing games on the Oculus Store to offer paid monthly subscription options to its users. Instead of a one-time fee to buy FitXR, the game would take advantage of this new feature to offer a $9.99 per month subscription fee.
Existing FitXR players will get a 90-day trial to try out the subscription model. Otherwise, they will receive no new game features or updates.
While the switch from one-time to subscription-based has been mixed (more on that later), this new model comes with a few other drawbacks that new and existing users need to be aware of:
Cross-buy has been removed. You can no longer buy the game once and play it on the Rift S and Quest platforms. Instead, your subscription only works for the Oculus Quest.
The user interface has been updated to remove filters and options that help you find workouts relevant to you.
Downloadable Content packs are now only available to subscribers and not to any one-time payment players.
Group-classes with random players has been removed. You can only do group classes with your Oculus friends now.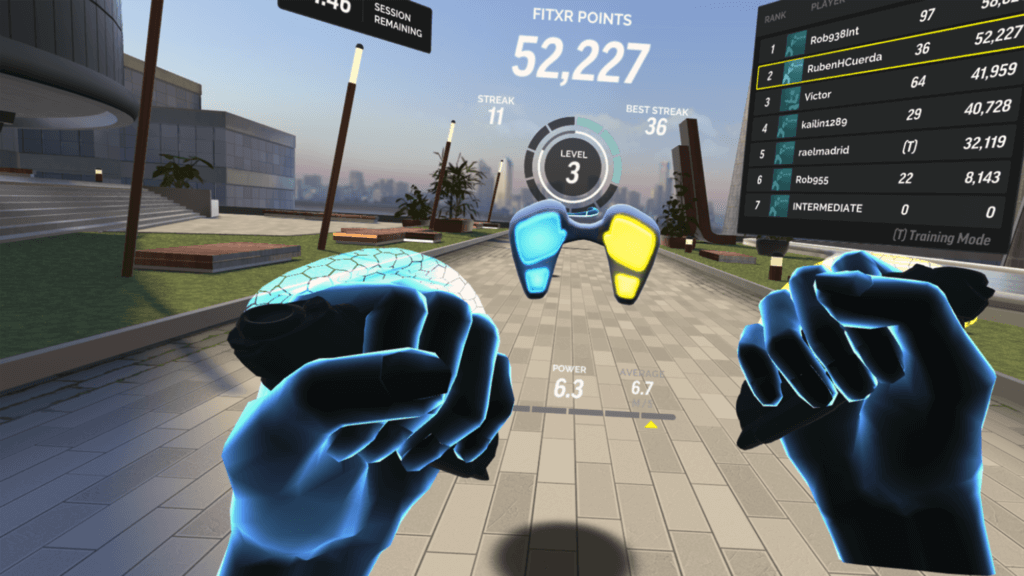 Backlash For FitXR
The backlash to FitXR for these new changes is obvious. In the first 24 hours, the game has received over 250 1-star rating on the Oculus Quest store. This has brought its game rating down from 4.0 to under 3.7 and it is still falling.
A lot of the backlash is related to the lack of communication from FitXR to existing players. There was no previous indication that a subscription-based model was coming. Existing players were not notified to download any DLC packs they wanted before the option was removed.
The development team is not offering any sort of refunds at this time outside of standard Oculus rules (within 14 days and less than 2 hours of game time).
Fan Response
Below are some fan responses off of Reddit which put into perspective how they feel about the change:
I think my biggest problem with this isn't necessarily how things are right now, but knowing that because they are moving to a subscription model, the current version will be unsupported. That means it's going to have more problems over time, and anything that one might have hoped for being updated (i.e. Couch Mode integration) won't happen. Whether passively or actively, they're going to be trying to move buyers of the original game to the subscription version. And that sucks.
I think subscriptions for games are almost always stupid, at least at the current price points we're seeing. I have not insight into their financial performance, but I would think something like Supernatural would do better at $39 / year vs. $15/19 per month, which makes it more expensive than Peloton digital (which gives you WAY more content).
They need to give everyone who bought BOXVR/FitXR on the Oculus store a full refund or they need to give them lifetime access to their subscription service. I'm going to be pushing for this all over social media. If they wished to release a game that is so materially different to the original $30 one off fee where many future updates will be hidden behind a paywall then they should have released a whole new game. Anyone who bought the game at $30 did so with the understanding that they would have access to future updates via DLC. To remove that right is to attempt to change the contract that we all consciously enter as gamers when we buy games for a one off fee. Even if their Ts & Cs cover them legally it's still morally wrong and as Oculus VR is such small community that matters.

Under the old model people had the option to occasionally purchase DLC (and have permanent full access to that DLC) when they felt like they could afford it. Under the new model people are tied into a commitment of $10 a month when they can afford to briefly have access to future "DLC". These are two entirely different propositions. People paid $30 for a game that they thought they could purchase DLC for and retain access to it. As that is no longer the case the game has changed so much that a full refund or lifetime access to the subscription service seem like fair solutions.

If you wanted one piece of $10 FitXR DLC and didn't get round to buying it before the new model was introduced yesterday you are now looking at $600 (12 * 10 * 5) to have access to that one piece of DLC via subscription over the next five years as opposed to $40 (30 + 10) for the same five year access under the old model.
What do you think about the new changes to FitXR?