Resident Evil 4, the popular survival horror game is coming to the Oculus Quest 2 in full virtual reality. The port will be exclusive for Oculus Quest 2 and will not be compatible with the Quest 1 VR headset.
Resident Evil 4 VR places you in the game as Leon Kennedy, tasked with travelling to Europe to rescue the President's daughter in the middle of a zombie outbreak. The game has been rebuilt from the ground up for virtual reality.
The original game was released back in 2005 as a GameCube exclusive. However, the popularity of the game led to numerous crossover releases on nearly every platform. The game won numerous Game of the Year awards.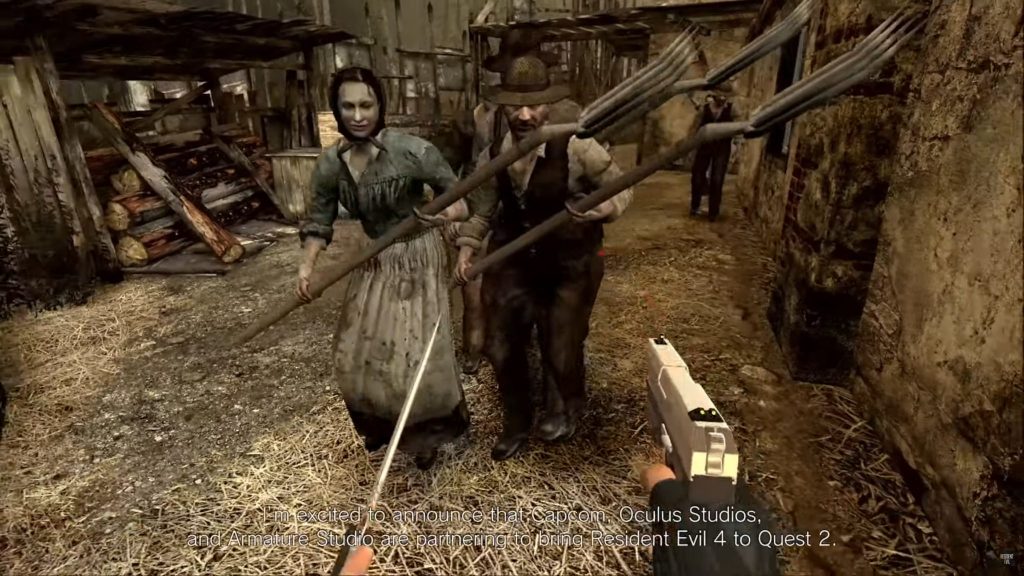 VR Improvements
The trailer below outlines some of the gameplay for Resident Evil 4 VR. Users who have played the PC or console version of the game will notice some really nice differences for the updated gameplay:
Knives and guns can be used at the same time.
Items can be interacted with in new and realistic ways
The inventory system has been rebuilt from the ground up for virtual reality.
More details will be released at the Oculus Gaming Showcase, which is taking place on April 21st at 3pm.
Fan Backlash
Not all fans were excited about the port. Oculus Quest 1 users will be left in the dark because Resident Evil 4 VR will be the first Quest 2 exclusive game. On Reddit, numerous users voiced their displeasure.
"RIP Quest 1 users, after almost two years they are already slightly dropping support…. Quest 1 was expensive for such a short period of support"

– Reddit
Yea not going to lie… I bought my Quest 1 at launch and I enjoyed it but Facebook dropping support for it when it's not even 2 years old feels very gross

– Reddit
Same story here I can understand their point of few that they want to have new innovations with evolving technology but even consoles have longer support then this

– Reddit
We'll see if the backlash has any effect on the upcoming release of Resident Evil 4 VR. The Quest 2 is superior to the Quest 1 in computer power. The Snapdragon XR2 processor is ovr 60% more powerful than the 835 found in the Quest 1. Plus other features like 120 Hz refresh rate and additional storage options make it ideal for new games.
Comment down below and let us know if you are excited about the upcoming Resident Evil 4 game!